Episode 7 Hilah's Texas Kitchen: German soft pretzels!
You might not think of soft pretzels when you think of Texas, and that's okay. Soft pretzels have made their way through the whole of the US by now, as ubiquitous and American as bagels and baguettes. You might not think of Germans when you think of Texas, either, but German immigration has had a major impact on Texas culture.
German immigration into Texas began in force in the 1830s and continued through the 1860s. Germans, for whatever reason – beautiful landscapes, natural springs, and Enchanted Rock – settled mostly into the central Texas Hill Country area. Fredericksburg, New Braunfels, Boerne, Luckenbach, Schulenburg, Weimar, and Walburg are Hill Country towns all founded by German immigrants. Fredericksburg today has the largest population of German-Texans.
German culture can be found all over Texas. The polka beats and accordion instrumentals of Tejano and Norteño music are my favorite example. Many breweries in Texas and Mexico were begun by Germans and Germans can be credited with spreading lager and pilsner-type beers all over both countries. Bratwurst, German potato salad, coleslaw, and central Texas barbecue are all still very popular foods in Texas that descended directly from German immigrants. Many Germans opened butcher shops and bakeries, as well as breweries and pubs.
Easy Tiger is a fairly new business, part bakery and part beer garden (or biergarten, if you like). David Norman is one of the founding partners and also the Head Dough-puncher. He showed me how he makes the soft pretzels they are known for.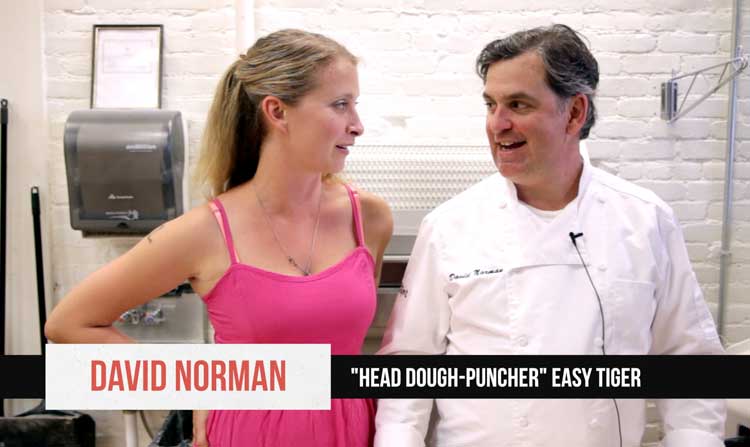 BUT ABOUT THEM PRETZELS.
Soft pretzels are a dense, chewy, yeast bread with a burnished, shiny brown crust bespeckled with crunchy, chunky salt granules. You'll find them many places, from mall kiosks to baseball games. Soft pretzels go particularly well with mustard or queso for dipping them in, as well as ice-cold beer. The German word for this particular type of pretzel is Laugenbrezel, meaning "lye pretzel" because of the way that shiny brown crust is made. Lye (sodium hydroxide, or NaOH) is an alkaline compound derived from wood ash. It has culinary purposes (it's also used in making Scandinavian lutefisk, Chinese century eggs, hominy and corn masa, and curing olives) but is very caustic and dangerous if you're not careful. It's also used by ill-bred peoples to make methamphetamine. For this reason, it is unlikely you'll be able to purchase it locally, but it is available through online sources. Make sure you get food-grade lye! Lye is also used as a drain cleaner and a soap ingredient, but you don't want to use those because they could have other ingredients or impurities that are even more poisonous than the lye itself.
When the pretzels are dipped in the lye water, the lye breaks down the fats and protein on the surface of the pretzel, making them feel slick and bake up shiny and smooth. It also adds a distinctive, minerally, salty, acrid flavor to the pretzel crust. Lye is often replaced with baking soda as a safer, less toxic alternative, but baking soda isn't quite alkaline enough to be a very satisfactory substitute for real pretzel lovers.
FORTUNATELY, there is a better way. By baking the baking soda, it's pH increases to closer to that of lye without being quite as burny to delicate hands and faces.
Print
Soft Pretzel Recipe
Author:
Prep Time:

1 hour 20 mins

Cook Time:

10 mins

Total Time:

1 hour 30 minutes

Yield:

8

1

x
For dipping:

4 cups

warm water

1/3 cup

baking soda
For pretzels:

1/2 cup

warm water (95-115ºF)

1 tablespoon

brown sugar

1

package active dry yeast (

1/4 ounce

)

3 1/4 cups

bread flour

1/2 cup

beer (lager preferred)

2 tablespoons

soft butter

2 teaspoons

salt

2 tablespoons

Kosher or flaked sea salt for sprinkling
Instructions
To make your fake lye bath: Line a small baking sheet with foil and spread the 1/3 cup baking soda on it. Bake in a 250ºF oven for one hour while you make the pretzel dough.
In a large mixing bowl (hopefully a stand mixer with a dough hook attachment) combine the warm water, sugar and yeast. Stir to dissolve the sugar. Allow to sit for 5 minutes to activate the yeast.
Add the beer, butter, and flour and begin mixing. After a minute or so, add a little more beer or water if needed to bring the dough together into a ball, or a little more flour if the dough is very wet.
Add the salt.
Knead on low speed for 5-7 minutes until a firm, elastic dough is formed.
Rub a little butter all over the dough ball, place back into the bowl, and cover with a damp cloth. Set aside for 30 minutes (or refrigerate covered in plastic wrap overnight).
Cut the ball into 8 portions.
On a clean, dry surface, roll each into a tapered snake, 24-28″ long. The center "belly" of the snake should be about 50% fatter than the ends. Don't flour the surface. You need some friction for the dough to roll properly. In fact, if it refuses to "grip" the surface, dampen your hands with water and then continue rolling out.
Bring the ends of the snake up, twist them once, then lay them down onto the "belly" to make a pretzel shape.
Place on a greased parchment paper sheet.
Now in a wide, deep pan combine the baked baking soda and water to dissolve. Add the baking soda a little at a time to prevent it from clumping up.
One by one, carefully transfer the pretzels into the water bath, turning once. Each side of the pretzel should be in the water for 10 seconds. Remove with a slotted spoon and lay on a baking sheet lined with greased parchment an inch apart. You will need two trays or bake in two batches.
Sprinkle with Kosher or sea salt while still wet.
Allow to rise 30 minutes while your oven heats to 475ºF. Arrange your oven racks to the middle and upper third.
Bake 8-12 minutes until dark brown, rotating pans halfway through.
Notes
If using lye: Wearing rubber gloves, add 2 tablespoons lye to 2 quarts lukewarm water and stir to dissolve
Print
Beer Cheese Recipe
Author:
Prep Time:

8 hours

Total Time:

8 hours

Yield:

1

2

1

x
1 1/2 cups

Brooklyn Lager

1 1/2

pounds sharp cheddar cheese, grated

6 ounces

cream cheese (

2

–

3

ounce packs, or 3/4 of an 8 ounce pack)

2

cloves garlic, minced

1/2

onion, minced

1/2 teaspoon

Tabasco sauce

1 teaspoon

Worcestershire sauce

1/2 teaspoon

black pepper

1 1/2 teaspoons

salt

1/4 teaspoon

cayenne

1 teaspoon

dry mustard
Instructions
Flatten the beer by pouring it into a pitcher and stirring gently.
Combine all other ingredients in food processor and pulse a couple of times to combine.
Turn machine on and slowly add beer until smooth.
Refrigerate overnight