How To Make a Salad – Homemade Vinaigrette Recipe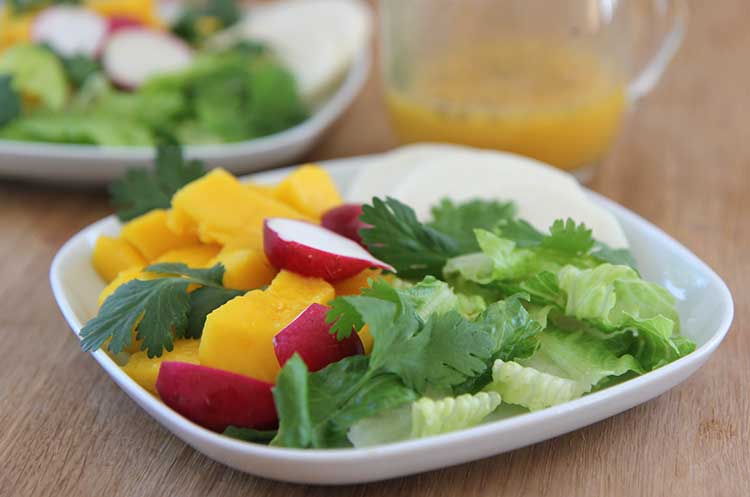 As much as I love bacon and cheese and fried stuff, there comes a time when I have just got to have some vegetables before I develop an electrolyte imbalance, my eye balls shrivel up, I go blind; my liver congeals into a solid mass of cholesterol and pork rinds and completely halts all enzymatic activity; I grow pale, yellow, weak, begin to hallucinate and throw myself off the 360 bridge.

It is at that point that my salad-making abilities really shine! Cool, crisp, chilled and so-so-so lightly dressed — barely covered — in a negligee of a citrus vinaigrette. Almost nude. Just enough clothes to tempt. Oh salad, you makin' me horny.
How to Make a Salad
How to Make a Salad – Vinaigrette Recipe
Print
How To Make a Salad
Author:
Yield:

1/3 cup

1

x
Vinaigrette:

1/4 cup

fresh orange juice

1

clove garlic, finely minced

2 teaspoons

oil (olive oil, walnut or other nut oils, or mild oil like canola)

2 teaspoons

cider vinegar (or another kind)

1 teaspoon

mustard

1/4 teaspoon

each salt and pepper
Salad:

6 cups

washed and chilled lettuce, spinach, or arugula

1

jicama, peeled and sliced

1

large mango, peeled and cubed

1

bunch radishes, stemmed and halved

1/2 cup

fresh herbs (cilantro, dill, basil or mint)
Chilled and sliced vegetables and fruits
Instructions
Make the vinaigrette: Put everything into a jar and shake it hard until everything is mixed completely. The mustard helps the emulsification.
Pour over any kind of salad stuff you like: lettuces, spinaches, carrots, beets, cucumbers, bell peppers, steamed and chilled green beans, jicama, mango, radishes, apples, celery, pears.
Put some walnuts or pecans on your salad.
Leftover dressing will keep in the refrigerator for two weeks or more.
Eat it and feel healthy enough to justify another week-long Buffalo wing binge.