How to make Crab Cakes Video – scroll down for recipe card
Here's how to make crab cakes out of crab meat. These would be perfect little cakes if you were throwing a birthday party for a fish or a shark or a whale. Not such a great idea if the party is for a crab, but in that case you could just swap out the crab meat for drained canned tuna or salmon and make that little birthday-crab happier'n he's ever been in his whole crabby little life.
If you want, you can add a tablespoon of pimientos or chopped red bell pepper for a color kick. Or you could use some minced onion or shallot instead of celery if you are one of those people I've heard about that hates celery for some reason. I don't understand you, but I know you are out there.
Serve crab cakes with this simple homemade tartar sauce for extra fanciness.
Crab Cakes Recipe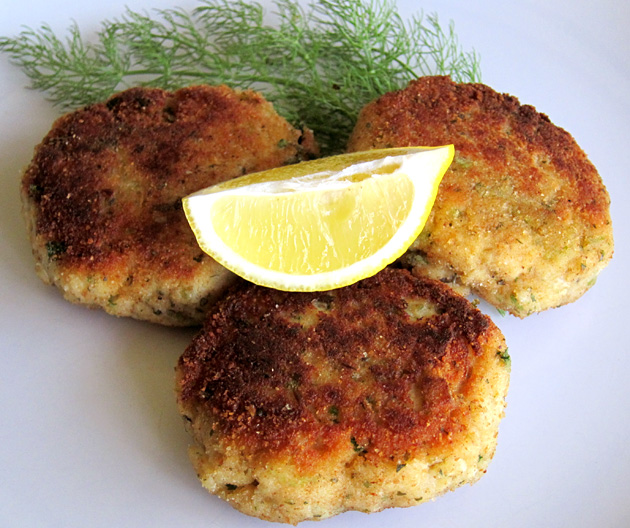 Print
Crab Cakes
8 ounces

fresh picked or canned crab meat

1/3 cup

minced celery

1

clove garlic minced

1 tablespoon

oil

1

egg

2 tablespoons

minced parsley

1 teaspoon

dijon or horseradish mustard

2 tablespoons

dry breadcrumbs or cracker crumbs
Salt and pepper

1 cup

dry bread crumbs for dredging

2

–

3

tablespoons butter
Instructions
Look over the crab meat carefully to find any stray bits of shell.
Saute the celery and garlic in the oil for about 5 minutes until soft but not browned.
Mix the crab, egg, vegetables, seasoning and 2 tablespoons crumbs together to make a soft dough.
Form 4 patties and dredge well in crumbs.
Refrigerate 30 minutes, or up to 6 hours to set.
Melt butter over medium high heat and add the cakes.
Fry 3 minutes until golden brown, then flip and reduce the heat to medium.
Fry 3-4 more minutes.
Serve with lemon wedges or tartar sauce
Here's my "patented" homemade tartar sauce recipe, too!