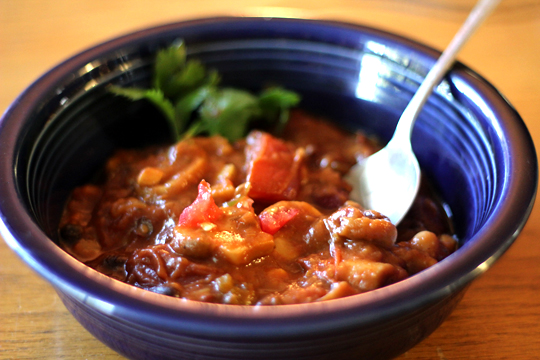 I'd like to say that Karol Gajda is a good friend of mine. But in reality, I've only met him twice. But in virtual reality, I know him really well since I read his blog Ridiculously Extraordinary all the time and think he is a very smart and sensible human with whom I could be good friends if he wasn't constantly globetrotting his ass all over the globe.
But I guess Chris has been email buddies with him for a while now and somehow, through his vague and mystical powers, found out that Karol was going to be in Austin. We had to get him on the show!
Fortunately for us, he wasn't that hard to get, since he's really nice and helpful. It was pretty serendipitous timing, too, since we just sent out a survey (big love to those who responded!) and found a surprising number of requests for more vegetarian fare. And I mean surprising in a good way…nay, I say, in a GREAT way! I was really happy to see that. Anyway, the serendipitous part comes in when you learn that Karol is vegan. Take that, people. You ask for vegetarian and we're gonna go one step further. Taking it to the LIMIT! As per usual.
So this recipe is one he suggested. Funny story about that. You might know that I detest mushrooms. You will soon find out that Karol's recipe is dependent upon the inclusion of many, many mushrooms. But, ever the Good Sport, there was no way IN HELL I was going to mention my feelings for fungi to Karol; I was going to make and eat that chili if it killed me, by Jiminy, and no one need be the wiser.
And then Chris showed up.
Long, boring story short: Karol found out about my feelings for mushrooms but I convinced him that it was no big deal and I would survive and then we made it and then I was pleased because the mushrooms had been cooked for so long that all their mushroomy taste and texture was gone, lost to the chili pequins and the cumin seeds, and it was delicious and then I had the last bowl for lunch yesterday, except I gave some of the mushroom chunks to my mom. The End.
If you don't like mushrooms but are under no pressure from the Southern Belle that languishes deep within your heart to use them anyway, I bet big chunks of squash would be good instead.
But here is Karol's recipe, as he sent it to me (I took out all the x's and o's and smiley faces. JUST KIDDING. They were never there.), PLUS some notes of my own, in italics.
Print
Vegan Chili
Soy-Free, Gluten-Free, 3-Bean Vegan Chili
1 tablespoon

of oil

4

large cloves garlic, minced

1

green bell pepper

1

medium-large white onion

1

pound sliced mushrooms

1

15 oz can black beans (drained and rinsed) or equivalent dried/soaked overnight beans (This would probably be about

1/2 cup

of each bean type, dry. I don't know because I forgot to set them a'soaking, so we used canned beans)

1

15 oz can kidney beans (drained and rinsed) or equivalent dried/soaked overnight beans

1

15 oz can great northern (err, white) beans (drained and rinsed) or equivalent dried/soaked overnight beans

1

28 oz can diced tomatoes (or

9

fresh Roma tomatoes)

1

8 oz can tomato sauce
Optional: 12 oz dark BEER (Make sure it's vegan and gluten-free if that is important to you)

2

–

6

jalapeno peppers, chopped

1 Tbsp

chili powder

1 tsp

black pepper

1 tsp

oregano

1 tsp

ground cumin

1 tsp

sea salt

1 tsp

cayenne pepper
Instructions
Add oil to a big pot on medium. Let it warm up for 3-4 minutes..
Chop up your onion and bell pepper and mince your garlic in the meantime.
Add onion, bell pepper, and garlic to the pot and sautee for a few minutes. (don't let the garlic burn…might have to turn down your heat a bit) Add mushrooms and sautee until mushrooms are soft and squishy… ~5 minutes.
Add all the beans, tomatoes, tomato sauce, and spices. Turn up the heat and bring to a boil.
Once at boiling lower heat to medium low, stir, and put a lid on the pot. Let it do its thing for 20 minutes.
Stir. Taste. Add more spices (or don't). (We did! We added more cumin, chili powder and peppers.)
Stir. Cover again and let it do its thing for 20 more minutes. (If using dry/soaked beans will need ~10 more minutes.) (If you used the beer, cook with the lid off for the last 20-30 minutes to thicken the chili.)
BEER + EAT
Serve this with cornbread and you will be a happy camper!