About a month ago, Chris and I decided to cut out beef from our diets for no other reason, really, than that our dog's face reminds us of a Jersey cow and it seems sad to eat something that looks like Mr. Banjo. As a result, we've been eating more vegetarian meals and a whole lot more fish and poultry. (We didn't eat much pork to begin with.) And in typical late-to-the-party fashion, I've very recently started cooking more in my Instant Pot. So Instant pot turkey chili is on the menu today!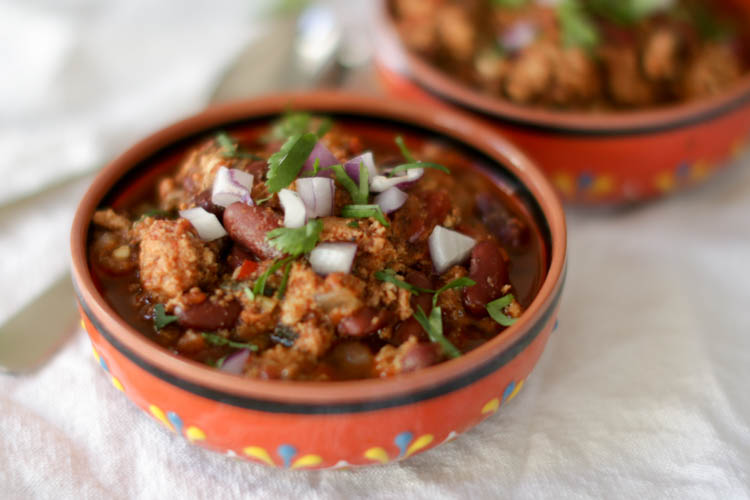 If you don't have an Instant Pot (basically a souped-up pressure cooker) you can do this turkey chili in a standard pressure cooker or just on the stove. I'll provide instructions for IP/PC and stovetop in the recipes card.
Couple things about cooking with ground turkey. Really just one thing, I guess. For some reason — I think it's just that the ground turkey is so much finer and softer than beef — it cooks up in big, fat chunks rather than breaking apart easily like beef. If you like big, chunky chili: great. Just brown it and break it up as well as you can before adding the liquid.
If you like a smoother chili (or are making something else like ground turkey taco salad) then you'll want to add the liquids as you brown the meat. No, the meat won't brown like it does without the liquid but it will break apart easily into bits.
Oh! The other thing about ground turkey is . . . I don't know why packages vary from 1 to 1/2 pounds but they do and you can use any amount in between and it works out fine. (The calorie info is for 1 pound.)
Also, if you eat a lot of tacos and taco-like things, it's TOTALLY WORTH IT to mix up a batch of my homemade taco seasoning. Works for tacos, chili, burgers, what the hell ever. And you can make it with or without salt. I make it without salt most of the time.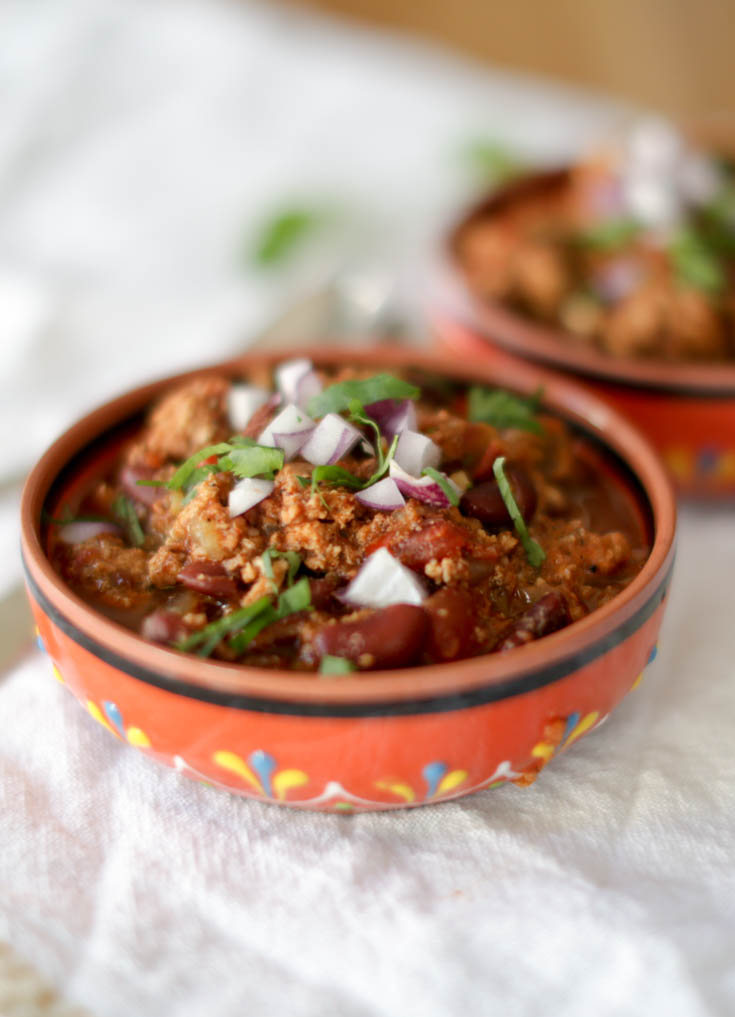 Print
Instant Pot Turkey Chili
Turkey chili with beans, made in a pressure cooker or stovetop
Author:
Yield:

4

servings

1

x
1 tablespoon butter or bacon fat
1 medium onion, diced (about 2 cups)
2 jalapeños, seeded and minced
3–4 cloves garlic
1 pound ground turkey (I use 93% lean)
2 tablespoons taco seasoning (my homemade seasoning mix)
1 tablespoon paprika
1 tablespoon tomato paste
1 1/2 cups diced tomatoes, fresh or canned (1 – 16 ounce can)
1 cup chicken or vegetable stock
1 1/2 cups cooked kidney or pinto beans (1 – 15 ounce can, drained)
1 teaspoon minced chipotle en adobo
1/2 teaspoon salt (necessary salt depends on your tomatoes and broth)
Garnish ideas: grated cheese, chopped onion, cilantro, pickled jalapeños, sour cream
Instructions
Use the saute function on your Instant Pot or put a large pot over medium-high heat on the stove.
Add the fat, onions, jalapeños and garlic. Saute about 5 minutes until softened.
Add the turkey and break up with a spoon. Sprinkle on the seasoning and paprika. If you like big chunks of meat, brown it this way for a few minutes. If you like smooth or less-chunky chili, add the tomatoes and broth and stir. The turkey will break up very finely.
Add the beans, chipotle and salt.
For Instant Pot users, lock the lid on and set to cook for 20 minutes on high pressure. For stovetop, cover the pot and let simmer about 1 hour.
Nutrition
Calories:

309

Fat:

13

Carbohydrates:

21

Protein:

25