HHH028 Jackie Mandel Schultz | Life with Jackie
In this podcast episode, I chat (and laugh a lot) with Jackie Schultz, family vlogger on "Life with Jackie" about what it's like being a daily family vlogger; sex robots; friend zones; Medieval Times; and growing up as Howie Mandel's daughter. Also Jackie gets mad at me about Kindergarten. 😉
Check out this vlog on her channel to see some behind-the-scenes of our podcast recording!
Show Notes: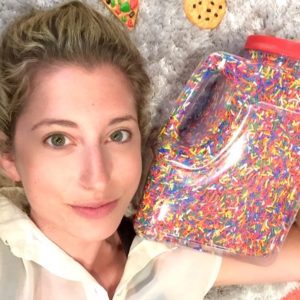 Bombay Sapphire
Stress pimples
The pros and cons of being a daily vlogger
Alex Mandel
Dealing with negative comments
Margaret Cho
Kindergarten teaching
Porn addiction and sex robots?!
Tongue piercings and tattoos
Mylar balloons
A Love Story (video)
Real Housewives of NYC
Cloning
Medieval Times
Merkins
Growing up with Howie Mandel
Follow Jackie on YouTube | Instagram | Twitter | Facebook
You can listen to the episode and subscribe on iTunes or on Soundcloud here.  Please leave a review/rating to help others find the show, and if you have any suggestions about future guests feel free to let me know by leaving a comment on this page or tweet me @hilahcooking!