Jalapeño Bacon Cheeseburger
The evil, long-lost, fat-filled twin sister of Tuesday's turkey burger recipe, this jalapeño bacon cheeseburger really isn't anything new. It's just delicious. As if that weren't enough. You know it's enough.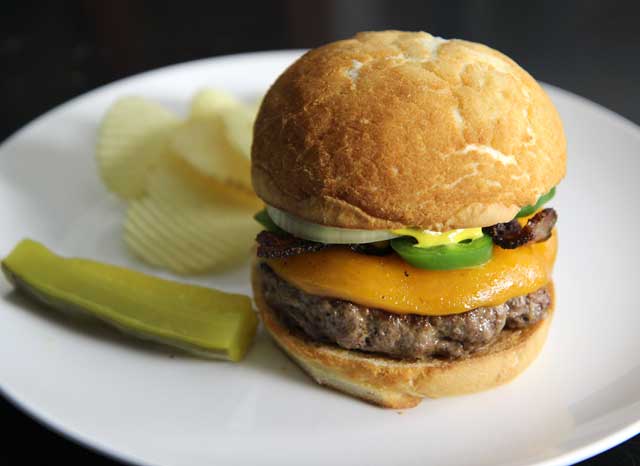 I like to use fresh jalapeños on this cholesterol-laden extravaganza to add a little bite of cool crispness. Pickled jalapeños are awesome, too. If you want to go the extra mile, saute your fresh jalapeños (and even some onion!) in the bacon fat before cooking the burgers.
Mustard is pretty much a required course in Jalapeño Bacon Cheeseburger U. The cheese offers some flexibility. Often, I'm prone to swinging American for its superiorly smooth melting, but cheddar has it's own good qualities. Namely, that you can buy it in round slices and those are CUTE melted over a burger. Swiss cheese or muenster are also wicked-good on a cheeseburger.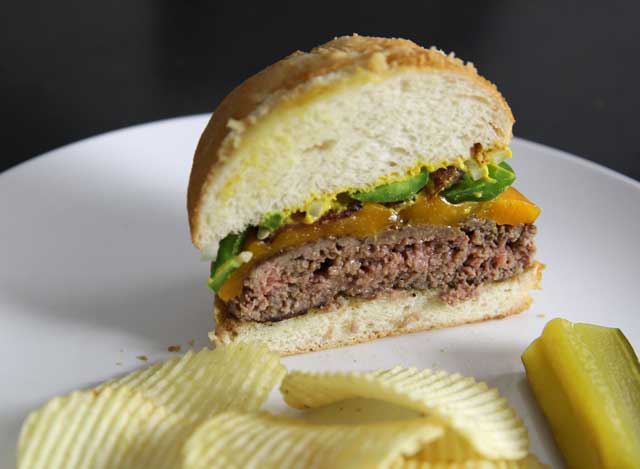 The bacon. I like to use a thick-cut pepper bacon. Mostly, I like thick-cut bacon for everything. More thicker means more bacon-y-er. Thinner bacon gets a little crunchier, though, so if you like crunchy stuff in your burger, go thin. You could of course, just add potato chips in there for the crunchies, too. No one's judging.
Print
Jalapeño Bacon Cheeseburger
Author:
Cook Time:

15 mins

Total Time:

15 minutes

Yield:

2

1

x
2

–

4

strips of bacon, cut in half

3/4

pound ground chuck (80% lean/20% fat preferred)

2 teaspoons

Worcestershire sauce

1 teaspoon

minced garlic

1/2 teaspoon

black pepper

1/2 teaspoon

salt

2

–

4

cheese slices
Fresh or pickled jalapeño slices
Other toppings:
Buns
Mustard/ ketchup/mayonnaise
Pickles
Tomato/ Lettuce/ Onion
Instructions
Start cooking your bacon. You'll need 1-2 strips of bacon per burger and I recommend you cut them in half before cooking so they'll fit on the buns better. Place the strips in a single layer in a cold pan and turn the pan to medium heat. Let them cook 3-4 minutes while you get your beef patties together.
Put the meat in a large bowl with the Worcestershire and garlic. Mix together with your hands, using a light touch, but fully incorporating the seasonings.
Form the meat into two patties, no thicker than one inch and about 5-6 inches across. Make the center 2 inches of the patty slightly thinner than the outer circle.
Season the out side of the patties with the salt and pepper. Set aside.
Now it's probably time to flip your bacon. Flip and cook another 3-4 minutes or until it's as crisp as you like. You can prep your tomatoes/lettuce/onions while it finishes.
Remove cooked bacon to a plate or paper towel to drain. Pour out all but a tablespoon of bacon grease from the skillet.
(Optional: you can also grill the jalapeño slices in the bacon grease before cooking the burgers for extra bacon fat infusion!)
Increase the heat to medium-high and put in your patties. Cook 3 minutes on one side.
Flip and cook another 3 minutes for rare; 4 minutes for medium-rare, 5 minutes for medium to medium-well. Add the cheese slice to the burgers for the last 1 or 2 minutes of cook time, depending on how easy your cheese melts (i.e. American cheese only needs a minute; other cheeses will need 2 minutes).
Once cheese is melted and burgers are cooked, serve on buns topped with bacon, jalapeños, and any other toppings you like.
The video for this will be up tomorrow! Stay tuned!