Kale Salad with Goji Berries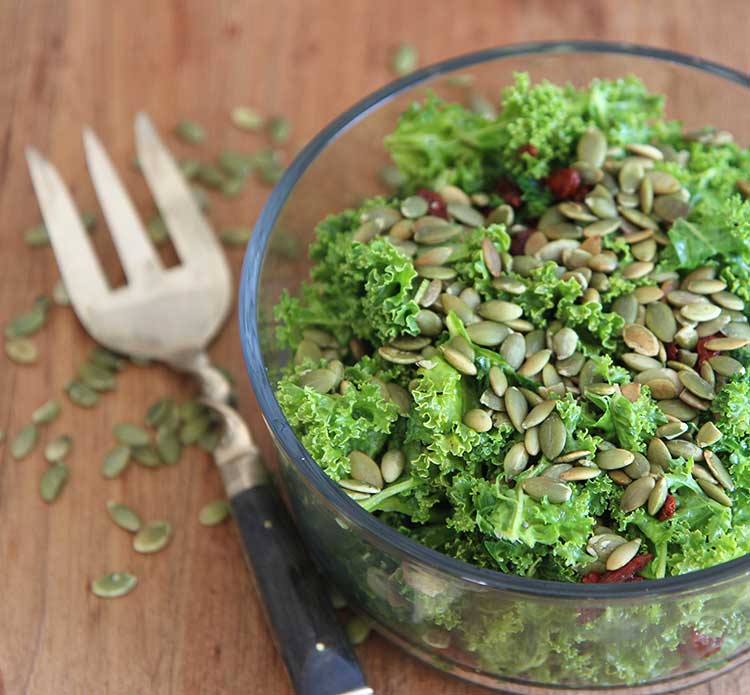 The thing about kale salad as you've probably heard by now, is you need to massage it. Rub it down with some oil and salt, break up the fibrous veins and make it tender. Man, that sounds sexy.
Kale salads also benefit from a little something sweet like fresh or dried fruit. In this case it's goji berries because I have had the same little package of goji berries in my pantry since 1989. As is my custom when faced with any amount of expensive ingredient, I have hoarded it. Which is stupid. Especially now because babies NEED goji berries! And kale and pumpkin seeds and apple cider vinegar and olive oil. And that's it. That's basically all they need I think.
Check out this other kale salad recipe with a video to see how to massage your kale.
Kale Salad with Goji Berries – Printable Recipe
Print
Kale Salad with Goji Berries
1

bunch kale (about

12 ounces

weight?)

1 teaspoon

salt

1 tablespoon

olive oil

2 tablespoons

cider vinegar

1

stalk celery, thinly sliced

1/4 cup

goji berries

1/4 cup

toasted pumpkin seeds

1/4 teaspoon

black pepper
Instructions
Tear away and discard kale stems. Rinse the leaves well and shake dry.
Place leaves in a large bowl with salt and oil. Rub the salt into the leaves. Don't be shy. Just basically crush them until the leaves change to a darker green and wilt.
Add remaining ingredients and stir with hands again.
Refrigerate up to several days.