Lussekatter — Swedish Saffron Buns
Lussekatter Video Demo (Scroll down for recipe)
Part nine in my Christmas Around the World series! Christmas in Sweden, focus on: LUSSEKATTER! Thank you to Helen for explaining the origin of these buns. And thank you to Sophie for emailing with me about Swedish Christmas traditions!
Lussekatter, or St. Lucy's Cats, are a sweet saffron bread from Sweden. Saffransbullar they are called, when not formed into the tight figure 8, reminiscent of a kittycat tail, I suppose. The legend is a little distorted; originally they were called "Devil's Cats" because it was told that the Devil would arrive in the form of a cat to punish bad children, while a "Christ-like child" would show up with treats for the good kids. St. Lucy (or Lucia in Italy) came to represent the good and the light (as opposed to the dark and the evil of Satan) and saffron was used to keep the Devil at bay because of its brilliant yellow color that is bright like the sun — and the Devil hates sunlight, right? Over hundreds of years, Lussekatter came to replace the name Dövelskatter (Devil's cats) though in some parts of Sweden the old name is still used for these buns.
Helen actually explained it better, thusly, "One legend says that the Devil in the shape of a cat used to beat naughty children up, while Jesus Christ in the shape of a child handed out buns or bread flavoured with saffron to kind and well brought up children. This was done to keep the fishy Devil away. To make the bread lighter in colour and more "sun-like" the yellow spice of saffron was added."
Thanks, Helen!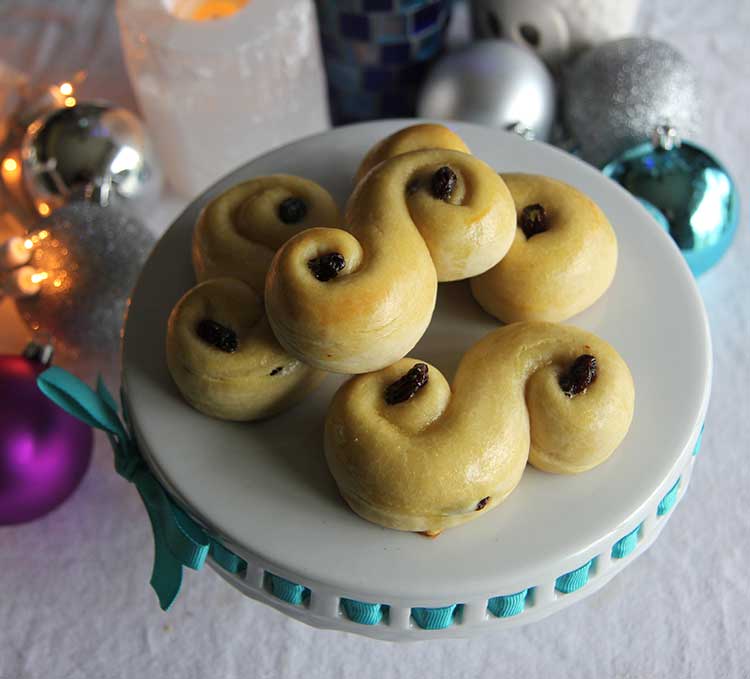 Lussekatter Recipe
Lussekatter – Swedish Saffron Buns
Author: Hilah Johnson
Serves: 12
Ingredients
½ teaspoon saffron threads
1 teaspoon brandy or cognac
½ cup milk
½ cup melted butter
6 tablespoons sugar
½ teaspoon salt
1 package dry yeast (1/4 ounce)
3 cups flour
2 eggs (not to be used at the same time)
¼ cup raisins
20 additional raisins
1 egg yolk
Instructions
Crumble saffron into brandy and let sit (up to 24 hours in advance).
Scald milk and mix with butter, sugar and salt in a large mixing bowl. Let cool to lukewarm.
Add yeast and sit 10 minutes.
Add saffron and brandy and stir.
Mix in half the flour and one egg until well combined.
Add in the rest of the flour and ¼ cup raisins until a soft dough forms.
cover and allow to sit in a warm place until puffy, but not quite doubled in size (60-90 minutes)
Divide dough into 12 portions, each about the size of an egg (2.5 ounces weight).
Roll each bit into a snake about 4 inches long. Cover and rest 10 minutes.
Roll each to twice as long and form into a tight "S" or figure-8. Tuck a raisin into the curve of each end.
Transfer to a greased baking sheet, about 2″ apart. Cover again and let rise in a warm place 60-90 minutes.
Beat remaining egg in a small bowl. Brush over buns.
Preheat oven to 400ºF. Bake 10 minutes.
Check out these other Swedish recipes!
This cured salmon will knock your socks off, in a good way.
Easy and delicious, especially when served over mashed potatoes!