Gravlax Recipe — Swedish Cured Salmon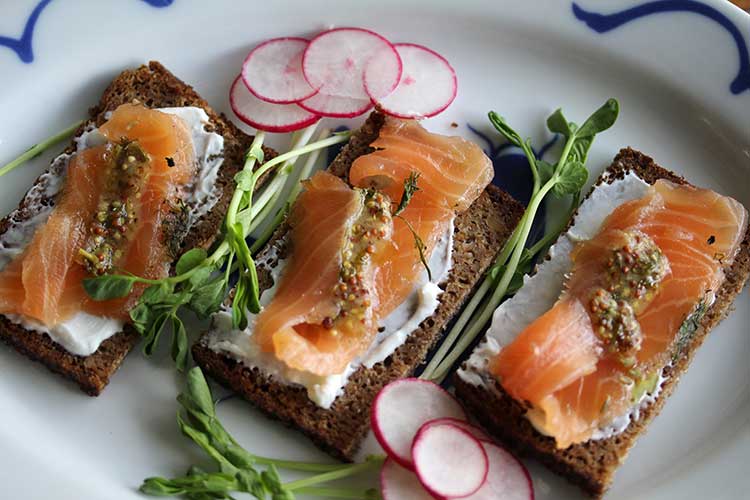 When I was in New Zealand some decade or so ago, wwoofing*, occasionally I would be allowed to work some of my wwoof-hours in the restaurant kitchen. The chef there made gravlax. It seemed so easy and tasted so delicious, I'd since then always intended to try making it myself, but never got around to it until I had the brainiac idea to do this Christmas Around the World thingy and came upon a recipe for gravlax while researching Sweden. Though gravlax is not just made in Sweden (obviously it's made in New Zealand and Texas now, too!) IKEA sure has made it synonymous with Sweden. And if that puts you off at all, keep in mind that I have written out clear instructions for assembly of the gravlax with nary a pictogram nor tiny wrench in sight.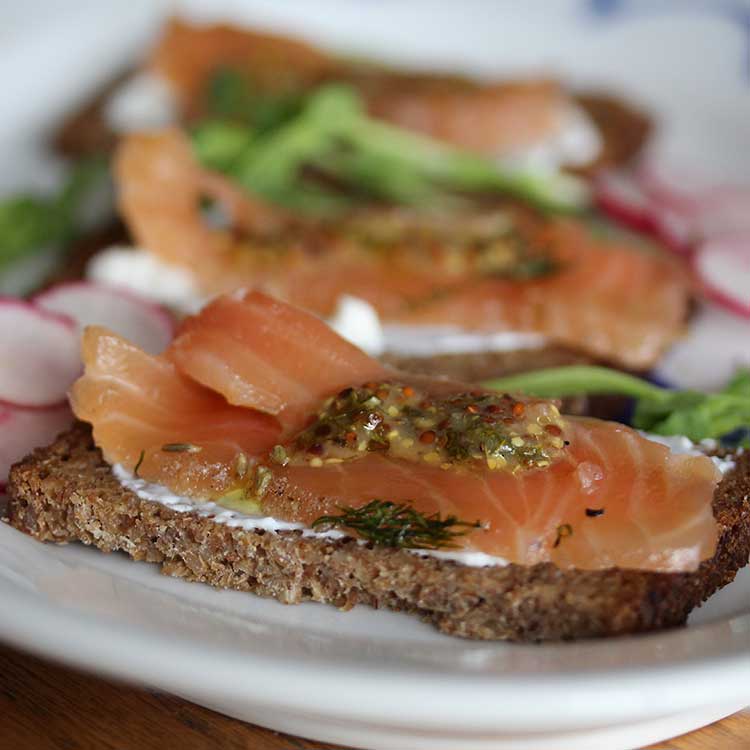 Gravlax translates to "grave salmon" or "trench salmon" though I like the imagery of "grave salmon" because it gives you full permission to serve this for a Halloween party. Originally, it described salmon that was preserved by burying it in the sand and allowing it to ferment. Now, it's more like you just bury the salmon in a grave made out of a baking dish and a bunch of salt and sugar and then put it in the fridge. It's not cooked exactly, but it is cured, sort of like ceviche.
This recipe was adapted from Ina Garten. I leave mine to cure in the fridge for four days and it was perfect. To store it longer, drain the brine and wrap it up tightly and refrigerate up to seven days.
Serve thin slices (cut away the skin) on dark rye bread or rye crackers with sour cream or cream cheese, capers, lemon, fresh dill, mustard or horseradish … any of those things are great. It would also be good tossed in a pasta salad or in a crepe or an omelet.
Print
Gravlax — Norwegian Cured Salmon
Author:
Prep Time:

72 hours

Total Time:

72 hours

Yield:

8

1

x
1 1/2

pounds salmon fillet, boned, skin-on

1/4 cup

sugar

1/4 cup

Kosher salt

1

bunch fresh dill

1 teaspoon

fennel seed

1 teaspoon

coarsely ground black pepper
Instructions
Cut the salmon in half cross-wise to get two square-ish pieces.
Mix sugar, salt, fennel and pepper together. Rinse and dry dill sprigs, leaving them intact.
Lay one skin-side-down into a glass loaf pan or other non-reactive dish at least 2″ deep.
Sprinkle evenly with half the salt mix, spread the dill sprigs over, sprinkle with remaining salt.
Lay the other piece of salmon on top, skin-side-up to make a "sandwich".
Cover with plastic wrap and fit a tupperware or other container inside the loaf pan. Fill it with a heavy can or jar to weigh the fish down.
Refrigerate 3-4 days, turning the "salmon sandwich" every 12 hours or so. Every 16 hours is okay, too. After only the first day, there will be quite a bit of brine accumulated in the dish. Leave it there until serving time.
Eat after 3-4 days and store leftover gravlax sans brine in an airtight container.
Notes
I served with the following sauce:
2 tablespoons rice wine vinegar
2 tablespoons olive oil
1 tablespoon grainy mustard
1 teaspoon dill weed
1 teaspoon horseradish
salt and pepper
*That stands for "world wide opportunities on organic farms". Basically, you show up on a farm (in my case, it was a large garden that supplied a lodge restaurant that was located in a national forest accessible only by boat) and work in the dirt in exchange for food and lodging. It was an absolutely wonderful experience and I highly recommend it to anyone.