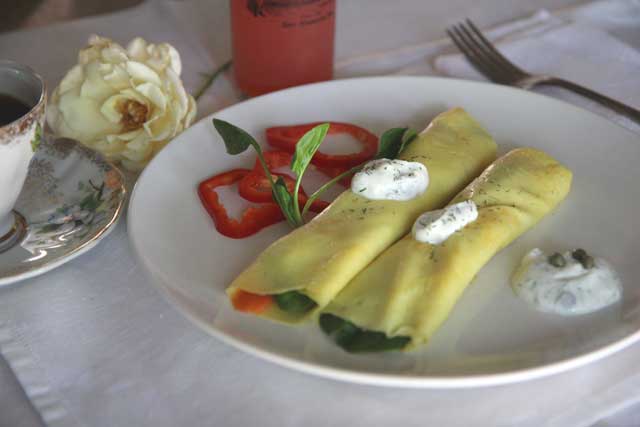 I recently learned how to make crepes from my mom's boyfriend, Bill. Every year he has a crepe party for Easter. He sets up several "crepe stations" around the house and yard — an electric cooker, griddle, bowl of crepe batter — and a central table indoors, covered with different crepe fillings. The fillings range from savory to sweet: sauteed mushrooms, spinach, ricotta cheese, ham, chicken salad, pimento cheese (oh yeah duh, I ate that one!) to strawberries, whipped cream, mascarpone, peaches, Nutella, bananas, peanut butter, jelly. This year I was in charge of manning the exterior crepe station and it was so much fun, you guys! I got the hang of it quickly (it's way easier than I thought it would be) and was just flippin' crepes left and right alongside my trusty, bottomless mimosa.

So here's what I think makes crepes so much easier than they seem like they ought to be: butter. And eggs. Mostly the butter. Like waffle batter, crepe batter is high in the butter and eggs department, when compared to the amount of flour in the recipe. Butter (and eggs to a lesser extent) doesn't stick to pans. This is why such a delicate, thin pancake is really kinda of a piece of crepe to flip.
Get it?
I kill me.
In this crepe recipe, I've got some smoked salmon, spinach, and a caper-dill cream sauce that's really fairly low in fat for as creamy as it tastes. I think the combination here makes a great breakfast, brunch or lunch crepe. Then, if you want, you can have a second crepe course and fill them with Nutella and strawberries instead or do a classic like crepes Suzette.
Some people like to make sweet crepes if they're gonna fill them with sweets, but I prefer to keep it simple and use the same batter for sweet or savory crepes. If you are making sweet dessert crepes and you really want to make sure they're dessert-y you can add 1 tablespoon of sugar to the following recipe:
Print
Crepe Recipe
Author:
Prep Time:

30 mins

Cook Time:

5 mins

Total Time:

35 minutes

Yield:

4

1

x
Butter for cooking (a tablespoon)
Batter:

1/2 cup

flour

1/2 cup

milk

1/4 cup

warm water

2

eggs

2 tablespoons

butter, melted

1/2 teaspoon

salt
Fillings:
smoked salmon, spinach leaves
Caper-Dill Cream Sauce:

1/3 cup

plain, nonfat yogurt

1/3 cup

Mexican crema, creme fraiche, or sour cream

1 tablespoon

capers, drained

1/2 teaspoon

dried dill weed

1/4 teaspoon

salt
Instructions
Make the crepe batter by whisking all ingredients together. Set aside for at least 30 minutes or refrigerate covered up to 2 days.
Meanwhile, make your sauce by mixing all those ingredients together. Set aside.
When you're ready to cook, heat a griddle or an omelet pan (nonstick or stainless steel, lightweight is best) over medium heat with a tiny bit of butter, 1/2 teaspoon.
Swirl the butter around and when it's just beginning to turn golden, lift the pan off the heat with one hand.
Pour in 1/4 cup of batter with the other hand and gently tilt the pan so that the batter covers the bottom, or makes a circle on the griddle about 6″ across.
Put the pan back on the heat and cook about 1 minute.
Flip the crepe with a spatula if using a griddle. If you're using a skillet, it can be hard to get a spatula in there, so you can wiggle it out onto a plate and then flip it back in. Or use your fingers like I do in the video, but it's hot and dangerous.
Cook another 30 seconds on the other side, then slid onto a plate.
Fill with a few slices of salmon, some spinach, and a tablespoon of sauce. Serve with more sauce on top. These are good hot and at room temperature.
Notes
To double the recipe: 1 cup flour 1 cup milk 1/2 cup water 4 eggs 4 tablespoons melted butter 1 teaspoon salt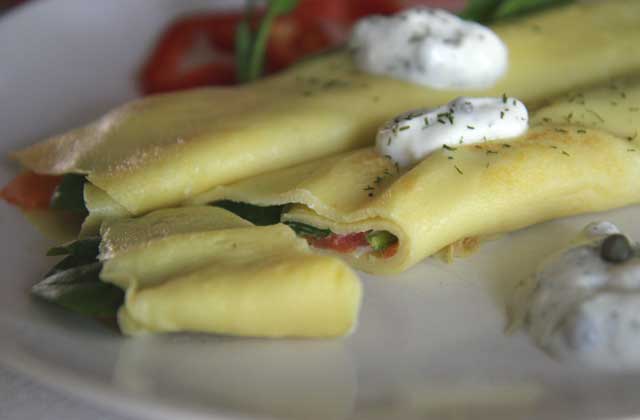 More Savory Crepe Ideas!
Thinly sliced ham, grated Swiss + creme fraiche
Kalamata olives, diced tomato + basil
Cream cheese, black pepper + lemon zest
Spinach, sauteed mushrooms + Parmesan
Smoked trout, horseradish cream + red onion
Sweet Crepe Fillings:
Sweet crepes, especially those involving any kind of spread (Nutella, jam, etc) can be served folded into quarters instead of rolled. 
Nutella, sliced bananas and/or strawberries
Strawberries (raw or stewed) + whipped cream
Mascarpone cheese, honey + fresh figs
Ricotta cheese, cinnamon, lemon zest + chopped dates
Any fruit jam or marmalade + whipped cream
Lemon juice and powdered sugar (just sprinkled over top of rolled or folded crepe)
Ice cream (Oh, zip it.)
Do-Ahead Crepes!
If you want, you can make up a stack of crepes the day before, put them on a plate and cover with plastic wrap. Refrigerate up to 24 hours. Reheat them quickly on a griddle. Et Voila!
And if that isn't enough, here's 5 more crepe fillings to try!