Laurel is back, you guys! As a follow up to last week's Spanakopita for Lovers, we're making waffles for the morning after! If y'all haven't yet checked out Laurel's site Trophy Boutique, you are missing out on some awesome tips on how to dress yourself, some funny writing, and some pretty pictures. Laurel was actually the wardrobe stylist for the photo shoot we just did last weekend for my new book. There are some totally awesome and cute behind-the-scenes pictures from that on the Facebook page if you wanna check em out.
And now for the waffles!
The thing about waffles from scratch is that:
A. They are impressive because it means you have both flour AND baking powder AND a very use-specific kitchen instrument
B. You will probably have lots of left over waffles (this recipe makes about 8). The good thing about that though is that you can refrigerate or freeze them and blam! Homemade Eggos. Stick them babies in the toaster tomorrow.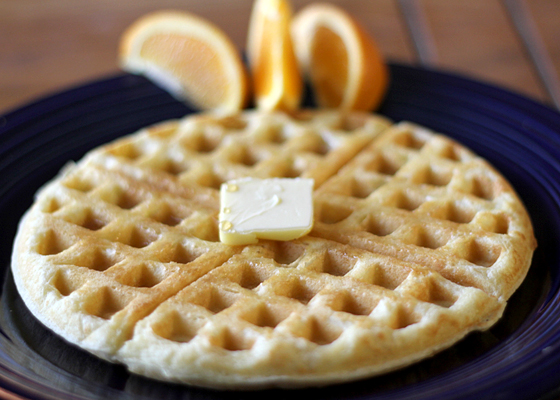 Okay, at this point, if you are still reading, I assume you own a waffle iron. But perhaps you don't know how to use it? Okay. If it is brand new and the instructions say to season it, well, you better do that. Follow the instructions in the tiny book that came with it. Otherwise, once the waffle iron is conditioned, don't wash it. Waffles have a high fat content that makes them release easily from the griddle without leaving a bunch of junk to wash off anyway. So you should just need to wipe it off with a towel afterwards. Turn it on. Most of them have a light that comes on when it's hot enough. You shouldn't need to grease it at all. Use a ladle or a measuring cup or a pitcher to pour about ½ cup of batter on the bottom of the grid, or enough to cover about ⅔ of the area of the grid. Close the lid and wait. Maybe 3-4 minutes. When it stops steaming, it is ready or nearly so. Try to lift the lid. If it doesn't come up easily, leave it for another minute and try again. Serve right away to that lady!
Also, you need to have maple syrup and maybe some jelly or powdered sugar. I know this may seem complicated, and yes, you can always just do toast and coffee. But if you really like that honey, show it in waffles.
Print
Waffles
1 ¾ cups

flour

1 tablespoon

baking powder

1 tablespoon

sugar

½ teaspoon

salt

3

eggs

1

stick butter, melted

1 ½ cups

milk
Instructions
Combine the dry ingredients in a large bowl.
In another bowl, beat the eggs, add the milk, then the butter.
Add the wet mix to the dry mix and combine with a big ol' spoon. Don't worry about small lumps.
Preheat your waffle iron until it's smokin' hot. (Like Laurel!)
Dispense some batter on the bottom grid and close it. Cook for 3-4 minutes until the lid opens easily and the waffles are golden brown delicious.
Eat them real fast and go back to bed!
Nutrition
Calories:

255

Fat:

14

Carbohydrates:

25

Protein:

6