I had my super-special friend Laurel from Trophy Boutique come over to show me how to make spanakopita, thereby showing y'all how to make it, too. The idea is that chicks dig this shit and we ought to know because we are chicks. It has vegetables in it and it requires purchasing (and knowing how to use) phyllo dough which is Greek and therefore also exotic (chicks love exotic shit).
Plus, as Laurel points out, if you have several dates in one week, you can make a big pan of this and reheat it in the oven for each lady. Don't be too obvious about it, though. It works like a charm and then you just serve it on a plate with some sliced tomatoes and basil with salt. Fuckin' gorgeous. And yumzers.
We used the recipe from the Moosewood Cookbook because that's the one Laurel's mother used when Laurel was very small. It is GOOD, dudes (and ladies). And really not even complicated. But it is a time-intensive meal that requires at least a modicum of planning, which is impressive to thoughtful guests.
And you will need the following tools that you may not just have laying around:
a 9″x13″ pan (you can get one at the dollar store for probably only a few dollars. Or borrow one from your mom. DON'T tell her it's to get you laid.)
a basting brush or a clean paintbrush or I guess you could use one of those oil spray bottles or perhaps a clump of animal fur like they did in the caveman days when spanakopita was made in pits in the ground over fires fueled by the bones of ancient sea creatures.
Also, you better wash the holy living hell out of the spinach unless you pay top dollar for some prewashed business. Spinach is sandy and dirty because it lives in the ground so wash it in LOTS of water and at least THREE times. I'm not even kidding you. It's that filthy. Filthy good. (Tips on washing spinach are at the bottom of this post.)
And another thing (is this getting too complicated for you?) you must do is remember to thaw the phyllo dough. It'll be in the freezer section near the pie crusts and stuff so, you know, it's frozen. Just put it in the fridge for 24 hours (or longer) and if you need it before that, leave it on the counter for 2 hours to thaw.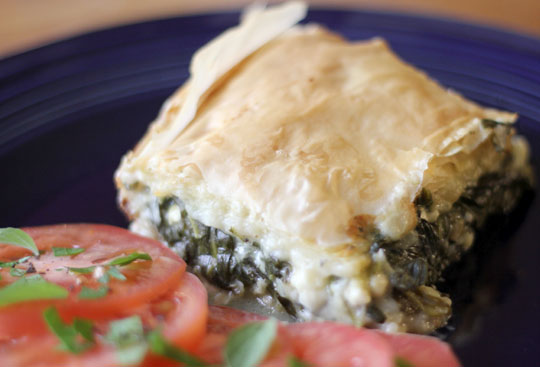 Print
Spanakopita
Greek spinach and pastry casserole
Author:
Prep Time:

20 mins

Cook Time:

60 mins

Total Time:

1 hour 20 minutes

Yield:

1

2

1

x
½

c olive oil (not to be used all at once)

2

c onion, minced

¼ tsp

salt

1 tsp

basil

1 tsp

oregano

2½

pounds fresh spinach, cleaned and de-stemmed and chopped coarsely

5

cloves garlic, minced

3 Tbsp

flour

1

pound feta cheese, crumbled

1

c ricotta or cottage cheese

1 Tbsp

black pepper, or to taste

1

pound phyllo pastry leaves – thawed!
Instructions
Turn your oven to 375 now so it's preheated later.
In a big-ass pot, saute the onion in 2 tablespoons of the oil for about 5 minutes over medium heat, just until they become slightly translucent.
Add the salt and herbs. Stir it around.
Add the spinach and garlic and stir that around. You will have to add the spinach a few handfuls at a time to make it all fit. Add some, stir it around until it wilts, then add more.
When all the spinach is in there and wilted, sprinkle the flour over, stir well, and reduce the heat to low. The flour will absorb the spinach liquid and make the filling more firmer.
While the spinach simmers, begin layering the phyllo sheets in the baking pan. Brush a little of the remaining ½ cup of oil on the bottom of the pan. Lay in a sheet of phyllo and brush some oil on it, too. Layer about 10 more sheets with oil on each.
By now the spinach should be looking good and thick. Add all the cheese and black pepper. Stir it up good and plop it into the pan on top of the phyllo. Spread it evenly.
Top that with more layers of phyllo and oil. You will blow through about ¾ of the pack of phyllo dough.
Tuck the edges of the phyllo all in and under so it's not sticking up over the lip of the pan. Spread liberally with the oil, especially the periphery.
VERY IMPORTANT: Before cooking, you must cut it into squares. Cutting will be impossible to do nicely afterwards. Use a sharp knife to cut it into 12 squares, cutting all the way through the layers.
Put the (very heavy) pan in the oven now and bake it about 45 minutes until golden and crispy.
Let it cool 10 minutes or longer while you make a tomato salad and open a bottle of Pinot Grigio or some other light wine.