Zucchini Pancakes Recipe Video – scroll down for recipe card
This is probably, like, the easiest recipe I've ever made. Except whiskey and soda, but that's hardly a recipe. Or maybe it's more than a recipe…it's a way of life??? No. Wrong road. Turn back, Hilah.
Turn back to the zucchini pancakes that are super-duper easy and perfect for when you're feeling super-duper lazy but are also very very hungry and sadly, very very poor. Perfect because it only takes four ingredients and ten minutes. Blammo. Easy-peasy. AND if you're feeling frisky (or just don't have any zucchini and don't want to go to the store because you're already in your undies, drinking beer on the porch) you could use different vegetables in place of the zucchini. Some crazy examples would be: sweet potatoes, carrots, yellow squash, winter squash, onions, prolly could even use broccoli stems! Get WILD!!! You could totally even mix up a few different vegetables! Wheee!
Also you could add some herbs and junk if you're feeling it. Like some dill or mint with zucchini, or some parsley or cilantro with sweet potatoes. Make it all fancy-tasting. It's not any more difficult. And it might cheer your drunken, undies-wearing ass up.
Plus one more thing! These are best when you eat them right away, but I have been "known" to eat them cold the next day, too. Just standing over the sink in mah undies. It ain't too bad. It really ain't. Lovin' Life, I tell you. LOVIN'. IT.
Zucchini Pancakes Recipe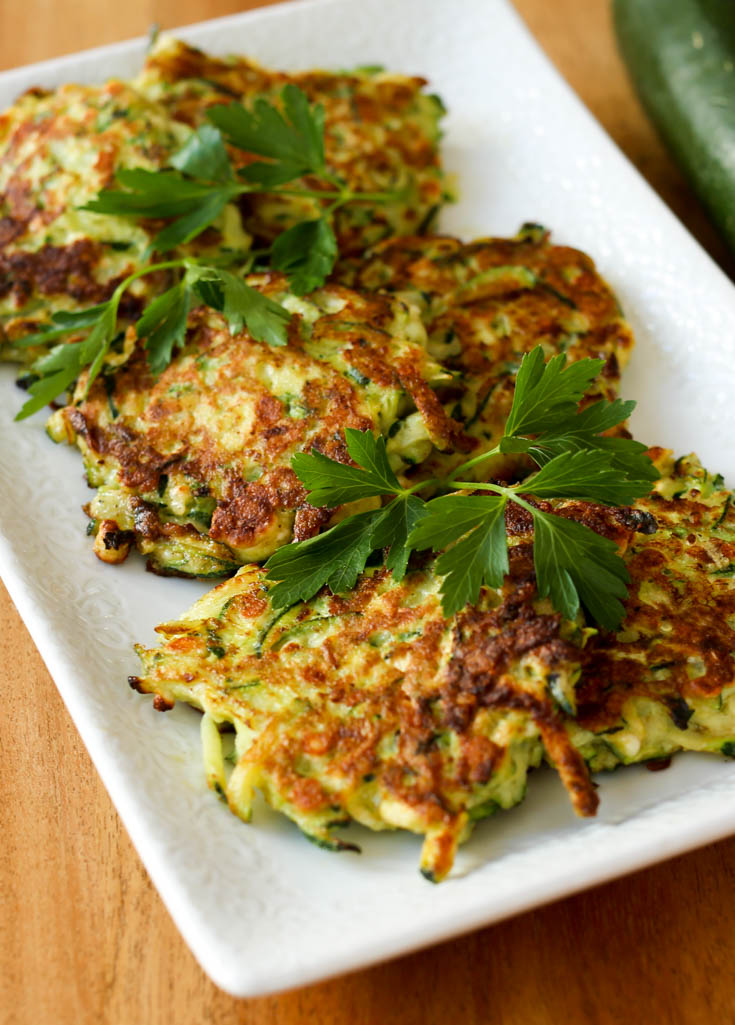 Print
Zucchini Pancakes
A quick, healthy snack or light lunch
1 1/2 cups

grated zucchini (or whatever vegetable your crazy refrigerator has in it)

1

egg

2 tablespoons

flour

1/2 cup

crumbled feta cheese (or another kind of cheese, grated)

1/4 teaspoon

salt (this is optional — you might not need it if your cheese is salty)
Butter or olive oil for frying
Instructions
Mix all the things in a bowl together. Mix it good.
Heat a skillet or griddle over medium-high heat
Lube it up with a little (teaspoon or so) oil or butter
When it's hot, pile the mixture on in about 1/4 cup amounts and pat out the piles into little 3″ by 1/2″ circles
Cook for about 4 minutes – they should be very brown underneath
Flip carefully and cook another 4 minutes
Serve right away, or see note above RE: eating over the sink.
Notes
Substitute yellow squash, carrots, onion, or broccoli stems for all or part of the zucchini. Add herbs if you like!
Some other recipes you might like are potato latkes and corn fritters. Boner appetite!