Five Crepe Fillings to Try
On Thursday, I showed you how to make crepes with a savory smoked salmon filling. Then I got krazy with krepes! (Why, when I see crepes spelled with a "k", does my brain read "herpes"? Does your brain do that, too? Should I have not said anything? Okey dokey.) I came up with these 5 crepe fillings to try out, both savory and sweet. Bon appetite!
Crepes of Wrath
And that wonderful pun is what got this whole thing started.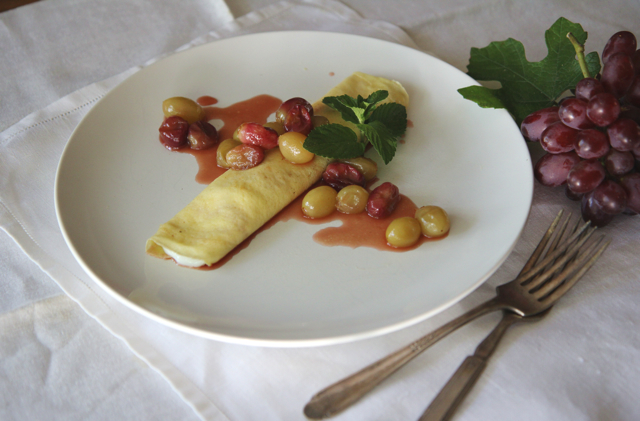 These crepes are filled with cream and topped with a grape and sweet wine sauce. I loved these.
Print
Crapes with Grapes
Author:
Cook Time:

10 mins

Total Time:

10 minutes

Yield:

2

-4

1

x
4

cooked crepes

1 cup

seedless grapes, mix of green and red if possible

1 tablespoon

butter

1 tablespoon

brown sugar

2 tablespoons

cream sherry or port wine

1/4 cup

plain yogurt

1/4 cup

creme fraiche or Mexican crema or sour cream
Instructions
Wash the grapes well.
Melt the butter in a small skillet and add the grapes. Add the brown sugar and stir to get it dissolved. Cover and cook over medium-high heat about 2 minutes. The grapes should be beginning to soften and shrivel.
Add the sherry and cook uncovered another 3 minutes or so until the liquid is reduced. Turn off heat.
Combine yogurt and creme and place 2 tablespoons of the mixture along the center of each crepe. Roll up and arrange on serving plates.
Pour some of the grape sauce over each and serve.
What's Eating Gilbert Crepe?
This just seems like something Johnny Depp would have eaten in that movie, had that movie been made in France.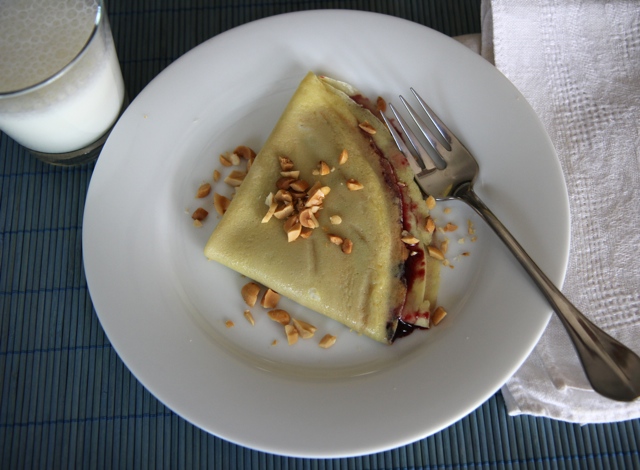 I used peanut butter and blackberry jam, but any old combo would be good. Try Nutella, too, with strawberry jam!
Print
PBJ Crepe
1

cooked crepe

1 tablespoon

peanut butter

2 teaspoons

jelly or jam
Chopped roasted peanuts
Instructions
Spread the peanut butter over one half of the crepe. Spread the jelly on the other. Fold the jelly half over the peanut butter half and then fold again to make a triangular folded crepe.
Sprinkle with nuts and serve with a glass o' milk.
Planet of the Crepes
Because Apes = Monkeys = Bananas, amiright??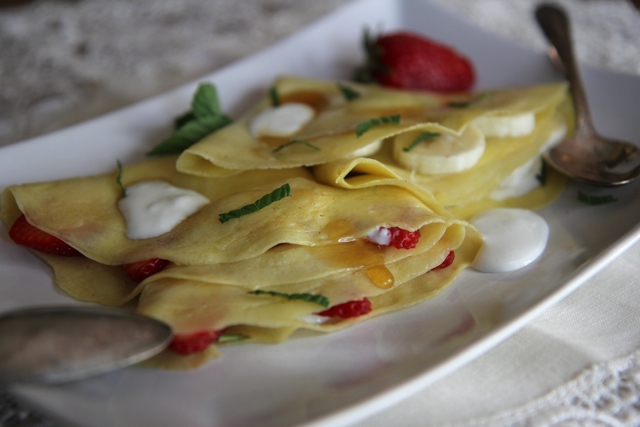 This picture has a lot of mint on it because I tried making these with mint the first time. Taste testers said it was "weird" so I tried lemon zest instead. The minty pictures looked better, though.
Print
Fruit Crepes
2

cooked crepes

2 tablespoons

whipped cream or sour cream
Lemon zest

2

sliced strawberries

1/2

banana sliced
Honey
Instructions
Spread each crepe with a tablespoon of cream and add a shaving of lemon zest.
Arrange strawberry slices on half of one crepe; banana slices on half of the other crepe.
Fold each crepe into quarters and stack the folded crepes onto each other.
Drizzle the stack with honey. Garnish with more cream.
Notes
Also try these with fresh peaches or figs!
The Great Es-crepe? Stir Crepe-y? Does the carpet match the crepes?
I give up. Just eat it. It's good.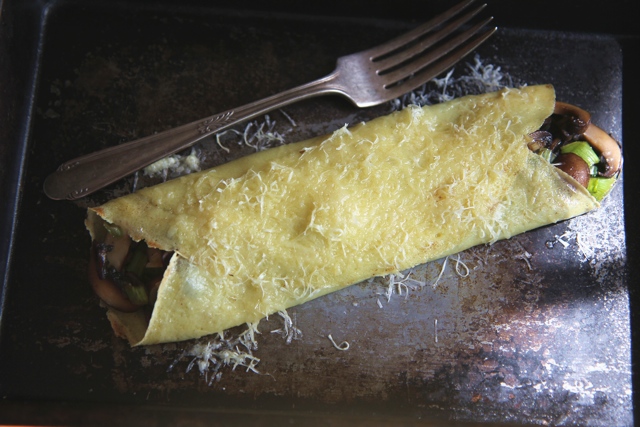 Sorry the picture kinda sucks. It was getting late and the sun was dying. These are damn good, though. I like how they resemble tacos.
Print
Mushroom Leek Crepes
Author:
Cook Time:

10 mins

Total Time:

10 minutes

Yield:

2

-4

1

x
4

cooked crepes

3

leeks

1

pound mushrooms

1 tablespoon

butter

2 tablespoons

olive oil
dash soy sauce
black pepper

4

chard leaves

1/4 cup

grated Swiss, Manchego, or other firm aged cheese
Instructions
Slice the white and light green parts of the leek into 1/2″ slices and separate into rings. Wash well. Drain.
Wipe the mushrooms and slice 1/2″ thick.
Melt butter and oil together in a large skillet. Add the leeks and cover. Cook over medium-high heat 2-3 minutes until softened.
Add the mushrooms and cover again. Cook another 2-3 minutes until very soft and beginning to brown.
Add a dash of soy sauce and black pepper and remove from heat.
Cut tough stems from chard. If the chard is young, you can leave the stems on. Lay a chard leaf in each crepe.
Spread 1/4 of the filling on each chard leaf and fold the crepe over to cover.
Place crepes in a baking pan and sprinkle with cheese.
Broil until melted.
Ham-n-Cheese Crepe
My brain farted out on me by the time we got here. Completely at a loss for some great punny name. Ideas?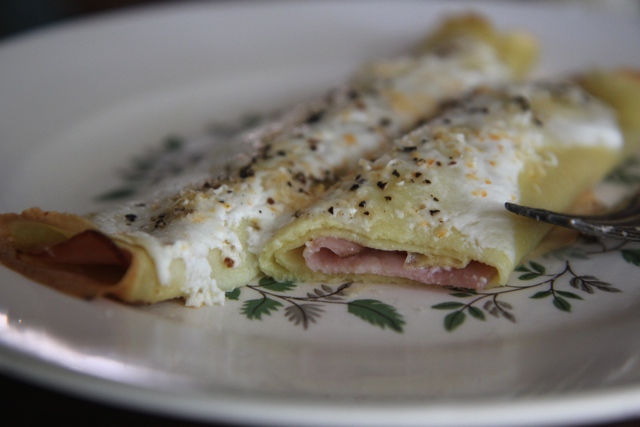 Print
Ham and Cheese Crepe
Author:
Prep Time:

30 mins

Cook Time:

15 mins

Total Time:

45 minutes

Yield:

2

-4

1

x
4

–

8

cooked crepes

4

–

8

thin slices of ham

4

–

8

thin slices of cheese (Cheddar, Swiss, Manchego, any melting cheese you like)

1/4 cup

creme fraiche or Mexican crema

4

–

8

tablespoons Parmesan
Coarse black pepper
Instructions
Preheat oven to 350ºF.
Lay a slice of ham and a slice of cheese on each crepe and roll up snug.
Place rolled crepes side by side in an oven proof tray.
Spread the creme over them evenly and sprinkle each with about a tablespoon of Parmesan. Sprinkle with black pepper.
Bake 15 minutes, or until cheese is melted. Serve hot
Notes
This recipe can be modified to serve however many you need. Try also with sliced turkey breast.