I have to admit, this "recipe" is a little more "Semi-Homemade" than I feel really comfortable with.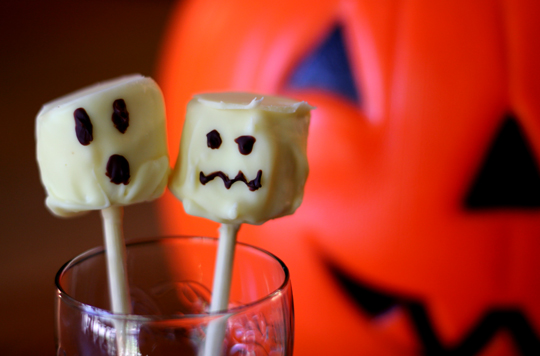 Indeed, it is so much more semi than homemade, that I don't even feel comfortable calling this a recipe unless I stick the little quotes around the word. But there is a time for "semi-homemade" and in my opinion, Halloween is one of those times. I mean, we're already forgoing our "three squares a day" for a bag of Jolly Ranchers, some powdery SweeTarts and a smushed up Snickers.
Plus, everything in your office that can be covered in fake cobwebs or mummy wrappings, is absolutely covered in that shit, right down to the doorknob on the public bathroom. And anything that looks even remotely like a vampire, a jack o'lantern, or a frankenstein is deemed "The cutest scary [insert food item here] ever!!!!" And if that's the case — if every tuna sandwich with some red food coloring on it is automatically the "Cutest, scary tuna sandwich ever!!!!" — then really, why should I try any harder than I have to in order to impress?
Wow, Yours Truly is sounding very cynical right now. Probably because I'm at work and there's fuckin' fake cobwebs all in my keyboard. Really I do love Halloween. Anyway, here's the video of how to make the cutest scary marshmallows ever!!!!!!
Marshmallow Ghosts Video (recipe below)
Print
Marshmallow Ghosties
Large Marshmallows
White chocolate baking squares
Semi-sweet chocolate chips
Instructions
Melt the while chocolate in the microwave or in a double boiler until smooth.
Stab the marshmallows with a skewer or tooth pick.
Dip in the white chocolate to coat.
Set on waxed paper-lined plate and refrigerate 20 minutes until firm.
Melt chocolate chips in a small bowl in the microwave.
Use a tooth pick as a "brush" to paint little chocolate faces on your ghosties!