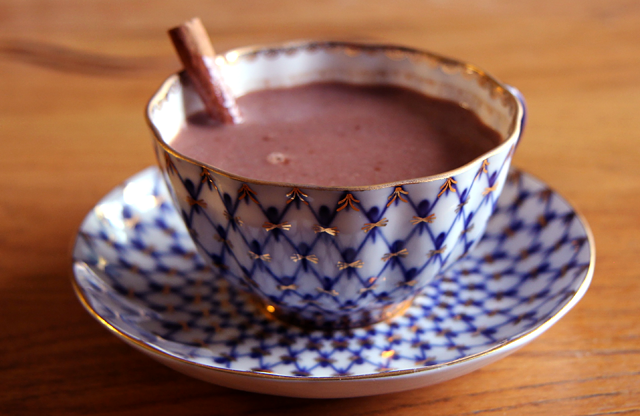 Dudes, listen up, okay?
Stop what you are doing.
Seriously. You guys? Pay attention, please.
I have to tell you about this very important thing called Mexican Hot Chocolate.
This is the best hot chocolate you will ever have in your life and I am not even lying right now.

It is so good that it can work as a stand-alone dessert. Or a digestif. Or the most delicious face mask ever. Basically, this hot chocolate can be anything you want it to be, because it's so amazing and bad ass. Believe.
Make lots of this and serve it to your friends and family and watch them flip their lids. It's easy as hell and only takes a few minutes to put together. Plus, you can add booze to it. Orange liqueur is a personal favorite, but Kahlua or Irish cream would also be stunning, to be sure. If you're serving it to kids or teetotalling Santas, you can top it with whipped cream or marshmallows.
Mexican Hot Chocolate Video
Mexican Hot Chocolate Recipe – Printable!
Print
Mexican Hot Chocolate
2 cups

milk

2 tablespoons

raw or brown sugar

1/2 teaspoon

cinnamon

1/4 teaspoon

cayenne pepper

2 ounces

semisweet or bittersweet chocolate, chopped

1/2 teaspoon

vanilla extract
Instructions
Heat milk, sugar, and spices in a pot over medium-high heat until almost simmering.
Add chocolate and vanilla and stir until melted.
Serve.