Hey what's round and fried and red all over? An anthropomorphised beach ball who fell asleep in a tanning booth as if that were even possible? Wrong! It's a Mexican Pizza, duh. What the fudge is a Mexican pizza, you ask? Oh my gawd. HAVE YOU EVEN HEARD OF TACO BELL???
A Mexican pizza is one of their most famous (and delicious) creations and if you have never allowed yourself the freedom to experiment with Taco Bell … actually, there's really no need to bother at all now that I've got this all figured out for you. Proceed.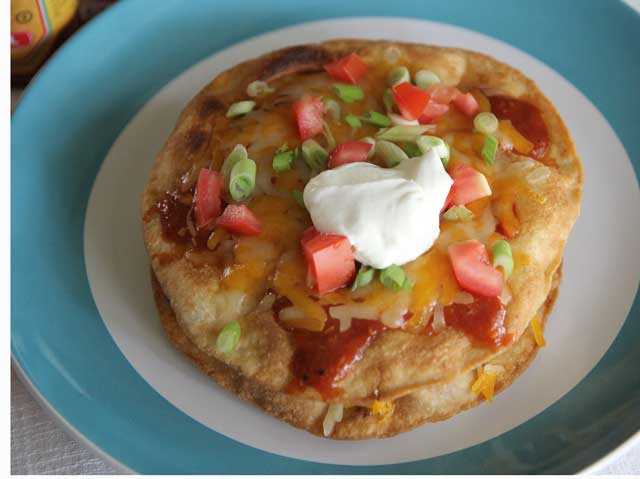 First you'll want to make up a batch of my ground beef taco filling (I'll wait).
Then get your refried beans ready (follow the link or open a can).
Prep some vegetables: diced tomatoes, green onion, shredded cheese, and sour cream (those last two aren't technically vegetables but they aren't fried and they aren't meat so, just go with me here).
Finally, make your Taco Bell taco sauce knock-off. This is not the sauce that comes in the packets, BTW, this is the sauce that goes on their bean burritos and — obvs — their Mexican Pizzas. A prepared enchilada sauce of your choice would do as a fine replacement, but it's not gonna be quite the same. While the sauce simmers, fry some flour tortillas and make your inner old white grandma proud.
Print
Mexican Pizza
Author:
Cook Time:

30 mins

Total Time:

30 minutes

Yield:

4

1

x
Taco Bell Sauce:

8 ounces

(

1 cup

) tomato sauce

1/3 cup

water

1/2 teaspoon

chili powder

1 1/2 teaspoons

ground cumin

3/4 teaspoon

black pepper

1/2 teaspoon

onion powder

1 teaspoon

minced garlic

1 tablespoon

cider vinegar
Pizzas:

8

flour tortillas

1 1/2 cups

oil
Refried beans, beef taco filling, cheese, green onions, tomatoes, sour cream
Instructions
Combine all sauce ingredients in a small pot and bring to simmer.
Simmer 10-15 minutes, uncovered, stirring occasionally.
While it simmers, put your oil in a large skillet. Should be about 1/2″ deep. Begin heating it to 300ºF.
Stack the tortillas on a cutting board and use the tip of a knife to make 8-10 small (1/4″) slits in the tortillas. Stab them gently all over. This helps prevent tortilla balloons and they stay flatter and more stackable.
When oil if hot, fry tortillas one at a time for just about 30 seconds on each side until golden. Drain on paper.
Once all are fried, lay 4 out on a baking sheet. Spread each with a couple tablespoons of refried beans, 1/4 cup taco meat, a tablespoon or two of sauce, a tablespoon of cheese. Top with another shell. Spoon 2-3 more tablespoons of sauce and cheese on top.
Broil on low heat for just a few seconds until the cheese is melted.
Sprinkle with tomatoes, green onion, and a top with sour cream.
Serve right away.
Mexican Pizza Video!
Sometimes, things get kinda messy in here …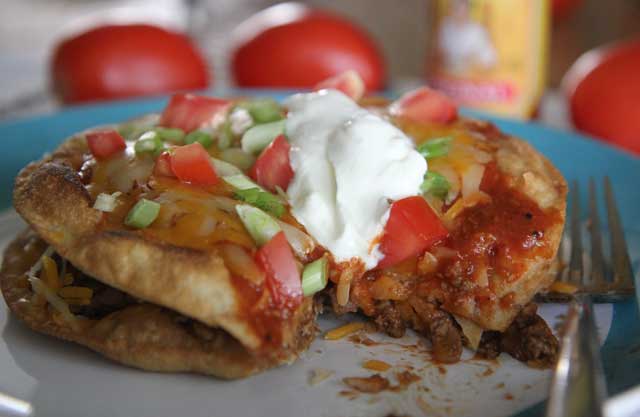 For more about my love affair with Taco Bell, read my crispy beef tacos post.