Meyer Lemon-Olive Oil Cake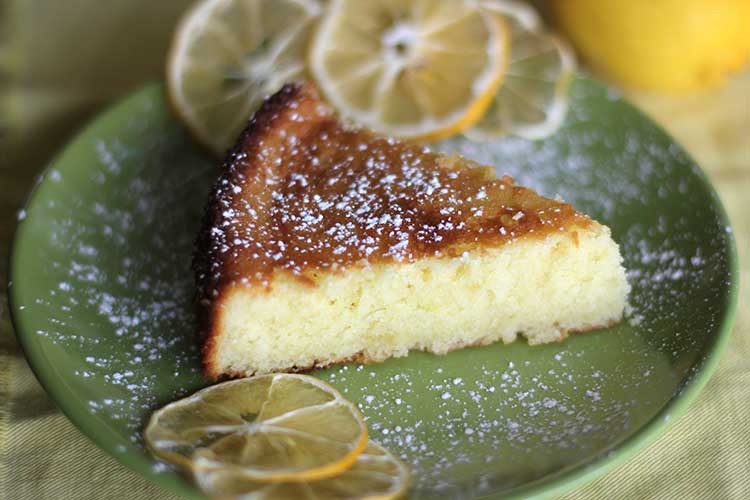 I'd heard tale of this cake for many moons before I finally tried making it myself. The thought of using an entire half-cup of fancy and expensive extra-virgin olive oil in a cake was what put me off it for so long. Fortunately, after 3+ years of cooking for a living, my miserly ways have become dulled so much that when I received a 10 pound bag of homegrown Meyer lemons from my friend Kristina and a lemon olive oil cake was suggested by a community member, I didn't even bat an eye.
This is a not-too-sweet cake that works well for breakfast or tea or snacking. If you'd like to make it a little fancier, you can drizzle with the lemon glaze from this lemon pound cake recipe or top with a spoonful of whipped cream. You know what else would go well and be stunning next to a slice of this cake? A scoop of this grape ice cream. Because of all the oil, this cake stays perfectly soft and delicious several days after baking.
Oh! And one more thing, I normally hate when people specify "organic" or "grass-fed" or "high-quality"-whatever in recipes and I avoid it as if it were the plague and I almost always stop reading recipes that use adjectives like that because in almost all cases, it makes no difference to the recipe at all. But, I do think it's relevant here. I used 4 pasture-raised eggs in the cake I made for the photos on this recipe post. If you've ever done a side-by-side comparison of pasture-raised eggs vs standard eggs you'll see a marked difference in the color of the yolks; the former being much deeper goldenrod yellow than the latter. This quality is what gives the cake such a beautiful lemon-yellow color. So, there's that. If you want a pretty yellow cake like this one, use some fancy expensive eggs to go with your fancy expensive olive oil and fancy (and free in my case) Meyer lemons. Make a fancy cake!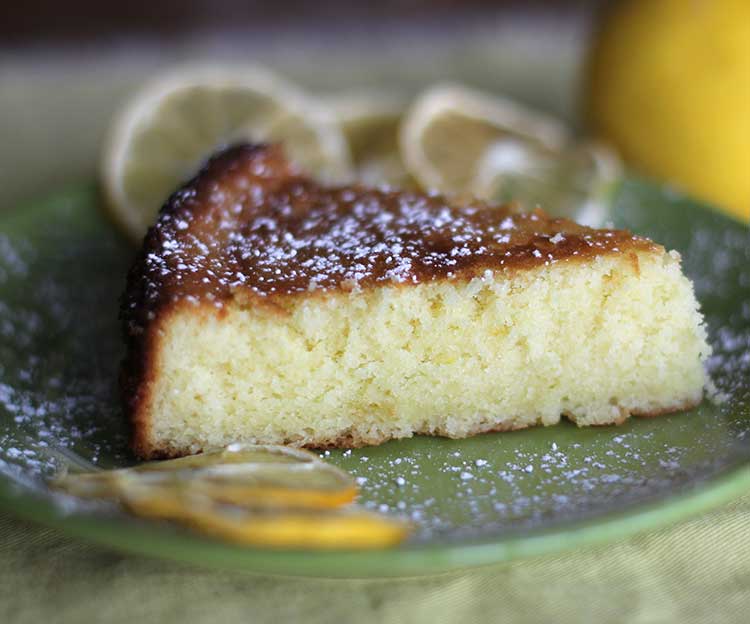 Print
Meyer Lemon-Olive Oil Cake
Author:
Prep Time:

10 mins

Cook Time:

45 mins

Total Time:

55 minutes

Yield:

1

0

1

x
4

eggs

1 cup

sugar

1/2 cup

olive oil

1/2 cup

Meyer lemon juice

1 teaspoon

lemon zest

1/2 teaspoon

vanilla extract

1 cup

flour

1/2 teaspoon

baking powder

1/4 teaspoon

salt
Instructions
Oil a 9-10″ springform pan and line the bottom with parchment paper. Set oven to 350ºF.
Whip eggs and sugar together on high speed until fluffy and very pale, almost white (about 5 minutes).
Turn speed to low and stream in oil, lemon juice and zest and vanilla (I mix these all together in a large measuring cup with a spout and pour them in).
Whisk flour and dry ingredients together and fold these in by hand. The mixture will be very fluffy and foamy.
Pour into prepared springform pan and bake 350 for 45 minutes. The top will become quite brown, as will the edges.
Allow to cool 30 minutes in the pan, then unhook and remove from pan, cool completely on a rack.
Cake keeps at room temperature, covered, for up to 7 days without suffering loss of texture or quality.
Notes
Meyer lemons come into season November-January in the US. Regular lemons can also be used if Meyer can't be found.
Nutrition
Serving Size:

1 slice

Calories:

236

Fat:

12
For more recipes using Meyer lemons, check out Kristina's site: GirlGoneGrits! She's got a HUGE Meyer lemon tree in her yard and every year spreads the lemon love throughout Austin, collecting the recipes we all create on her site.