NutterBallerz – Peanut Butter Banana Cookies
Gather round, ye nut-lovers, and hear this tale of how the Nutter Baller came to be among our fleshly bodies.
That sounded gross.
I apologize.
I hope you're still here so I can just tell you about this cookie that FAMOUS PASTRY CHEF ZAC YOUNG told me to make. He told me to make a cookie that was, like, my personality in a cookie. (Sidenote: he told me this, and everyone else in the YouTube Next Chef this, too. I am not that special.)
So, my personality in a cookie, uh? Well, then I guess I had to start with some hardcore self-reflection and analyzation to really get to the root of ME. My core being. The start of my soul.
Balls. And Nuts.
(or BallzNutz! on a bad day.)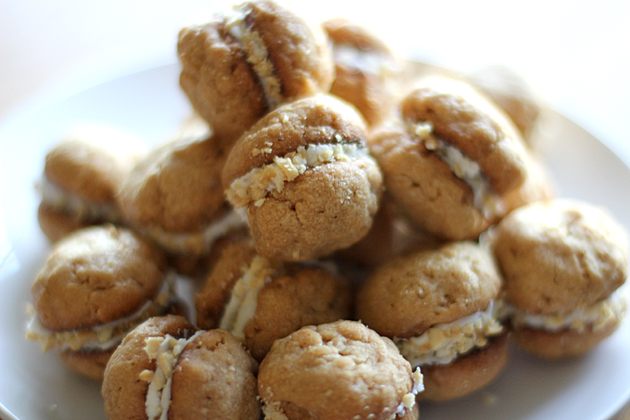 That's pretty much me in two words. Also, I love NutterButters and beer and salted peanuts and the fake banana flavor like they use in banana Laffy Taffys. Also cream filling and crunchy cookies and – this is very important – keeping shit simple.
So after an afternoon of experimentin' I came up with this here crunchy peanut butter cookie sandwich filled with chopped salty peanuts and banana cream. Everyone agreed they are the just about the best cookie anyone had ever eaten, even Daisy loved them and she's not even supposed to eat cookies! But she did and then we were mad at her for stealing all our cookies.
Print
Nutter Ballers
A crunchy peanut butter and banana sandwich cookie
1 cup

smooth peanut butter

1

egg

1 cup

sugar

1 cup

crispy rice cereal (Rice Krispies)
Filling:

1 tablespoon

butter

3/4 cup

powdered sugar

1

–

2

teaspoons banana liqueur (or milk)

1/2 cup

finely chopped, roasted, salted peanuts
Instructions
Combine the peanut butter, egg, and sugar in a bowl then add in the crispy rice and mix well (may have to use your hands).
Preheat the oven to 350 and have a baking sheet ready (use a light colored baking sheet if you have an option – this will keep the bottoms from getting too browned.
Roll small (1 1/2 teaspoons) balls of dough between your palms and place on the sheet about an inch apart.
Bake 10-12 minutes until the bottoms are set. The tops will still seem very soft. Let cool a few minutes on the sheet before trying to remove them.
Cool completely on a rack. They will firm up as they cool.
Make the filling by mashing the butter and powdered sugar up together with a fork and adding in enough liqueur to make a stiff icing.
Spread a thin layer of icing on the bottoms of each cookie.
Dip half the cookies in the finely chopped peanuts, then sandwich them with the other cookies.
Roll the "seams" in more peanuts.
Store in an airtight container up to two days.
Notes
For gluten-free cookies, make sure the powdered sugar you buy is also gluten-free.
Also try chocolate or vanilla liqueurs in the filling