Vampire-fighting Pork Stew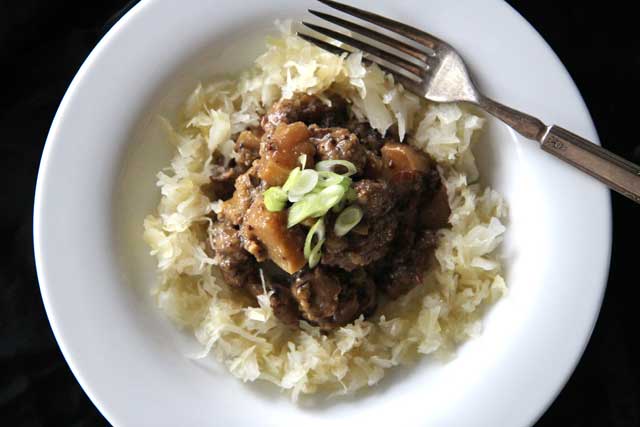 Let me tell you a little story.
Once upon a time, like 8 years ago or something, I was twenty-something and I liked to party and take shots of whiskey (or whatever) and sing karaoke wildly and with abandon and at the same time in history, there was a (really very awesome and bad ass) band called Karaoke Apocalypse that would play live karaoke versions of, like, AC/DC songs and Def Leppard songs and Billy Idol and shit like that. And the lovely MC/hostess/professional-karaoke-queen that hosted this thing was named Melicious. And Melicious was known for her gut-wrenching rendition of "Kiss Me Deadly" and whenever she sang it, everyone would stop what they were doing to take shots and make out with the person next to them, because that was how great the song was.
Fast-forward to current day, when I now go to bed at 8 pm and drink only water (that's totally not true). And I heard about this cookbook that a fellow Austinite wrote and went and bought it and when I opened it up, I was smacked in the face with a picture of Mel and I said to my boyfriend, in a voice much too loud because he was sitting right there, you know, but I got excited and I said: I KNOW THAT GIRL!
And it turns out that that karaoke (and roller derby, did I mention that?) queen started a wonderful blog on fitness and Paleo eating and books she likes to read called TheClothesMakeTheGirl, AND has written and co-written three cookbooks! I mean, obvs I'm in love, right?
Mel shared this paleo pork stew recipe with me (and you) in celebration of Halloween! It's a very Eastern-European dish, with the rich, earthy flavors of crispy pork, browned onions, sweet caraway, sharp mustard, and of course butt-loads o' garlic to keep the blood-suckers at bay (that's vampires, but also mosquitoes!). An apple balances it all with a little sweetness. We agreed upon tasting this this would be great served with some mashed sweet potato or butternut squash and absolutely over the top on top of sauerkraut. Over. The. Top.
Here's more information on her gorgeous and inspiring paleo cookbook: WellFed. If you like meat and vegetables, you will love this book.
Vampire-fighting Pork Stew Recipe Video
Paleo Pork Stew Recipe
Print
Author:
Prep Time:

10 mins

Cook Time:

3 hours

Total Time:

3 hours 10 minutes

Yield:

4

1

x
1

pound fatty pork, cut into

1/2

" cubes

1 tablespoon

oil

1

large onion, diced (about a cup)

4

–

5

cloves garlic, minced (a couple tablespoons)

1 tablespoon

caraway or poppy seeds

2 tablespoons

grainy mustard

1/2 teaspoon

salt

1/2 teaspoon

black pepper

1 cup

chicken stock

1

apple, cored and cut into 1″ cubes (I used a Golden Delicious)
Instructions
Heat a large pot with the oil over medium-high heat and brown the pork well on all sides. You may need to do this in batches to avoid crowding the pan.
Remove the browned pork to a bowl and brown the onions in the leftover fat.
Add the garlic and cook for 30 seconds, just until fragrant.
Add the pork back into the pot along with all the seasonings and broth.
Bring to a boil, then reduce heat and simmer 1 1/2 hours until tender.
Add the diced apple and simmer another hour.
Serve now or the next day, it's even better!
If you wanted to make this in a slow cooker, you totally could! Brown the meat and onions, then put everything in your cooker except the apple. You might want to cut the broth down to 3/4 of a cup since there's little to no evaporation goin' on inside a slow-cooker. Let that go for 3-4 hours then add your apple for another hour or two. Easy-peasy!