I admit, peaches and tomatoes together sounded . . . well, it did not sound good the first time I heard of it. Evidently, though, peach and tomato salad is a classic summer combination in Old Dixie, at least according to Southern Living magazine. And I had some perfect summer peaches and tomatoes so I thought I'd give it a shot.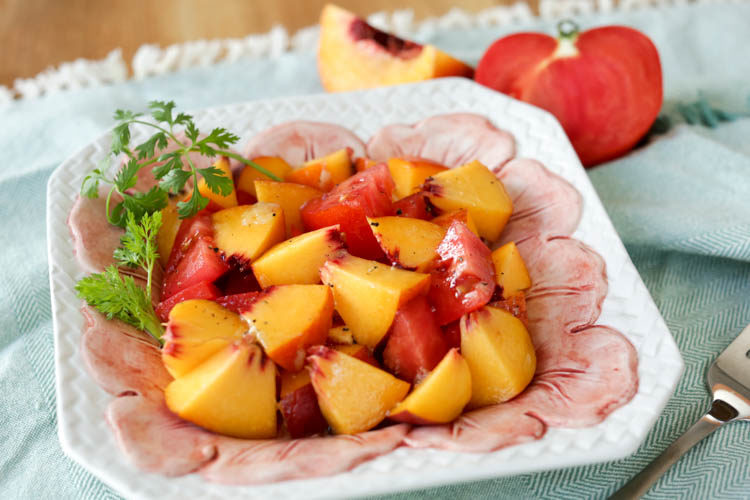 My version goes a little sweet and spicy by adding some fresh ginger, rather than just sweet and tart. If the amount of ginger scares you, try it with half a teaspoon first and taste. You can always grate some more on top if you want.
And if you're a lucky duck with a buttload of fresh summer peaches, please make this peach ice cream while you're at it!
Print
Peach and Tomato Salad
2 ripe peaches
1 ripe tomato
Vinaigrette:
2 tablespoons lime juice
1 tablespoon olive oil
1 teaspoon honey (or more to taste)
1 teaspoon fresh grated ginger
1/2 teaspoon salt
1/4 teaspoon fresh cracked black pepper
Optional garnish: cilantro
Instructions
Cut peaches and tomato into bite-size pieces. Gently mix together in a shallow bowl.
Whisk vinaigrette ingredients together and pour over the fruit. Allow to chill 20 minutes before serving