Peach Ice Cream Recipe Video – scroll down for recipe
Subscribe to my YouTube channel to get notified of new videos.
Ice cream is one of our greatest accomplishments as humans. Homemade peach ice cream made with fresh, ripe, fragrant peaches and eaten outside under the sun — it hardly gets better than that! This peach ice cream recipe is special for two reasons: honey and cream cheese. They compliment the peach flavor by adding a little floral note and a little tartness, but even better they help keep your homemade ice cream scoopable by preventing big ice crystals from forming. Brilliant? Indeed. Delicious? Indubitably!
I use this Cuisinart ice cream maker (Amazon affiliate link) which requires the canister to be frozen solid before use. For best results when using one of these style ice cream makers, be sure your freezer is set at zero degrees F (or lower) and freeze the canister for at least 24 hours (48 is better if you think that far ahead).
The ice cream mixture can also be made one or two days in advance and stored in the fridge, meaning that once you are ready, you are no more than 20 minutes away from freshly made peach ice cream! So get started!
Also try Homemade Strawberry Ice Cream or Maple-sweetened Frozen Yogurt for a slightly healthier dessert. Scroll down for more ice cream recipes at the bottom!
Peach Ice Cream Recipe – printable!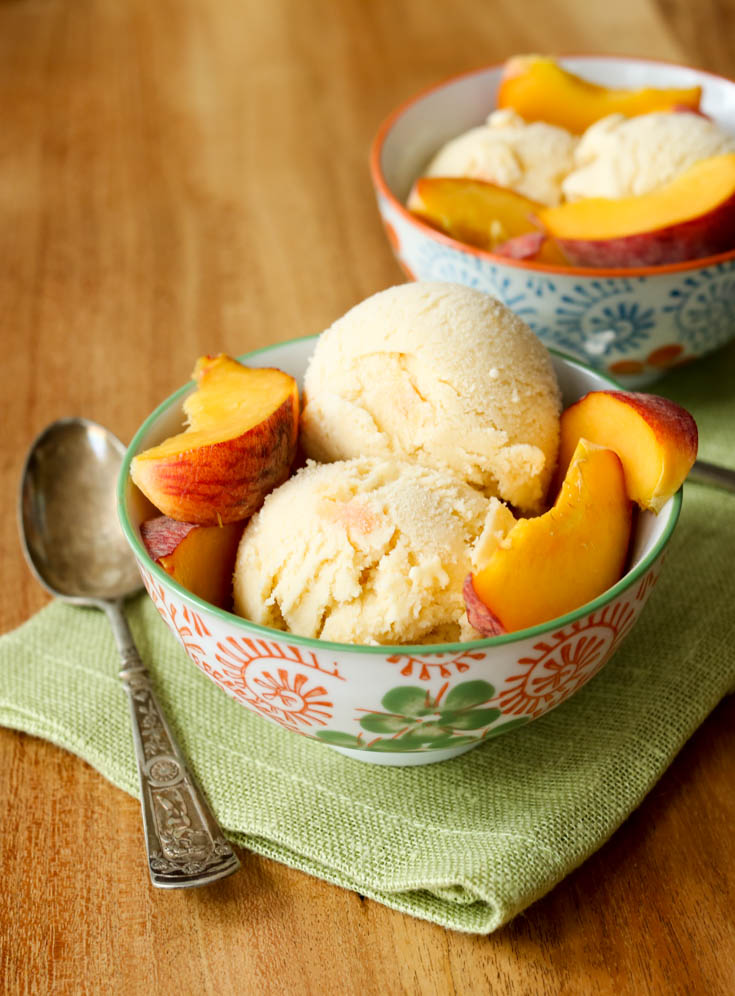 Print
Peach Ice Cream Recipe
Author:
Prep Time:

1 hour

Total Time:

1 hour

Yield:

1 quart

1

x
2

ripe peaches (or

2 cups

frozen peach slices, thawed)

1 1/2 cups

whole milk

1 cup

heavy cream (whipping cream)

4 ounces

cream cheese, softened

1/2 cup

sugar

2 tablespoons

honey

1/2 teaspoon

vanilla extract

1/8 teaspoon

salt
Instructions
Peel the peaches and pit them. Dice one and set aside. Put the other peach in a blender or food processor.
Add remaining ingredients (except diced peach) into the blender and puree until smooth.
Refrigerate at least one hour. Refrigerate the diced peaches, too.
When ready to make ice cream, blend the mixture once more to incorporate some air into it, then pour into ice cream maker. Run for 10 minutes or until beginning to thicken. Add diced peaches and let the machine run another 10-15 minutes until soft-set frozen (or follow instructions on your ice cream maker).
Serve immediately for soft-serve ice cream texture or transfer to a container and freeze for an hour for firmer ice cream.
Stored in an airtight container, the ice cream will last about a week in the freezer.
Notes
For best ice cream storage, make sure your freezer temperature is set at 0ºF (-17ºC) and consume within a week.
More ice cream recipes!
Mango coconut sorbet (dairy-free)