Potato Taquitos | Tacos Dorados de Papa
Potato Taquitos Recipe video – scroll down for recipe
Subscribe to my YouTube channel to get notified of new videos.
If potato taquitos sound like a weird thing to eat, I assure you they're perfectly normal. Creamy mashed potatoes, a little butter, some onion, some seasoning, rolled up in corn tortillas and fried. Called tacos dorados de papa, or sometimes flautas de papa, they are very popular in Mexico. I added some bacon bits to mine but you can omit them for a more traditional taquito. Or use corn kernels instead for some little sweet niblets.
Serve these with this excellent creamy jalapeño salsa for dipping, or top a big plate of taquitos with shredded lettuce, crumbled queso fresco, diced tomatoes and Mexican crema for a beautiful and tasty main dish.
Potato taquitos recipe – printable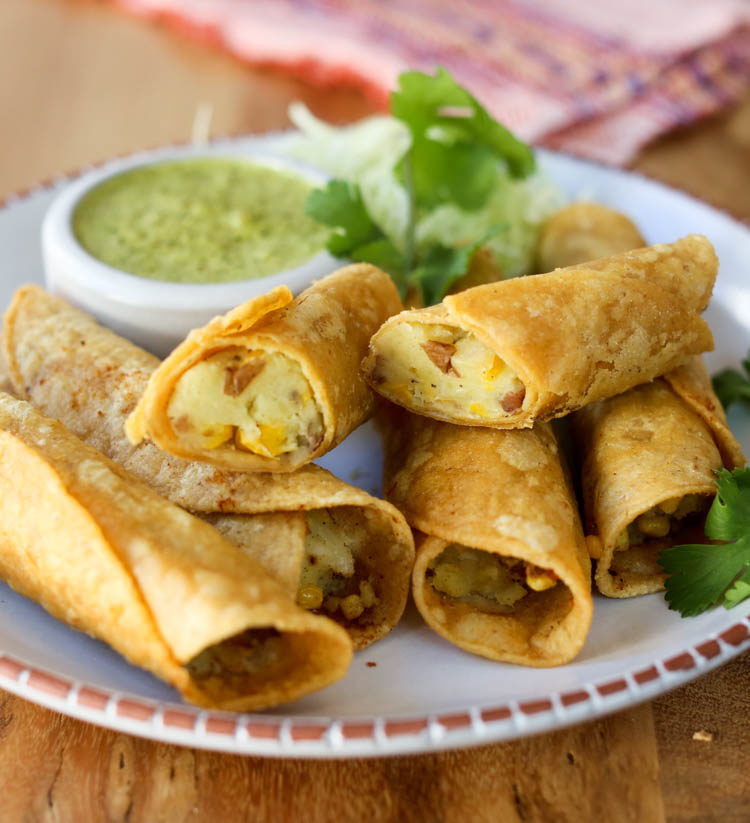 Print
Potato Taquitos – Tacos Dorados de Papa
Author:
Cook Time:

20 mins

Total Time:

20 minutes

Yield:

8

1

x
1

pound red potatoes

1/2 cup

cooked bacon bits or corn kernels

1/4 cup

small-diced onion

1 tablespoon

butter

1 teaspoon

salt

1/2 teaspoon

pepper

1/2 teaspoon

dried oregano

8

corn tortillas
oil for frying (about 1 cup)
Green salsa
Instructions
Halve potatoes and put into a pot with enough water to cover. Bring to boil over high and boil for about 8-10 minutes or until soft. Drain.
Mash potatoes, skin and all, with remaining ingredients (except tortillas and oil).
Soften tortillas. I wrap a stack with a damp paper towel and mirowave for a minute, then flip and micro another 30 seconds or so until soft and steamy. If you don't like microwaves, you can soften them individually on a lightly oiled griddle for a few seconds on each side.
Roll about 1/2 cup of the filling into each tortilla. Seal with a toothpick if need be. Lay all rolled taquitos on a plate, seam-side down.
Heat 1/2 inch of oil over medium-high until shimmering. Fry taquitos for a minute on each side to get them golden and crispy. Drain and serve with condiments.