Henry Charles Ramos seems to have been one of the greatest barmen in history. He was certainly famous in his time, anyway. The Ramos Gin Fizz is what he is remembered for and when I found this old bar menu from a restaurant (now closed) in San Antonio that claimed to be "Home of the Famous Ramos Gin Fizz" AND it included a recipe, well, clearly I had to try it out.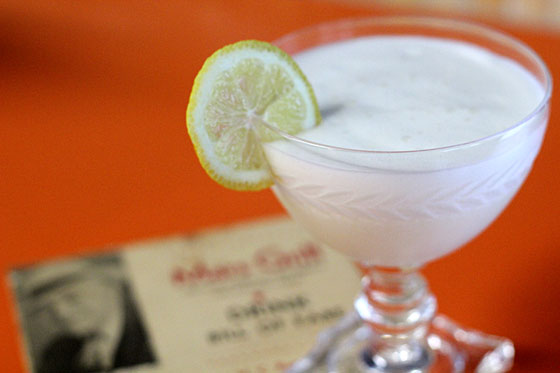 In researching the drink and the man who created it (after trying it of course), I realized that it is not likely that a restaurant in San Antonio could really be considered the home of the Ramos Gin Fizz, since old Ramos invented his drink in New Orleans and it's one of the most famous drinks to ever come out of the city. I also found that the recipe on the card is not quite the original but fortunately for us, my natural desire to tinker with things led me in the right direction and the drink we ended up making on the show is very much like the original.
I decided to use lemon and lime juice as opposed to the recipe I had which asked for lemon OR lime juice. I also doubled everything but the egg to account for the humongo size of modern eggs. Didn't use any seltzer water like I later found was in the original, but it would have been nice I think.
Anyway, here's what I did for the Ramos Gin Fizz. It's an interesting drink for sure, not at all bad. The texture is smooth and creamy and pleasant, the sweet and sour balance is spot-on, and the orange flower water adds a really delightful aroma and sort of a floral, perfumed aftertaste. If you like eggnog and you like not-very-sweet drinks, you will probably like this. It also looks really pretty and classy. One was enough, however, and after two I was ready for some straight gin, having met my raw egg quota for the year. With that said, the recipe I am offering makes two (smallish) drinks. So find a buddy!
Ramos Gin Fizz Video
Ramos Gin Fizz Recipe
Ingredients
2 ounces gin
2 tablespoons powdered sugar
One lemon, juiced
One lime, juiced
One egg white
10 drops orange flower water
4 ounces half-and-half
(Optional I guess, since I left it out: 2 ounces seltzer water)
Instructions
Combine all in a shaker with a couple of ice cubes and shake the holy living shit out of it for about a minute. You need to get the egg white frothy. Strain into glasses, straight up, no ice.
And here's a link to an article about the man and the drink, written in 1928. It includes the REAL ORIGINAL recipe which is pretty close to what we did and a nice description of his style and character. I would have liked to meet this guy, but I bet he wouldn't have liked me very much.
For more information about cocktails and cocktail lore, check out the Tipsy Texan and me making PUNCH!