Wasabi Roasted Brussels Sprouts
Doodley-Boos: lemme tell you, this is the BOSS roasted Brussel sprouts recipe! Also, I just learned that it's BrusselSSS sprouts, not Brussel sprouts like, they're from Brussels I guess? I just learned that last year. I learn new things every year.
Yadda yadda, I am proud to say that however it's spelled and what-have-you, I've always been a big fan of the old Brussels sprouts. We had them at Christmas and other fancy holiday meals when I was a kid and I ate the hell outta them thangs. But you know what's even better than boiled, buttered BS? Roasted BS. And I was thinking, going on this old theory of complementary flavors or whatever it is (I might have just made it up in a dream? maybe? help me. ) I was thinking they should go well with mustard and horseradish and wasabi and other things like that because, you know, they're related to each other and therefore they should all get along. And unlike human relatives, I think vegetable relatives do generally get along well together. These wasabi roasted Brussels sprouts are proof.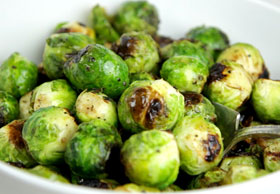 If you're not a fan, though, of sharp flavors like wasabi, these other things all go great with Brussels sprouts and you can just roast them with only oil and salt and then add a spoonful or so of any of the following:
grated Parmesan cheese (you can add a load of this)
lemon zest
orange zest
lemon juice
Balsamic vinegar
crushed red pepper flakes
toasted, crushed almonds (again, you can add lots more than a spoonful!)
Also… I put here that this serves 4-6. The reality of life though, is that I can and will eat an entire pound of Brussels sprouts for dinner. It might not be a good idea, but I give not one shit about that. Alls I know is I love BS.
Oh and also again… don't even think about using frozen Brussels sprouts! In my opinion, they are pretty much just awful — mushy, bitter, yuck. I'm certain they are what's given these tasty healthy cute little guys a bad rep.
Print
Wasabi Roasted Brussels Sprouts
Author:
Cook Time:

10 mins

Total Time:

10 minutes

Yield:

4

-6

1

x
1

pound fresh Brussels sprouts

1 tablespoon

oil, divided

2 teaspoons

wasabi powder

1/2 teaspoon

salt

1 teaspoon

honey
Instructions
Rinse and dry the sprouts. Trim the sprouts by removing a thin slice from the stem end. Cut large ones in half so that all the sprouts are about the same size.
Put them in a large bowl and drizzle about half the oil over them.
Sprinkle with wasabi powder and salt and toss them around to get them coated.
Heat a large heavy skillet over high heat and add the remaining half of the oil.
Add the sprouts in a single layer and cover the skillet.
Let them cook for 3-5 minutes, depending on how roasty you want them.
Stir and turn them all over, re-cover, and reduce the heat to medium. Let them cook another 5-10 minutes until tender enough to be easily pierces with a fork, but still green, not that gross overcooked gray-green color.
Drizzle with honey and toss.
Serve.