Roasted Green Beans and Tomatoes
Our new favorite way with green beans – roasted with lots of olive oil, whole garlic and cherry tomatoes. The oil and tomatoes break down into thick, savory sauce and the garlic gets caramelized – perfect for mopping up with a hunk of sourdough bread. Or dump the whole pan on top of a pot of freshly cooked spaghetti and stir briskly — voila! Dinner is ready. Any leftovers make a damn fine pasta salad.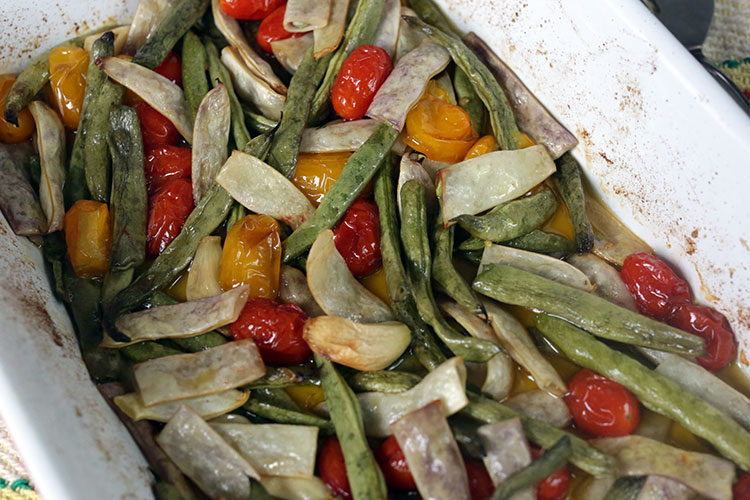 Use your regular, garden-variety green beans for this (I usually do) but it also works beautifully with many heirloom varieties such as Rattlesnake and Dragon Tongue (pictured) yellow wax beans and purple pole beans.
I do recommend using sweet, tiny cherry tomatoes but in a pinch you could quarter a large tomato and toss that in. If you like heat, try adding a few dried Thai or chile de arbol peppers. Or if you like peppers, add a few baby bell peppers. And if you really like peppers, try sweet roasted fennel and peppers using this same cooking technique.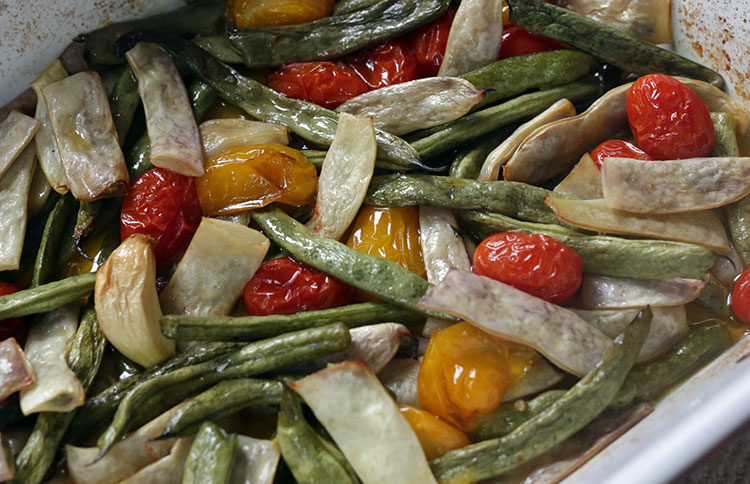 Tip!
When roasting vegetables, try to have the vegetables at room temperature before they go in the oven. This helps them crisp and cook faster. For this recipe, I'll often prep everything in the pan and then cover it on the counter for several hours before sticking it into the oven. It saves work at supper time, too.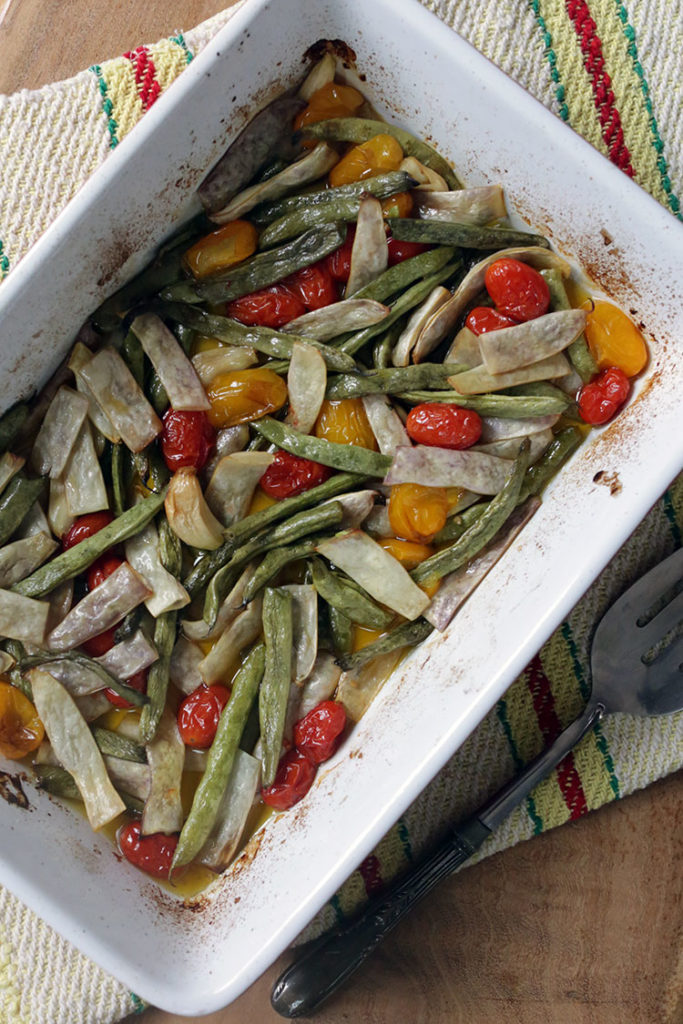 Print
Roasted Green Beans and Tomatoes
Author:
Yield:

4

servings

1

x
12 ounces fresh green beans
6 ounces cherry tomatoes (about 1 cup)
1/3 cup olive oil
6 cloves garlic, whole, peeled
1 teaspoon salt
Instructions
Set oven to 425ºF. "String" the beans if necessary: Break off the stem end and take with it any string that wants to tear off. Cut large beans into 1-2″ pieces, leave small beans whole.
Toss all ingredients together in a medium baking dish (8×11 or so). Roast for 15 minutes, stir. Roast an additional 15-20 minutes until the beans are beginning to brown in spots and the tomatoes are broken down.
Serve hot or room temperature, on its own with bread or pasta as a vegetarian meal, or as a side dish with anything.
Nutrition
Calories:

198

Fat:

18

Carbohydrates:

9

Protein:

2