Roasted Fennel and Peppers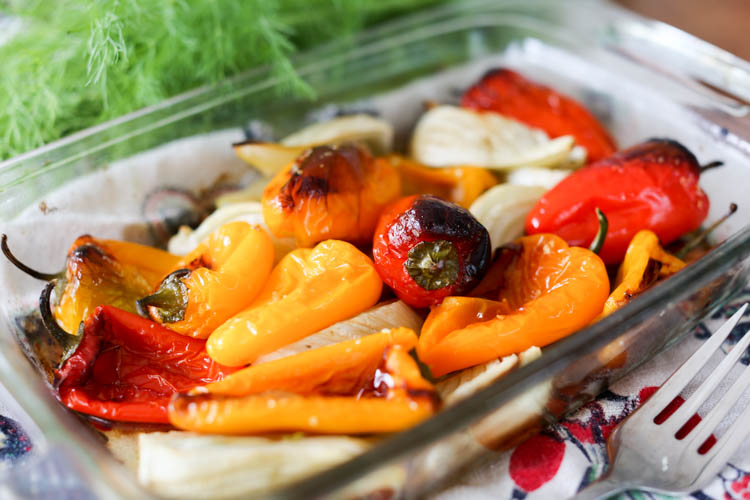 Here's a recipe my husband would really hate! But I love it and I just ate an entire pan of it for lunch by myself with my bare hands like a vegetarian werewolf. Roasted fennel and peppers, to me, brings out the best of both vegetables.
Assuming you like both vegetables to begin with.
My husband does NOT. He has a hard time with Italian sausage, even; that's how unenjoyable he finds fennel and licorice flavors. And bell peppers? Forget it, dude.
I kind of understand that one, though.
But slather those peppers in oil, salt and garlic? I'm all yours. The fennel gets extra sweet and tender and the peppers get roasty and sweet, too. I like to broil it at the end to get some black on the peppers. The bit of bitterness counteracts the sugars so it's not overly sweet.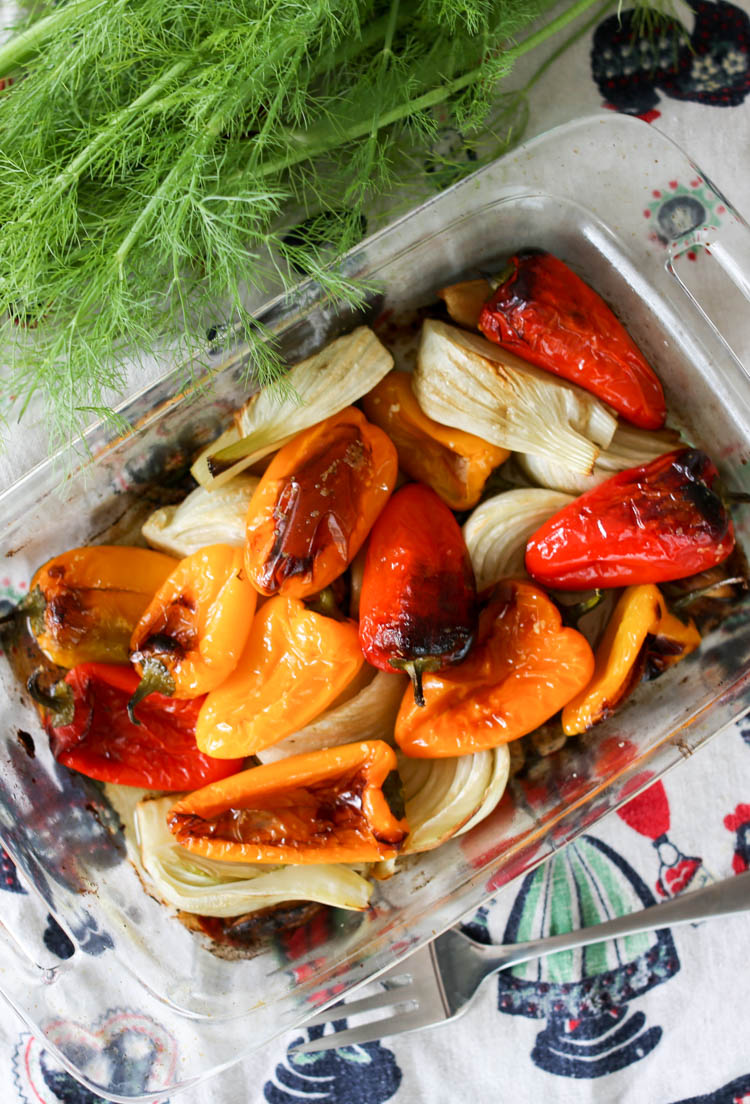 Serve this as a side dish with any grilled meat or baked salmon or roasted pork tenderloin, or remove the stems and seeds from the peppers and finely chop the vegetables to make a rustic pasta sauce. Save the fennel fronds and stick them underneath that baked salmon for a double hit of fennel, if you really like it.
Make it soon while spring fennel is in season! For another simple vegetarian recipe, try roasted cherry tomato pasta.
Print
Roasted Fennel and Peppers
1 pound mini sweet bell peppers
1 fennel bulb
1/4 cup olive oil
1/2 teaspoon salt
6 whole garlic cloves, peeled
Instructions
Set oven to 400ºF
Cut fennel fronds off and use for something else (in green salad or with baked fish perhaps?). Wash the bulb. Cut the fennel bulb into 6 wedges lengthwise, so that each wedge is held together by a bit of the core.
Toss all ingredients together in a shallow baking dish. Roast 45 minutes until vegetables are very soft.
If you want, broil for a minute longer to blacken the peppers.
Serve warm or cool as a side dish. Or remove stems and seeds from peppers and dice all ingredients to toss with pasta.