Roast Pork Tenderloin with Apricot Sauce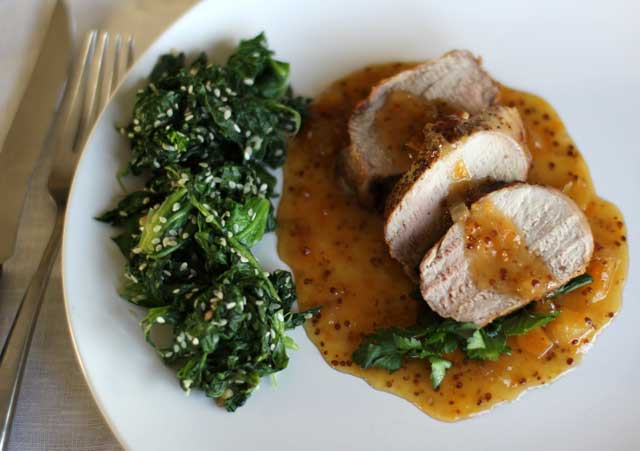 The tenderloin is a nice, lean little cut of meat taken from the back side of an animal. Tenderloins have a reputation for being tricky, but that's a load of horseshit if I ever heard one. Pork tenderloin is especially friendly I think, much smaller than a beef tenderloin, easy to find in stores, and quick to cook. The only thing to watch is not to over cook and that's easy enough to do with this near-foolproof pork tenderloin recipe. You'll sometimes see pork tenderloins sold pre-marinated in some suspicious liquid but COME ON! It's not worth the extra money when it's so easy to make a tasty, tender tenderloin yourself, sans whatever weird crap is floating around in that vacuum-sealed bag.
The roasting method presented here is super basic. You can mix it up by adding different spices to the salt and pepper. Dry mustard is classic, this pork chop seasoning would be badass, too. Once you got it roasted, you can serve it with this apricot sauce like I did here (pinky swearz, it's the tits!) or with a store bought chutney. You can also plan ahead for the week by roasting this on the weekend, then slicing it up later to make a quick stir fry or fried rice, dice it for filling Chinese steamed buns, add it to a quesadilla, or reheat it in some homemade barbecue sauce for faux pulled-pork sandwiches.
Print
Roast Pork Tenderloin with Apricot Sauce
1

pound pork tenderloin

1/4 teaspoon

salt

1/4 teaspoon

black pepper

1 tablespoon

olive oil

1 tablespoon

butter
Sauce:

1 teaspoon

olive oil

1 tablespoon

butter

1/2 cup

finely diced onion

1/2 cup

chicken broth

1/2 cup

apricot preserves

1/2 teaspoon

ground ginger (or

1 teaspoon

fresh grated ginger)

1 tablespoon

grainy mustard

1 tablespoon

apple cider vinegar
Instructions
Preheat oven to 425ºF.
Sprinkle tenderloin with salt and pepper.
Heat oil and butter in a cast iron skillet (or other heavy oven-proof skillet) over high until melted. Sear tenderloin 5 minutes on one side. Turn and cook another 3 minutes on the other side. Place in the oven and set a timer for 10 minutes.
In another skillet, combine the oil and butter for the sauce over medium-high heat. Ad the onion and cook 5-8 minutes until very soft and slightly browned.
Add the broth, preserves, ginger and mustard and stir to combine. Allow to simmer until the pork is cooked.
Check the pork at 10 minutes. The internal temperature should be 155ºF. Cook up 20 minutes total until internal temperature is 155º.
When the pork is cooked through, remove it from the oven. Place the tenderloin on a cutting board or plate to rest and pour any pan drippings into the apricot sauce.
Add the vinegar to the apricot sauce and remove from heat.
Allow the pork to rest 5-10 minutes before slicing.
Serve with the sauce.