Listen all ye lovers of fish tacos and what-not. Do not be a'feared of the sorta long ingredients list found hither for these salmon tacos! You'll want to make these post-haste, my friends. (Unless you don't like salmon and in that case make my other fish tacos recipe with cod or another white fish. People have called them the best fish tacos on earth. But I bet those people haven't tried salmon tacos yet!)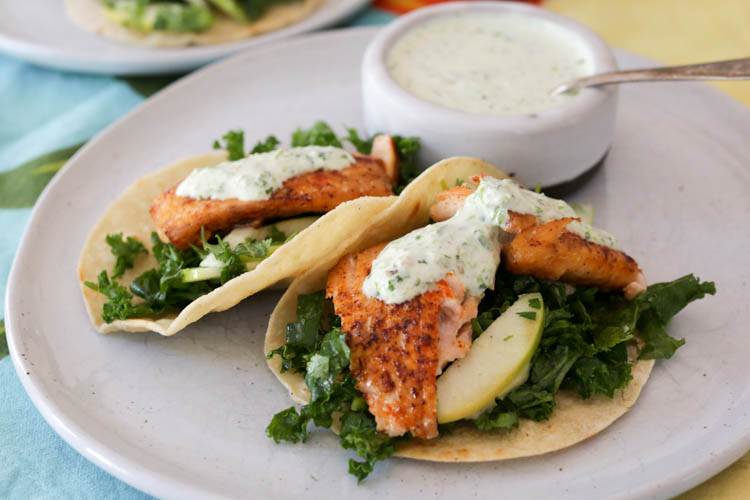 Fresh salmon, simply seasoned with chili powder and salt, cooked on a high heat so it gets a nice crisp outside but stays tender inside. A slightly bitter, tart and sweet slaw made with kale and apples and lemon juice. Jalapeño and cilantro whizzed up with everyone's favorite — mayonnaise! — makes a creamy sauce to drizzly-doo on toppa everythang. Soft corn tortillas.
Yep. You said it, sister. These salmon tacos got all the food groups! And since you can make the kale slaw and the creamy sauce a day before, these salmon tacos can also (theoretically) be on the table in under 7 minutes:
1 minute to preheat the skillet
5 minutes to cook the salmon and warm the tortillas
1 minute to throw everything on the table and let your pack of animals devour it all
That's not to say anyone should try to clean their plate in under a minute. Bad for the digestion.
Anyhowz, these tacos are ready and willing to be your next star so give them a chance to shine and serve with some cold-ass beer, chips and homemade salsa verde.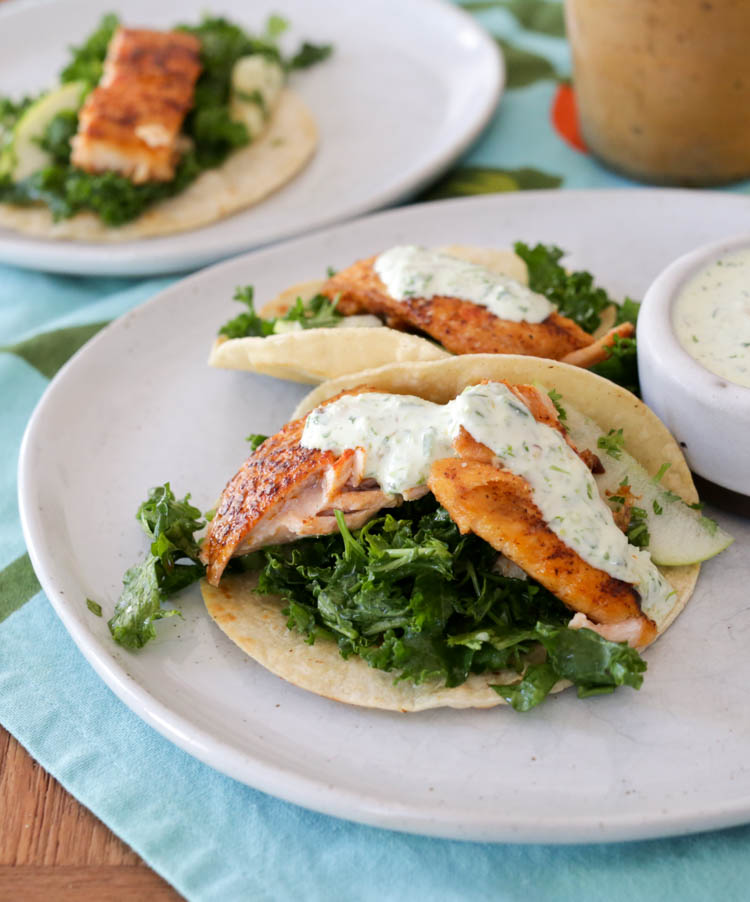 Print
Salmon Tacos
Author:
Yield:

8

tacos

1

x
2 cups shredded, packed kale
salt
1 tablespoon lemon juice
1 tablespoon olive oil
1/2 green apple, julienned
1/4 cup chopped fresh parsley
1/4 cup chopped cilantro leaves
Sauce:
1/4 cup cilantro leaves and stems
1 clove garlic
1 jalapeño or serrano
2 tablespoons mayonnaise (or sour cream if you're mayo-averse)
2 tablespoons cream or milk
1 tablespoon high heat oil like grape seed or avocado oil
1 pound salmon fillets, skin removed if you want
1 teaspoon chili powder
8 corn tortillas, warmed
Instructions
Put the kale in a large bowl. Add lemon juice, oil and about a 1/2 teaspoon salt. Massage firmly with your hands for a minute or so until the kale is wilted. Add the herbs and apple. Refrigerate until serving time.
Make sauce: Combine cilantro, garlic, jalapeño (remove the seeds/membranes from the pepper if you want a milder sauce) mayo and cream in a food processor and blend until smooth. Season with 1/4-1/2 teaspoon salt, to taste.
To cook, heat grapeseed oil in a large skillet over medium-high heat until shimmering. Pat salmon dry with a paper towel and sprinkle both sides of fillets with the chili powder. Right before you put them in the pan, sprinkle both sides of fillets with about 1 teaspoon salt, total.
Place into skillet (skin-side down if your fillets aren't skinned). Cover with a splatter guard if you have one. Cook for about 2 minutes until very crisp on the bottom, gently flip and cook another 2 minutes. Break salmon into about 1″ chunks.
Serve warm tortillas with salmon, slaw and sauce.