Shrimp and Sweet Potato Quesadillas
Couple things I've figured out by now are that quesadillas are a perfect vessel to use up any and every bit of leftover-whatever that you have in your fridgerator and also, quesadillas are the perfect thing to make whenever you are too tired, too irritated or too drunk to give a shit about cooking dinner (and yet you still must either feed yourself or your child).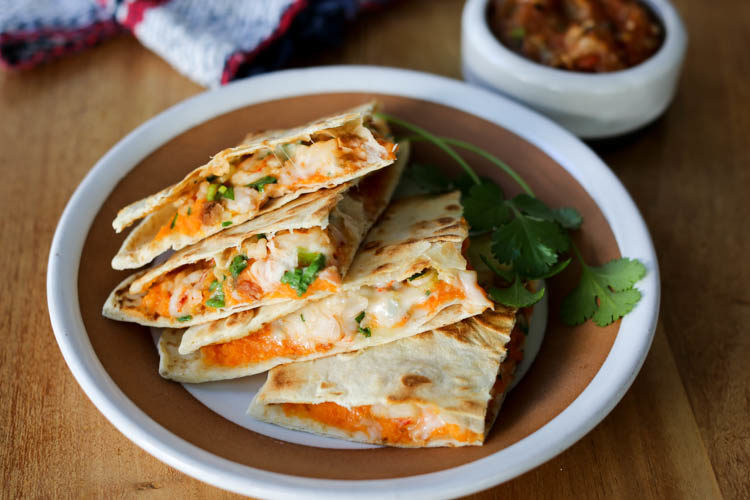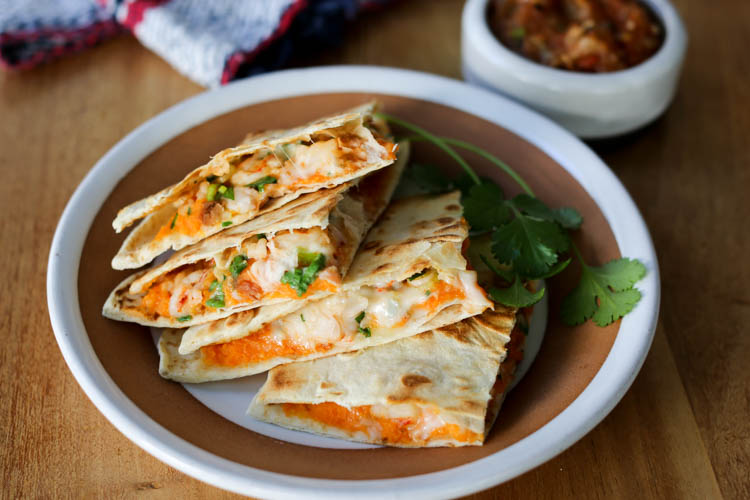 Shrimp and sweet potato quesadillas, therefore, are both perfect for using up leftover cooked shrimp and sprouting sweet potatoes AND ALSO are tasty enough to merit actually cooking some shrimp and sweet potatoes on purpose just to make them.
If you have some leftover spicy diablo shrimp, good on you, my friend — you are half-way to quesadilla heaven (not in the literal sense? I'm no theologian but pretty sure there's no such thing?). All that's left is to micro-blast that old sweet tater until it's squishy and then mash it up with butter. I've given the recipe and instructions in full, so that if you have no leftovers you can still make this (after you go to the dumb store).
And if you must have a green vegetable at every meal and cilantro doesn't count, this smoky, spicy broccoli salad would be good with these or a maybe this cabbage kumquat slaw.
Print
Shrimp and Sweet Potato Quesadillas
Author:
Yield:

4

quesdillas

1

x
8 ounces raw, peeled and deveined shrimp
1 clove garlic, minced
1 teaspoon oil
1 tablespoons hot sauce (like Tapatío or another smooth hot sauce)
1 tablespoon lime juice
Salt
2 green onions, minced
2 tablespoons minced cilantro or parsley
1 medium sweet potato
2 tablespoons butter
8 ounces (weight) grated Monterey jack or other mild cheese
8 flour or corn tortillas
Salsa for serving
Instructions
First thing, start cooking that sweet potato. Cut in half lengthwise and place face-down on a microwave safe plate with a little water. Cook on high heat for about 3 minutes. Carefully (hot!) flip and cook another 3 minutes. Keep doing that until it's really soft.
Meanwhile, heat the oil in a skillet over medium-high and add the shrimp and garlic. The shrimp cooks so fast, like 2 minutes. Toss and stir until all the shrimp are pink and firm (hehe) then add the hot sauce and lime juice and about 1/4 teaspoon salt. Transfer shrimp to a cutting board.
Now attention to the tater: Scrape the meat into a bowl and add the butter. Mash with a fork until pretty smooth and season with about 1/4 teaspoon salt.
Coarsely chop the shrimp and mix with the green onion and cilantro.
Make tortilla sandwiches: Tortilla; couple tablespoons grated cheese; 1/4 cup blob of sweet potato smeared around; 1/4 of the chopped shrimp; more cheese
Cook these on a griddle or in a dry skillet over medium heat for 1-2 minutes on each side until cheese is melted and tortillas are crisp. Cut into wedges and serve it up. Now go watch TV. That was hard and you deserve a break.
Notes
Nutrition info is with flour tortillas. Corn tortillas will be slightly less calories and fat
Nutrition
Serving Size:

1

Calories:

314

Fat:

24

Carbohydrates:

10

Protein:

15