Simple Lentil Soup (and also the best!)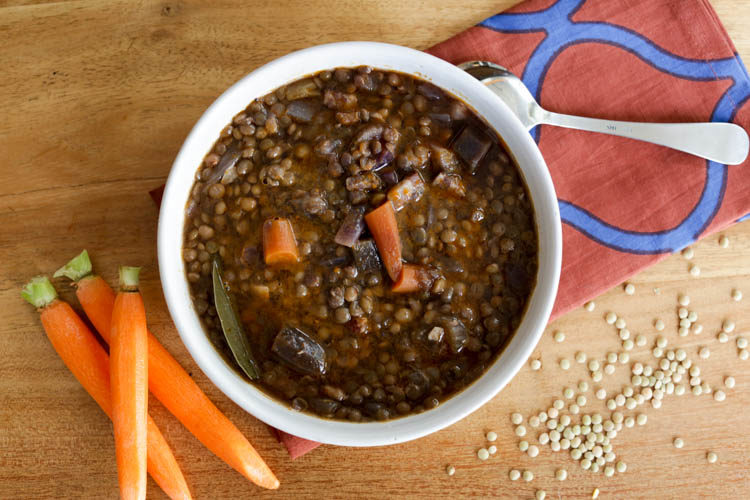 I've said it before, bean soups are some of my favorite soups. And this simple lentil soup has quickly wormed its way into my heart and stomach and that turn of phrase is slightly inappropriate on a food blog but you know what I mean.
The key is a little bit of bacon. I know! Who'd've thunk. A half-teaspoon of smoked paprika works in place of bacon if you're vegetarian. The other key is the sherry. 
I suspect that many people don't keep sherry on hand and if you don't want to, just omit it. BUT if you're not morally opposed to alcohol, get yourself a bottle of cheap sherry to use in cooking. Not cooking sherry ("cooking" wines have lots of salt added to them) just a dry sherry from the very bottom shelf. You should be able to find one for under $10 easily. I use Fairbanks California sherry.
Buy it, take it home, start using a splash to deglaze every pan. I know it doesn't seem like it should add much, but boy it really does. And the best part — to me — about cooking with sherry is that while it tastes okay in a glass, I'm never tempted to drink any of it (unlike when I try to keep wine on-hand for cooking because guess how long that lasts … )
This recent recipe for creamy orzo with mushrooms is another example of how to use sherry in recipes. And also this spatchcock chicken.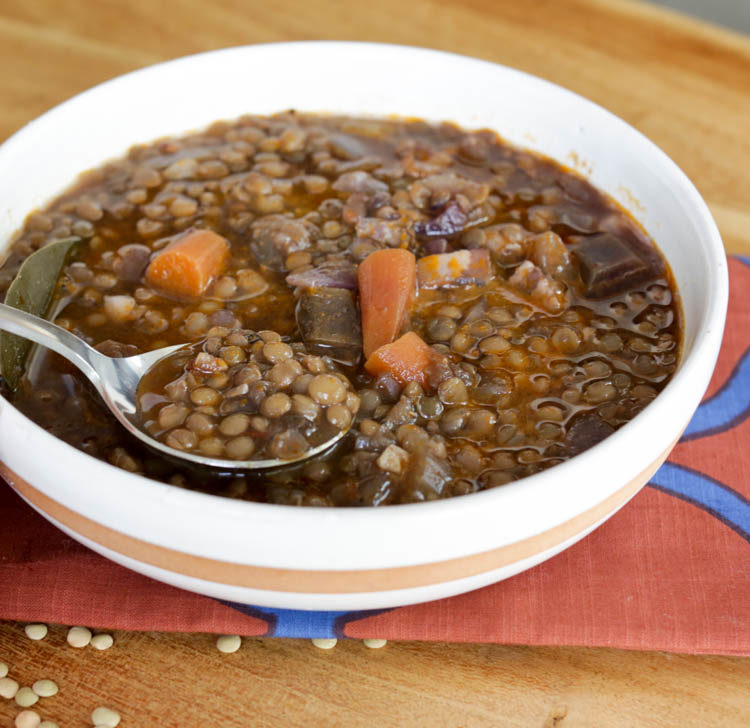 Print
Simple Lentil Soup (and also the best!)
Author:
Yield:

4

servings

1

x
4 strips bacon*
1 medium onion
2 large carrots
2 celery stalks
2 cloves garlic
1 tablespoon sherry (or omit)
1 cup dry green or brown lentils
1 bay leaf
6–8 cups water
1 teaspoon sweet paprika
2 teaspoons soy sauce (use 1 teaspoon salt if you can't do soy)
Instructions
Dice the bacon finely and put into a large pot over medium-high heat. Cook, stirring occasionally, until the bacon fat has mostly rendered out and the bacon bits are beginning to crisp (about 5 minutes)
Meanwhile, dice the onion and slice carrots and celery. Add the onion to the bacon and cook a minute or two until beginning to soften.
Add carrots, celery and minced garlic. Cook 60 seconds. Deglaze the pot with the sherry.
Once sherry has evaporated and the bottom of the pan has been scraped up, add the lentils, bay and 6 cups of water. Cover and bring to boil. Reduce heat and simmer about 30 minutes. (If your pot's lid doesn't seal really tight, add 8 cups of water instead to make up for evaporation loss.)
At 30 minutes, the lentils should be softened. Add paprika and soy sauce and simmer another 10-15 minutes. If the soup is thick enough, keep the lid on; if it's too thin, simmer uncovered.
Serve hot. Soup freezes and reheats perfectly.
Notes
*For a vegetarian lentil soup, omit bacon. Saute vegetables in a tablespoon of oil or butter. Add 1/2 teaspoon of smoked paprika along with the sweet paprika.
Nutrition
Serving Size:

1 1/2 cups

Calories:

305

Fat:

8

Carbohydrates:

37

Protein:

20