Sooo Cali Hot Dogs Recipe – Dog Haus Dogs
Sooo Cali Dogs Video (scroll down for recipe)
Subscribe to my YouTube channel to get notified of new videos.
I went with Lynn Chen to Dog Haus in Burbank to eat some weens and they gave us the recipe! The Sooo Cali dog is Lynn's favorite and it has arugula, avocado (of course! SoCal: where avocado is everywhere) tomatoes, a spicy basil aioli and French's fried onions. The basil aioli makes WAY more than you need for one hot dog. So you can either cook a few more dogs or slap that stuff on some other stuff. Grilled chicken, corn on the cob, sandwiches, burgers, steak fries. I think it would be good on anything.
The recipe below is unchanged from what we got from Dog Haus, but when Lynn and I made it at my house, we left some of the serrano seeds in for a slightly spicier "Spicy basil aioli" and we liked it better that way. (But don't tell the folks at Dog Haus or we might get put in the dog house and that would be a shame because we love hot dogs.)
Watch Lynn's video for more about our trip to DogHaus and check out her website and podcast at The Actor's Diet
Soo Cal Hot Dog Recipe from DogHaus Dogs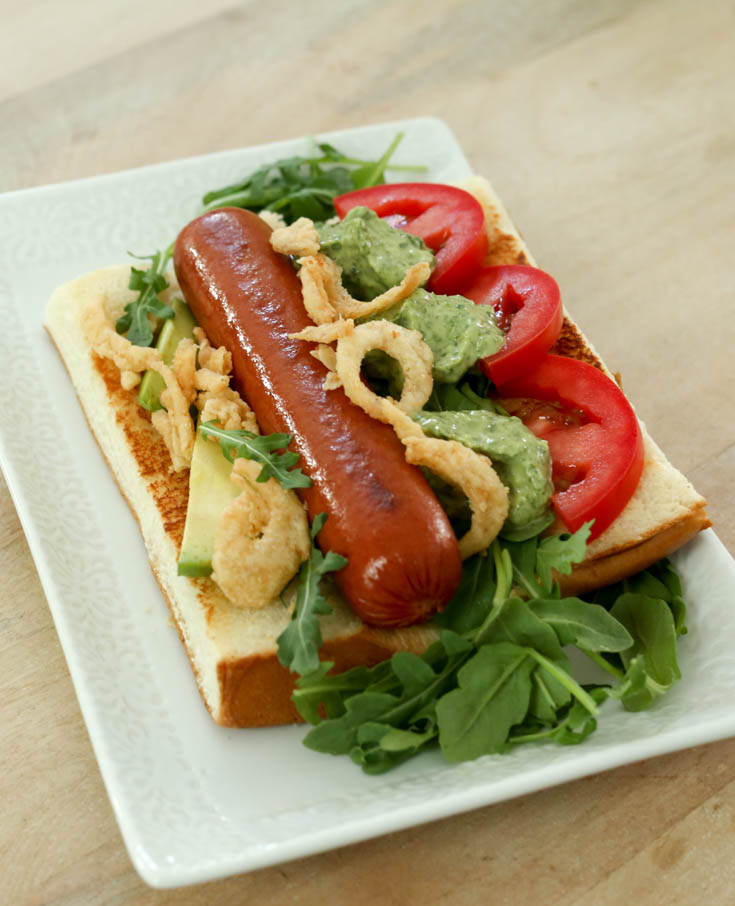 Print
Soo Cal Hot Dogs Recipe – Dog Haus Dogs
Author:
Prep Time:

10 mins

Total Time:

10 minutes

Yield:

1

1

x
Cuisine:

American
1

all beef skinless hot dog

3

Kings Hawaiian Rolls (still connected)

1 tablespoon

clarified butter
Half a handful wild arugula

3

thin slices of avocado

1

tomato slice, cut in half

1 ounce

crispy onions (like French's)
Spicy basil aioli:

1 Cup

Best Foods Mayo

1 1/2

cloves garlic, minced

4 ounces

fresh Basil, washed

1

small serrano pepper – washed, stems and seeds removed

11/2 teaspoon

lemon Juice

1/2 teaspoon

kosher salt

1/4 teaspoon

white pepper
Instructions
Make the basil aioli:
Trim the stems and seeds from basil and serrano.
Combine the basil, serrano, garlic, and lemon juice into blender and puree on a slow setting.
In a large bowl, fold the basil-garlic-chili mixture, salt, and white pepper into the mayo using a rubber spatula. Set aside.
Cut rolls across lengthwise, creating a "hot dog bun", keeping the rolls attached to each other. Spread with softened butter and grill over a medium flame until toasted.
Grill hot dog for approximately 7 minutes or until it reaches an internal temperature of 165 degrees.
Place wild arugula in grilled bun, and place dog on top. Arrange avocado slices on one side of the dog, and place tomato slices on other side. Add crispy onions on top of the dog. Zig zag spicy basil aioli across the top.
Check out the last video I made with Lynn with her take on Kaya Toast: