Spam Musubi is a Hawaiian specialty, often served at lunch or for a snack. It's incredibly simple in its basest form: SPAM, rice, seaweed. Similar to sushi rolls, but squared off; it reminds me of a sandwich. Aside from the outrageous amounts of sodium in the SPAM, Spam Musubi is maybe kind of healthy?
Or maybe I have absolutely no grip any longer on what is healthy. I think … anything that gets more seaweed into my body is healthy? For some reason I have this idea that seaweed is, like, the healthiest thing on the planet and that I should try to eat it all the time. But I don't like it all that much. Fortunately, put it with some salty-sweet grilled SPAM and I'm all over it.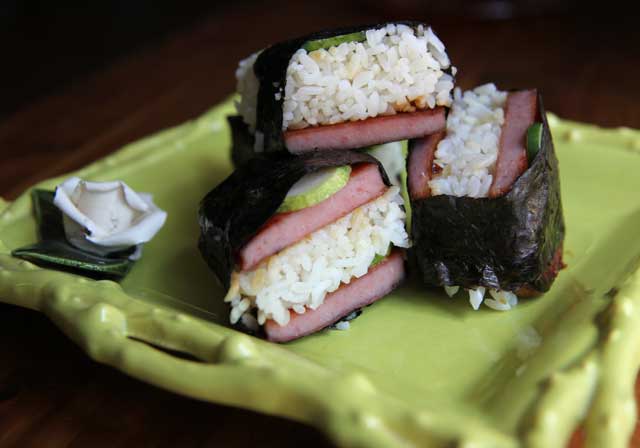 You probably know as well as I do that Hawaiian cuisine is a blend of many: Japanese, Filipino, Polynesian, Chinese, Korean, Portuguese, American … it might be one of the most hodge-podge of all world cuisines. Rice is an important staple, as is taro root. Obviously, seafood plays a large part and probably everyone is familiar with the famed Hawaiian roast pig. Spam was brought to the islands by military servicemen from the US and became exceptionally popular after World War II. Hawaii remains one of the world's highest consumers of Spam. Spam is fried with eggs for breakfast, with vegetables for dinner, and rolled into musubi for lunch.
Print
Spam Musubi
Author:
Prep Time:

10 mins

Cook Time:

20 mins

Total Time:

30 minutes

Yield:

2

-3

1

x
1 cup

sushi rice

1

can of SPAM (

7 ounce

size)

2 teaspoons

honey

1 teaspoon

soy sauce

1 teaspoon

minced garlic

5

sheets of nori
Optional: thinly sliced cucumber, avocado, jalapeño
Instructions
Rinse the rice unless your rice package says it's been pre-rinsed. Combine in a pot with 1 1/2 cups water and cover. Bring to boil. Reduce heat and simmer 20 minutes.
While rice cooks, slice Spam into 5 or 6 slices. Place in a heavy skillet over medium-high heat. Fry, flipping occasionally, for a few minutes until browned and crispy around the edges. Mix honey, soy sauce and garlic together and spoon over Spam slices. Turn again to allow the sauce to caramelize slightly. Turn off heat but leave them in the pan to stay warm.
Cut nori sheets in half lengthwise.
Pack about 1/3 cup of warm rice into the empty Spam can. Pack it in tightly. Flip can and tap gently to get the rice block out.
Lay 1/2 nori sheet on a cutting board, place a Spam slice across the center. Top with rice block and any other ingredients you like.
Wet the ends of the nori and wrap them up and around the rice, press to seal.
Serve!
P.S. In case you're like me and have never been to Hawaii, it's pronounced "moo-soo-BEE" not "moo-SOO-be".