I've written about my maternal grandmother before. She's the one with the adventurous palate who taught me not really how to make anything in particular, but more about throwing stuff together in the kitchen to see what happens; see what sticks. I learned that what sticks gets written down, what doesn't stick just gets eaten because no one's throwing away food around here! Sushi rolls are an exception. She did teach me how to make those. She would most often make "hand rolls" or temaki — the tapered kind that you just eat by chomping on it like an ice cream cone. That's fun. But really, any way you roll it or eat it, the sushi rice is the key thing.
Sushi Rice
The sushi rice, once seasoned with rice vinegar, sugar, and salt, is called shari. I got that off Wikipedia. The rolled sushi that I make in this video is called makizushi. I got that off a Japanese restaurant menu. I learn things everywhere I go! Sushi refers to anything that is combined with shari . . . I'm pretty sure. Anyway, about that rice.
Traditionally, the sushi rice is washed until the water runs clear. This removes extra starch on the rice. The brand of rice I buy says in big letters "Washing not necessary" so I follow the rules and don't wash it, thereby saving time and water. Give yours a rinse before cooking if you can't find any directive against its necessity on the package.
Once the rice is cooked, you spread it out on a platter and add your seasoned rice vinegar a couple of spoonfuls at a time. Then gently fold the rice over with a wooden paddle or wooden spoon and spread it out again. Keep adding spoonfuls of vinegar and gently folding it in to the rice until it tastes good (about 3-4 tablespoons seasoned rice vinegar per 2 cups of cooked sushi rice). It should taste good enough to eat all by itself. Durn good. Allow the rice to cool to room temperature before making the sushi rolls.
Nori
The seaweed sheet that wraps the sushi roll is called nori.  It's an algae that has been pressed and dried, then toasted, cut into rectangles, and delivered to your neighborhood Asian market. If you pay attention, you'll notice once side of the nori is slightly smoother and shinier than the other. Make sure you put the smoother side down, applying the rice to the rougher side.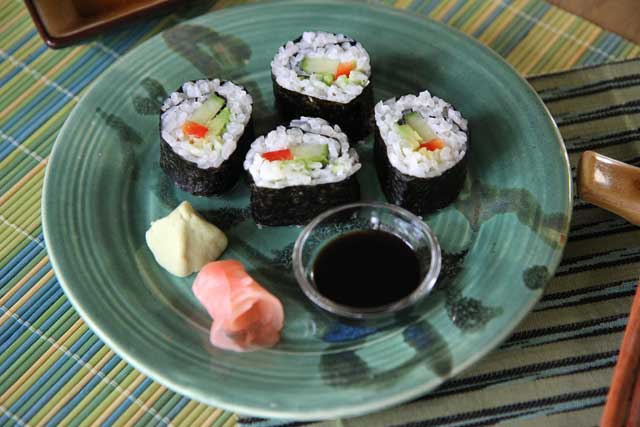 Sushi Fillings
Besides rice, pretty much anything you can think of, you can put into a sushi roll. Typically, people think of raw fish when the word "sushi" comes up. If you want to use raw seafood, be sure to use only fish labeled "sushi-grade" to lessen the risk of gettin' a parasite in yo tummy. While "sushi grade" is not an FDA term, the FDA does have a guideline for seafood that is to be consumed raw, called the "parasite destruction guarantee". Parasites are kiled by both cooking and freezing. Parasite destruction can be assured by wither  freezing fish for 7 days at -4 degrees F or below or by flash-freezing to -31 degrees F or below for 15 hours. Freezing will not kill bacteria.
One thing this means, then, is that no "sushi grade" fish is ever (nor should be) technically "fresh" because it has all been at one point frozen. Extrapolating, then, because almost all fish you buy has been shipped and stored frozen before being thawed out behind the fish counter, you could theoretically use almost anything …? Nah. Probably shouldn't. Sushi grade fish has also been filleted a certain way and in Japan at least, must meet specific requirements for fat content and flavor quality, among other things.
For cooked seafood options, try steamed shrimp, smoked or "barbecued" eel (available frozen in Asian markets), crab (real or imitation), smoked salmon or lox, octopus (also available frozen). Thin egg omelets cut into strips are also a good cooked protein to try.
Vegetable sushi fillings include: cucumber, avocado, carrots, bell pepper (used raw); pickled vegetables like daikon radish or umeboshi plum; toasted sesame seeds or almonds; asparagus, mushrooms, butternut squash (all best used lightly cooked); fried or baked tofu; herbs like shiso or perilla leaves, and sprouts; tempura-fried broccoli, squash, onions. Peeling is not necessary, unless you would normally peel the vegetable before eating as in butternut squash.
With all fillings, cut them neatly into long strips. If possible, make each strip long enough to cover the length of the nori. If not, you will lay strips of filling end-to-end to stretch across. For most rolls, the rice should make up about half the filling, with the other ingredients making up the other half. So, the ratio of rice:other stuff is 1:1.
Bamboo Mat
This little gadget, called a makisu, is cheap and easy to find at an Asian grocery (maybe even a larger upscale grocery) and can help you make tighter sushi rolls. You wouldn't use this to make hand rolls, just the makizushi. Even then, it is possible to roll them by hand without the mat so if you're just starting to experiment, you may want to try it by hand first before buying a makisu that you only use once and then for the next hundred years, it just sits in your utensil drawer and mocks you every time you need to get the can opener because it's Campbell's chicken again for dinner instead of fancy sushi rolls.
Print
Sushi Rolls
Author:
Cook Time:

30 mins

Total Time:

30 minutes

Yield:

2

-4

1

x
Rice:

1 cup

sushi rice

1 1/4 cups

water

1/4 cup

rice vinegar

1 1/2 teaspoons

sugar

1/4 teaspoon

salt
Filling:
Use raw: Cucumbers, red bell pepper, avocado, carrot, green onions
Use cooked: aspragus, mushrooms, eggplant
Seafood: cooked shrimp, eel, crab; raw sushi-grade fish

4

sheets of nori
Condiments: soy sauce, wasabi paste, pickled ginger
Instructions
Rinse the rice if you need to (see notes above) and combine in a pot with the water. Cover. Bring to boil. Reduce to simmer for 20 minutes. At 20 minutes, turn off the heat, but allow the rice to sit in the pot 5 minutes longer.
Meanwhile, dissolve the sugar and salt in the vinegar.
When the rice is done, spread onto a platter and mix in the vinegar (see above text for tips, or watch the video!). Allow to cool to room temperature.
Place a sheet of nori smooth side down, longer edge facing you.
Spread 1/2 cup rice over the nori, leaving a 1″ border along the top. Wet your fingertips to aid in spreading the rice without sticking to your hands.
Arrange fillings in a line down the center of the rice.
Roll up tightly.
Wet the 1″ nori border lightly with water and finish rolling. Set aside, seam side down while you make the rest.
Cut each roll into 8 pieces, using a sharp knife and wiping it with a wet towel between each slice.
Serve with condiments of choice.
Notes
To double this recipe: Cook 2 cups sushi rice in 2 1/2 cups water. Double the vinegar mixture like this: 1/2 cup rice vinegar 1 tablespoon sugar 1/2 teaspoon salt
More Sushi Roll Fillings to try!
Vegetarian Sushi Rolls:
Pickled Plum (umeboshi) and Cucumber
Chopped Toasted Almonds, Carrot, Cucumber, Avocado
Asparagus (lightly steamed or sauteed), Carrot, Scallion
Shiitake Mushrooms (sauteed), Toasted Sesame Seeds, Scallion
Tofu Strips (fried or baked/warm or cold), Pickled Daikon, Radish Sprouts
Raw Fish Sushi Rolls:
Tuna, Avocado
Yellowtail, Scallion, Lemon
Toro (tuna belly) and Scallion
Philadephia — Salmon, Philadelphia Cream Cheese, optional Cucumber
Cooked Seafood Sushi Rolls:
Barbecued Eel, Cucumber, Avocado
Tempura Shrimp, Umeboshi, Spinach
Steamed Shrimp, Cucumber, Scallions, Spicy Mayo
Smoked Salmon, Cream Cheese, Scallion, Toasted Sesame Seeds
California — Imitation Crab (stick form), Avocado, Cucumber, Toasted Sesame Seeds
And for a video demonstration of hand rolls, watch this great tutorial from Davy of MakeSushi.org: