Spinach Enchiladas Suizas
Spinach Enchiladas Suizas Video (Scroll down for printable recipe)
Spinach enchiladas suizas is the enchilada order I place on days when I'm in a vegetarian state of mind, or in joints where I doubt the freshness and quality of the meat (why would a person eat in a place like that at all? Well, it's never intentional, I swear.) Enchiladas suizas translates to "Swiss Enchiladas" and they are called that due to the high quantity of dairy and cheese used in the sauce. It's nothing to be ashamed of, Switzerland. There are worse things to be known for than cheese and neutrality.
Using a spinach and mushroom filling in these enchiladas also allows a person to continue the delusion that eating a plate smothered in cream and cheese isn't entirely a waste. There's vegetables in it!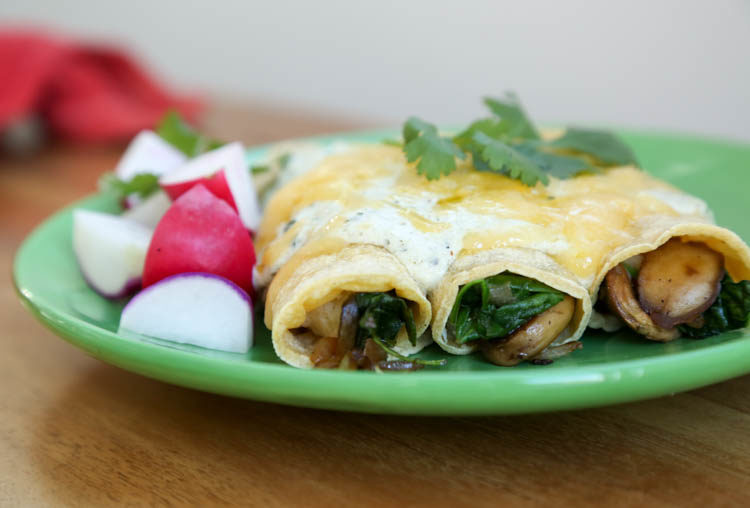 For more vegetarian recipes, check out my vegetarian cooking class and 28-day meal plan!
Spinach Enchiladas Suizas Recipe
Print
Spinach Enchiladas Suizas
Enchiladas:

2 tablespoons

butter or oil

1

onion, diced (divided)

10 ounces

fresh spinach, washed well and chopped

8 ounces

sliced mushrooms

1/2 teaspoon

salt

12

corn tortillas

1 cup

grated white cheese
Suiza sauce:

12 ounces

tomatillos

1

poblano pepper

3

cloves garlic, peeled

1/4 cup

packed cilantro leaves and stems

1/2 teaspoon

salt

1/4 teaspoon

pepper

1/4 teaspoon

ground nutmeg

1 cup

Mexican crema or sour cream
Instructions
Make the spinach enchilada filling:
Heat butter in a large skillet over medium-high heat. Add HALF the onion and the mushrooms and stir briefly to coat. Cover the pan and cook 1-2 minutes or until mushrooms are browned and have released some liquid. Uncover and cook until mushrooms are dry. Stir in spinach, salt and cook until spinach is wilted. Set aside.
Make the suiza sauce:
Peel and rinse the tomatillos. Place in a pot with remaining half of diced onion, cover with water and put over high heat.
Meanwhile, roast or broil the pepper on all sides until blackened. Let cool, then remove the stem (and seeds for mild sauce).
Once tomatillos have turned a mossy green, transfer all to a blender with the onion, garlic, poblano, cilantro, salt, pepper, nutmeg. Carefully blend until smooth. Mix in crema.
Soften tortillas in oil and roll 2-3 tablespoons of spinach mixture into each. Pack into a 9×13 pan.
Pour sauce over all and sprinkle with cheese.
Place under broiler for a minute until cheese melts. (The sauce and filling are already warm so you just need to melt the cheese on top.)