Strawberry Nachos Recipe Video (scroll down for recipe)
Subscribe to my YouTube channel to get notified of new videos.
Strawberry nachos were invented after a failed attempt at strawberry cheesecake chimichangas. I shouldn't say "failed" — they didn't quite fail, but they were not up to snuff. So I took all the same ingredients and went full-nacho.
Flour tortillas are brushed with melted butter, sprinkled with cinnamon-sugar and baked until crispy. Top those with some orange-sweetened cream cheese and fresh berries, then top that with a sour cream sauce and whatcha wanna bet you're gonna eat every last one.
If you don't like strawberries (gasp!) try them with sliced bananas. If you don't like oranges (gasp!) try with lime zest! If you don't like strawberries or oranges (double gasp and get the hell outta here!!!) try with bananas and lime zest. And if bananas and lime together sounds weird to you, just put it on your bucket list and try it when you're 80 and then write to me and tell me how you wish you'd tried it much earlier in life. What I'm trying to say is: bananas and lime are good together.
Strawberry Nachos Recipe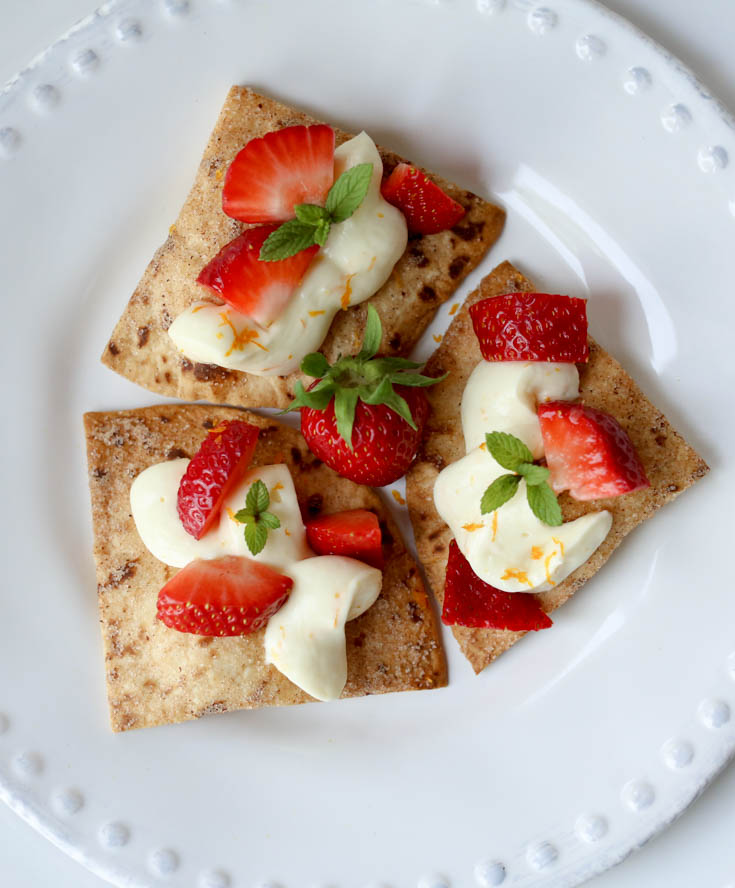 Print
Strawberry Nachos
4

flour tortillas

2 tablespoons

melted butter

1/4 cup

sugar

1 teaspoon

cinnamon

8 ounces

cream cheese, softened

1/4 cup

+

2 tablespoons

powdered sugar

1

orange (lime would be good, too!)

12

ripe strawberries, diced

1 tablespoon

orange liqueur

1 tablespoon

brown sugar

1/4 cup

sour cream
Instructions
Set oven to 375ºF. Brush one side of tortillas with butter, then sprinkle with cinnamon sugar. Cut into quarters and place in single layer on a baking sheet. Bake 10-12 minutes. Remove and let cool on the baking sheet. They will continue to crisp as they cool.
Meanwhile, blend the cheese with 1/4 cup powdered sugar until smooth. Add the zest of the orange (about 1 teaspoon).
Mix the strawberries with the liqueur (if using) and brown sugar. Set aside at room temperature.
In a small bowl, whisk 1 tablespoon of the orange juice with 2 tablespoons sugar and the sour cream.
Top each tortilla chip with about a tablespoon of cream cheese, spoonful of strawberries and a drizzle of sour cream sauce. Serve quickly.