It's time to make actual, real strawberry shortcake now. You know those cellophane bags of "shortcakes" you can pick up in the produce section, usually right next to the plastic sacks of "strawberry" glaze? Well, I have some bad news. I destroyed all of those in several small arson jobs. And I infested the factories than make them with toucans.
I know, I know, I should have talked to you first before I stole all those toucans from the Froot Loops factory and released them into the ventilation system of the fake strawberry product factory, but really I was doing you a favor.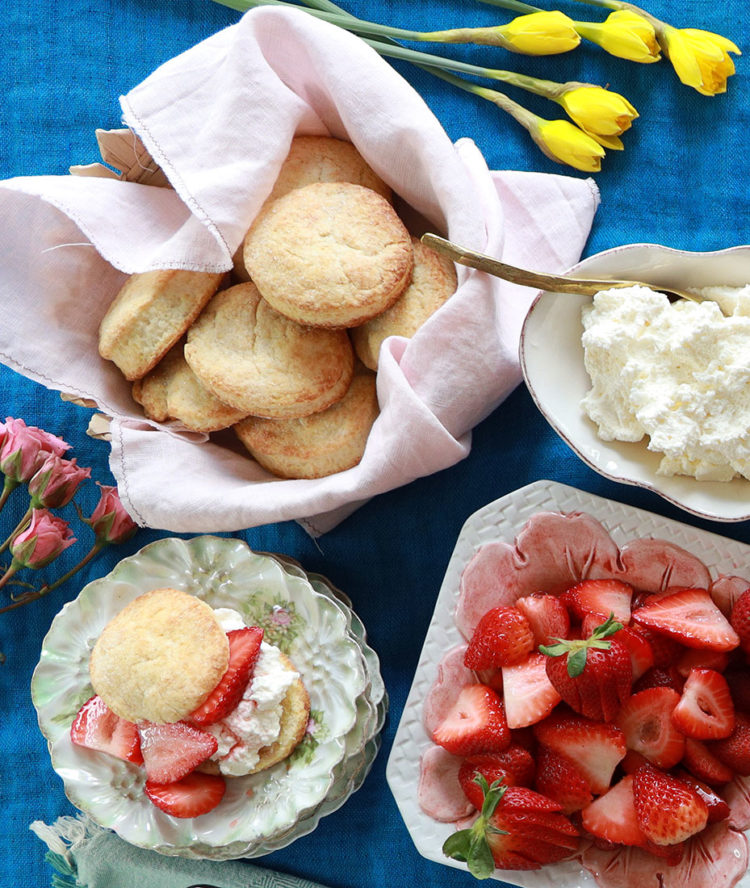 Traditional, homemade shortcakes are infinitely better tasting than those stale old sponge cake bowls; and my strawberry sauce has TWO special ingredients that will make you go Whoomp. There it is.

PLUS, in the video I show you how to make them shaped like little cutie-pie bunnies! Strawbunny Shortcakes! Get it?! FOR EASTER!!!
I crack me up.
Print
Strawberry Shortcake
Traditional shortcakes filled with vanilla strawberries and whipped cream
1 quart

strawberries

3 tablespoons

brown sugar (to make it special!)

1/2 teaspoon

vanilla extract (and even more special!)
For the shortcakes:

1 1/2 cups

all purpose flour

1 tablespoon

white sugar

1 3/4 teaspoons

baking powder

15 tablespoons

heavy cream (

1 cup

minus

1 tablespoon

)

2 tablespoons

raw sugar
For serving:

1/2

–

1

cup heavy cream, whipped to soft peaks
Instructions
Prepare the strawberries: Wash, hull, and slice 1/4″ thick. Combine with 3 tablespoons brown sugar and vanilla. Refrigerate at least 30 minutes and up to 4 hours.
Preheat oven to 450 F (425 F if using a dark-colored baking sheet) and lightly grease a baking sheet or line with parchment paper
Sift together the flour, white sugar, and baking powder in a large bowl.
Make a well in the center and pour in about 3/4 cup of the heavy cream. Stir and add a couple more tablespoons cream, stirring, until the dough begins to come together.
Sprinkle a surface with flour and knead the dough 3-4 times or until it can be pressed into a smooth ball.
Roll out 1/2 inch thick and cut out four 2-1/2″ or 3″ circles and eight ovoid "bunny ear" shapes. If you want, you may skip the bunny part and just cut out 6 circles.
Attach two ears to each circle. Brush the 1 tablespoon remaining cream over all and sprinkle with raw sugar.
Bake for 15-18 minutes until the bottoms are light brown.
While they bake, whip the cream for filling. Place cold cream in a bowl and beat with a mixer whisk attachment on high for 5-8 minutes, or until it stands in soft peaks. You may add a teaspoon or two of sugar if you like.
While warm, arrange on plates and split. Fill with strawberries and their juice and some whipped cream.
Pass extra strawberries and cream at the table.
Notes
The amount of whipped cream to make is your call. For 4 people, I find that 1/2 cup cream which yields about a cup when whipped is enough. If your family is really big on whipped cream, or if you are forgoing the bunny shape in favor of serving more people, whip 1 cup of cream.
Of course, you can use CoolWhip or ReddiWhip if you must, but in a dish this simple, I would choose the simplicity of real whipped cream. Plus, you have all that cream left over from making the biscuits! You might also like this fruit tart recipe if you liked the strawberry shortcake.