Fruit Tart Recipe video – scroll down for printable recipe
Lest ye think I just make whatever food I want to without regard for your feelings, I made this fruit tart in response to a viewer request for a "Summer Berry Tart with Pastry Cream". Partly because it sounded like a delicious idea that everyone could get behind, but mostly because I don't do many desserts on here (because I don't do many desserts in my life) and for that reason, especially appreciate specific dessert requests because I basically have no dessert ideas of my own. So thank David for this berry tart which I am calling a fruit tart because I don't want to box you in. Use whatever fruits are ripest and freshest and most deliciousest and ye shall be rewarded!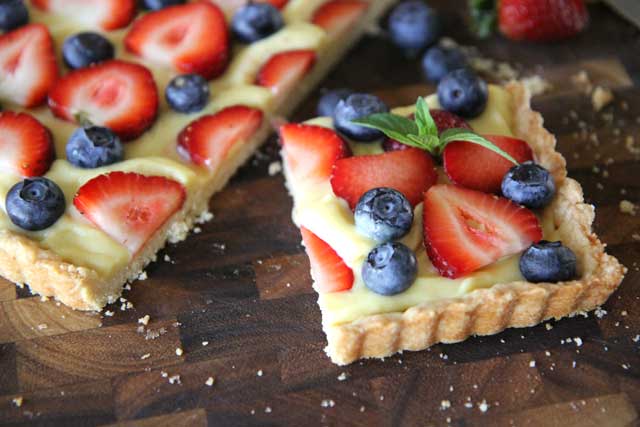 You could also add different extracts to the pastry cream — almond, coconut, orange, rum, or even an ounce of chocolate melted with the half-and-half for a chocolate pastry cream! — and play with fruit combinations to come up with a whole range of different fruit tarts: Piña Colada tart; Banana Pudding tart; Creamsicle tart; Strawberry Chocolate tart, and maybe it doesn't even have to be fruit! German Chocolate Cake tart! For German Chocolate Cake day! Damn, I am so sad I only now thought of that.
The pastry cream can be made and refrigerated up to 48 hours in advance. The crust can be baked the day before. Assemble the tart right before serving, though. It's best served within an hour. In case you're wondering, this is the same cream that you'd use in Boston Cream Pie, eclairs,  and things like that, too.
fruit tart recipe with pastry cream and berries
Print
Fruit Tart
Author:
Prep Time:

2 hours

Cook Time:

30 mins

Total Time:

2 hours 30 minutes

Yield:

8

-9

1

x
1

baked tart shell (8-9″, square or round, but about

1/2

inch deep)
Pastry Cream:

1 cup

half-and-half

3

egg yolks

1/4 cup

sugar
pinch salt

2 tablespoons

all-purpose flour

2 tablespoons

butter, cut into pats

1 teaspoon

vanilla (or another flavor) extract
About

1 cup

sliced fruit of your choosing
Instructions
Have your tart shell made or make it while the pastry cream cools, which is going to take at least 2 hours.
Heat the half-and-half in a medium sauce pot over medium-low heat.
While that warms, whisk in a heavy bowl: egg yolks, salt, sugar, flour until smooth. 'Twill be quite thick. That's why the weight of the bowl will help you tempering.
Once the half-and-half has come to a simmer, turn off the heat and use a measuring cup to scoop out about 1/3 cup and drizzle it into the egg yolk mixture, whisking constantly until smooth. There should be no lumps if you've drizzled slowly enough and whisked quickly enough.
Turn the pot back on to low heat and now gradually pour the tempered egg yolks into the warm half-and-half, again whisking constantly.
Once it's all mixed in, the custard will begin to thicken almost immediately.
Continue to cook it over low heat, whisking all the while, for 6-8 minutes or until the whisk dragged through it leaves a trail as if it were parting the seas of custard. (See video)
Increase heat to medium and cook a further minute until large bubbles begin to pop on the surface.
Turn off the heat.
Add butter pats and whisk until melted. Add extract.
Pour into bowl and cover the surface with plastic wrap. Chill 2-48 hours.
I used the same tart shell recipe from the Blueberry Tart we did a while back. If you have your favorite, you can use that instead, but this one is a real easy shortbread-style pat-in crust.