Sweet potato waffles that also taste like orange-vanilla Creamsicle? Line starts at the left.
But seriously, have you ever seen a naked waffle picture like this?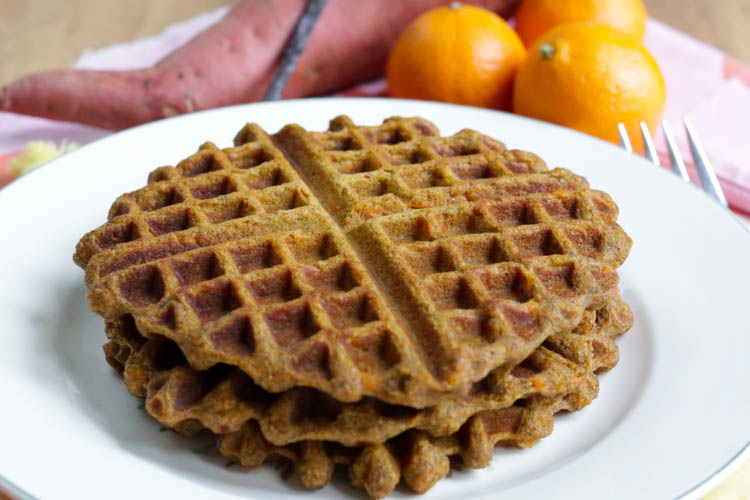 I admit. Waffles look a little sad in a photo when they aren't covered in whipped cream and syrup and melted butter pooling in all the pockets. But  . . . two things and then I won't mention it again: One, these waffles really don't need syrup and two, my son will eat these exact waffles for breakfast all week as long as they don't get all soggy and drenched in syrup. Never one to waste food over here, so, dry they shall remain until they get reheated in the toaster tomorrow.
And if you have young'uns and you didn't know that waffles (and pancakes!) can be cooled, refrigerated, and toasted at a later date, you know it now and I dare you not to make it part of your routine. It's so easy! Almost as easy as Eggos but you know what's in them.
For more fancy waffle ideas, try my Chocolate Chip Waffles or savory Mashed Potato Waffles (the BEST way to use leftover mashed potatoes).
Try these sweet potato waffles with a mixture of whole wheat flour and buckwheat flour, too. Mix up your flours to eat more variety!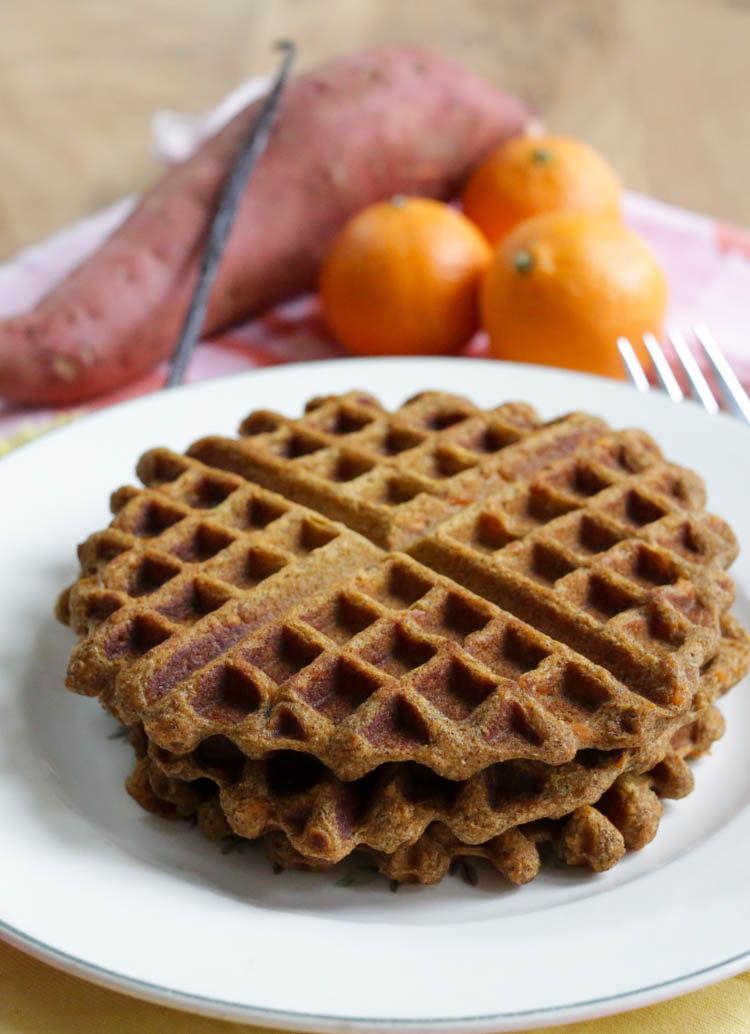 Print
Sweet Potato Waffles
Author:
Yield:

4

servings

1

x
1 medium sweet potato (8–9 ounces weight)
1 orange
4 tablespoons butter, melted
1/2 cup milk
1 teaspoon vanilla extract
1 egg
1/2 cup whole wheat pastry flour (or buckwheat flour)
1 teaspoon baking powder
1/4 teaspoon baking soda
1/4 teaspoon salt
Instructions
Cut up the potato and cover with water either in a small pot or microwaveable bowl. Boil until tender, or microwave about 3 minutes. Drain and let cool.
Zest 1 teaspoon zest from the orange and put into a medium bowl.
Add the melted butter. Peel the sweet potato now and add the guts to the bowl. Mash until smooth. You should get about 1 1/2 cups mashed potato.
Juice the orange to get 2 tablespoons orange juice and add that, too. Add the milk and vanilla. Mix it up. Use an immersion blender to make it even smoother if your kid hates "chunks". Beat in the egg.
Add flour, baking powder, soda and salt. Mix quickly until incorporated.
OIL YOUR WAFFLE IRON. Even if it's nonstick like mine. The sugar in the sweet potatoes makes these waffles super delicious, but it also sticks to the iron.
Cook by 1/2 cup batter over medium-low heat to get 4 waffles.
Nutrition
Serving Size:

1 waffle

Calories:

241

Fat:

13

Carbohydrates:

26

Protein:

5