This is it, y'all! The lost footage from the fated Ferris wheel accident I mentioned in the Monte Cristo episode. I guess it wasn't really lost after all. But it was hard-going to figure out how to retrieve it. The camera had to be dusted off, battery changed, disassembled, reassembled, prayed for, and ultimately cleansed by fire like the great Phoenix. I know most things don't get fixed that way — you know, lighting them aflame — but this time it worked, and fortuitously so, since everyone really should know about Texas Tater Twisters and my carny friends and the Houston Rodeo.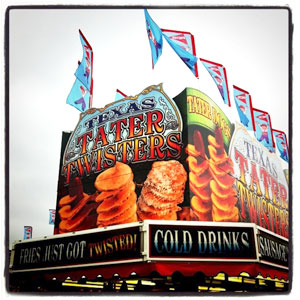 I'd wanted to go visit Stacy and her sister and their Tater Twisters last year, but had really just started Hilah Cooking at the time and was not prepared for a road trip, however short, or an on-location shoot, however awesome. But I'll tell you one goddamn thing for sure: I sure as shit was not going to miss it this year.
To ensure plenty of face-time with the sexy Tater Twister Sisters, and to make sure that it wouldn't be super effing crowded, we went down the week before the official start of the rodeo. It was still pretty crowded actually. I guess Houston's a big city? Who knew!! But I did get to get in that trailer and get my hands dirty (after I got them very clean of course, with soap and water and stuff).
I was downright overjoyed when I heard there was a GD BBQ competition, too, the SAME WEEKEND I was going to be there. Then, when I found out that you need special VIP passes or invites or whatever kinda BS in order to get to eat any delicious BBQ, I was awash with disappointment and even a little pissed off. So I drank some $5 beers and ate almost three Taterdogs and got front seat on a roller coaster and then went on the Ferris wheel and had a big boo-boo.
Back to those Twisters, though. They are super cute and fun to eat and enormous. I got to make one, with some help from professionals. I even got to put a weenie in it (it's really a very good sausage made in Dripping Springs, but weenie is funner to say so I'll say it) and make a TaterDog! I wore a cute cowboy hat, too. Here's how it happens.