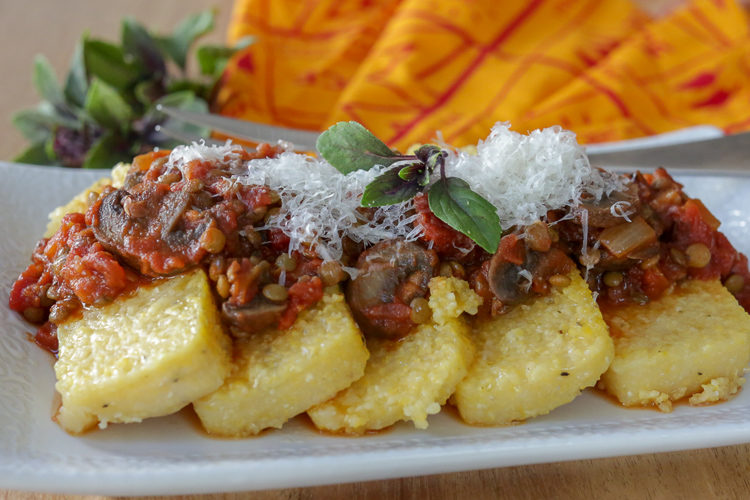 Our friends and neighbors joined us for dinner recently and their daughter, age 12, is newly vegan after watching a video at school. Her parents took it in stride, though I imagine some other parents in the class may not have been so cool about it. But I bet they'd change that tune if they could try this vegan lentil bolognese with mushrooms that I made!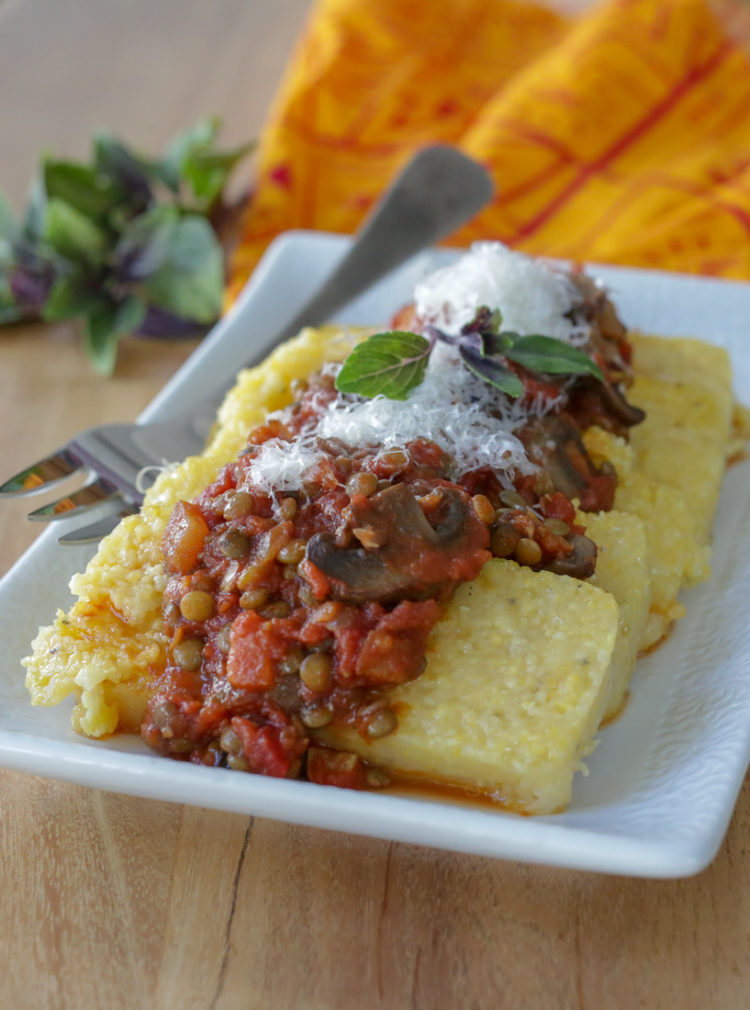 This vegan spaghetti sauce is rich with browned mushrooms and onions — seriously, get those things brown, don't be scared — and full of nubby green lentils adding healthy plant protein and a hearty texture. I served the bolognese over spaghetti that night to please the kids, but as you can see, I've also served it with fried polenta cakes which is also top-notch.
For the polenta, I actually used the recipe for Baked Grits on page 209 in my Learn to Cook Book (if you have the book, omit the beans and skip the baking step; just chill until firm, then slice and fry in olive oil). Basically, it's 1/2 cup coarse cornmeal slowly stirred into 4 1/2 cups boiling water with 1 teaspoon salt. Add 2 tablespoons olive oil, reduce heat to simmer 5 minutes. Add a pinch of dried oregano, pour into a lined loaf pan and refrigerate.
If there are people at your dinner party who will absolutely balk at being served a vegan bolognese, make a pot of this and a pot of my classic meaty bolognese sauce and keep everyone happy. The best part is that both of the sauces can be made a few days ahead so when the evening finally arrives, you have lots of extra time to lounge around in bed and find out how many dried noodles you can stick up your nose.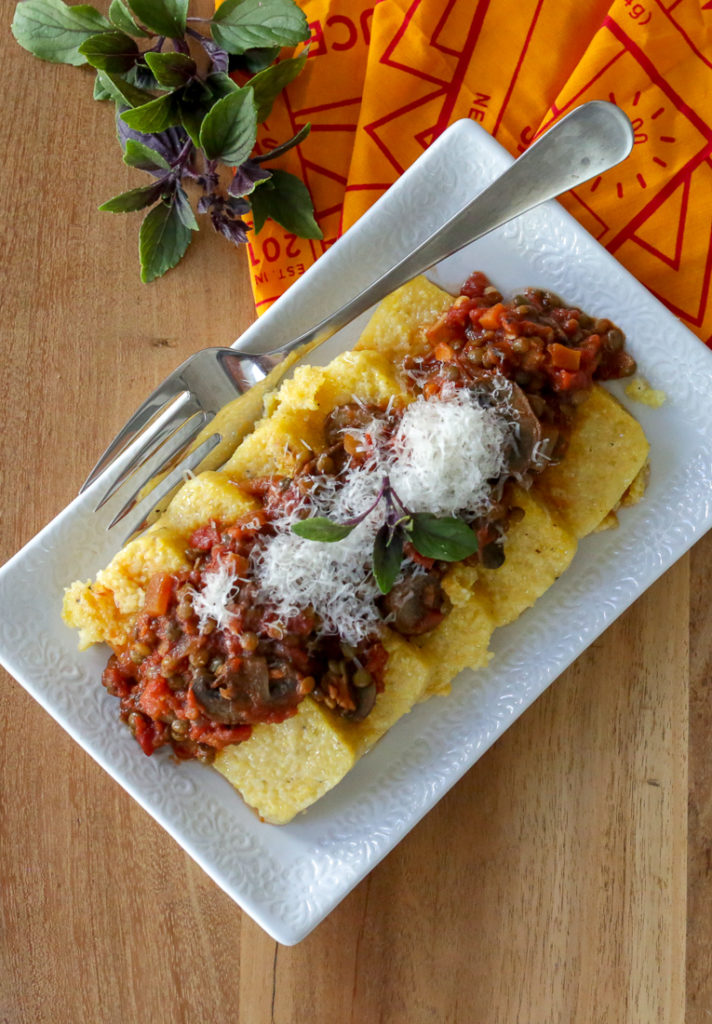 Print
Vegan Lentil Bolognese
Author:
Yield:

6

servings

1

x
1/2 cup dry green or brown lentils
4 cloves garlic
3 tablespoons olive oil
1/2 large onion, diced (1 cup)
1 medium carrot, minced
8 ounces mushrooms, sliced
1 ounce sherry or red wine
1 teaspoon dried oregano
26 ounces chopped tomatoes
red pepper flakes
1 pound spaghetti noodles for serving or 1 batch polenta (see headnotes)
Parmesan or vegan Parmesan for serving
Instructions
Combine lentils, 3 cups water, 1/2 teaspoon salt and 2 peeled cloves garlic in a small pot. Cover, bring to boil over high heat. Reduce heat, simmer 20 minutes until tender.
Meanwhile, dice onion and carrot, mince remaining 2 cloves garlic, clean and slice mushrooms.
Heat olive oil in a large skillet over medium-high heat. Add onion and carrot, fry several minutes until soft and beginning to brown. Add mushrooms, sprinkle with 1/2 teaspoon salt. Cover. Let cook undisturbed for 5 minutes. Stir. Cover and cook a few more minutes until mushrooms are very brown.
Deglaze with sherry, stirring to scrape the caramelized bits up. Add garlic, oregano, tomatoes, red pepper flakes. Cover, reduce heat to low and simmer until lentils are cooked.
Once lentils are cooked, drain and add to sauce. The whole garlic cloves will be soft and easy to mash into the sauce now. Let simmer, covered, while you boil spaghetti noodles. Add 1/2 cup pasta cooking water to your sauce before draining the pasta (if serving with pasta).
Notes
Nutrition info is for sauce only!
Nutrition
Calories:

211

Fat:

7

Carbohydrates:

10

Fiber:

2

Protein:

4