I call this vegetable chili and not vegetarian chili, even though it is vegetarian, because it's got a lot of vegetables in it. You know what I mean? It's not a standard vegetarian chili that's all beans and tomatoes. Those are good, but kind of heavy sometimes. And maybe … a little boring? Texture-wise I mean.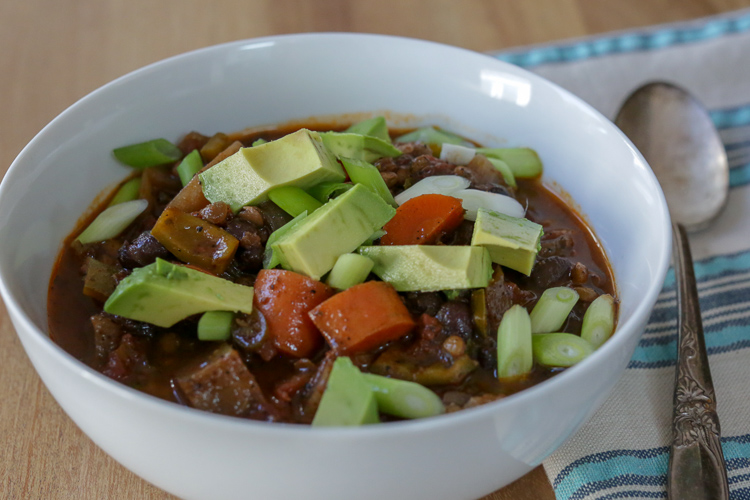 This vegetable chili has carrots! Which even I thought might be a little weird, but I bought way too many carrots at the farmer's market so I put them in anyway and the gamble really paid off. Not that I normally gamble.
UNLESS IT'S WITH MY LIFE.
Just kidding.
The chayote — if you can find one, they kind of look like pale green avocados or pears and are also called mirliton squash — is mild, dare I say bland, but has a great texture and stays pretty firm even after long cooking. Dice it about 1/2 inch and don't bother peeling. Some people remove the seed inside but not me! My motto is: as long as it's soft enough to cut with your knife, it's soft enough to eat. And I've never seen a chayote with a hard seed. If you can't find chayote, use a zucchini. Zucchini cooks a lot faster than carrots, though, so cut it into thick slices.
I like combining green or brown lentils with some other kind of bean, normally black beans but I've used pinto and kidney beans, too. It's not too important. The lentils add a great texture and kind of tie everything together. Try this vegetable chili after Thanksgiving, once you've eaten enough turkey to kill a horse and you're so short on fiber your intestines are about to shrivel up and die.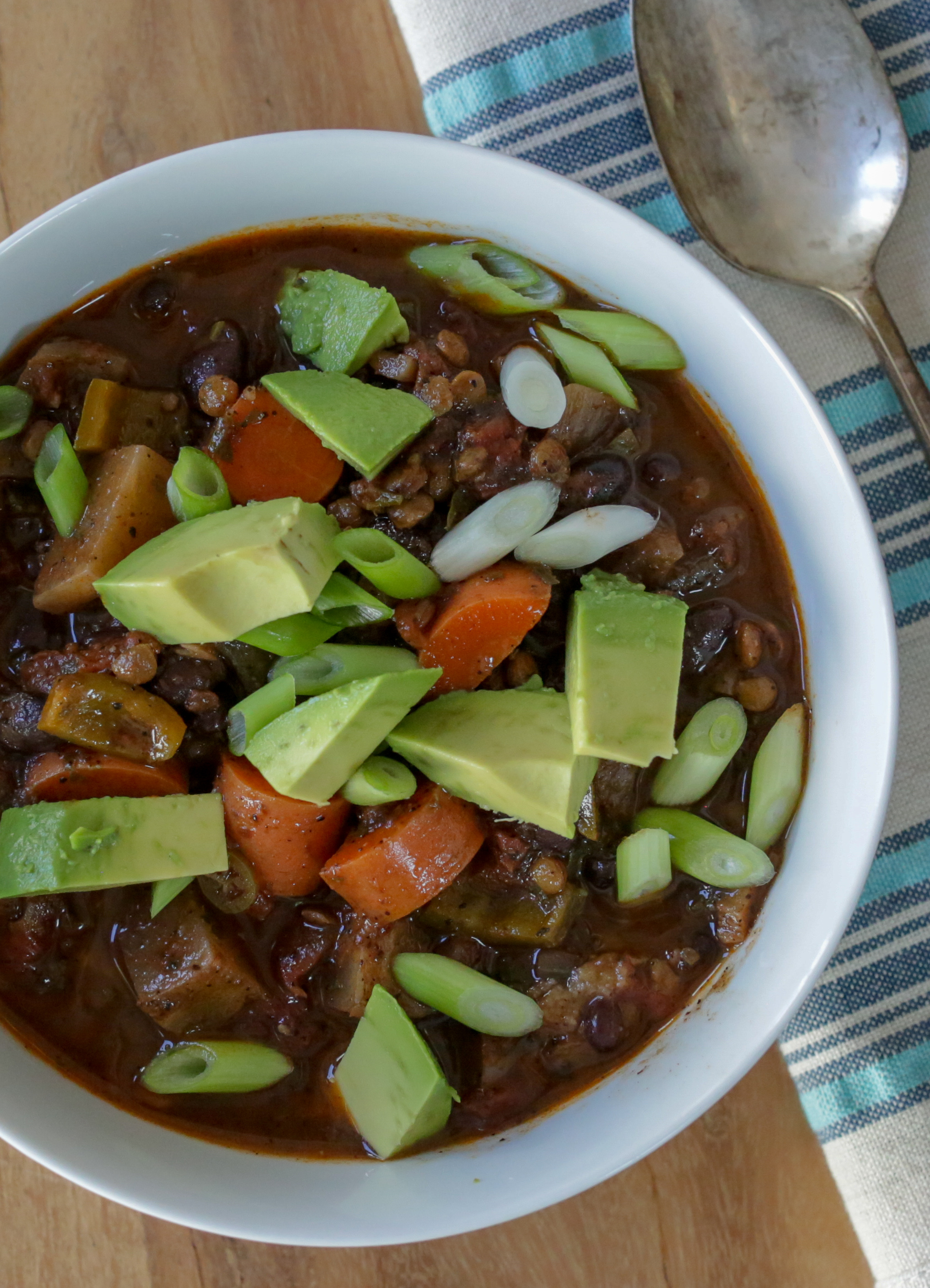 Print
Vegetable Chili
1 medium onion
2 large carrots
1 large chayote or zucchini
1 fresh poblano or Anaheim chile
1 tablespoon olive oil
1 teaspoon salt
2–3 serrano or jalapeño peppers
3 cloves garlic
2 tablespoons chili powder
1 teaspoon dried oregano
1 teaspoon smoked paprika
1 1/2 cups (14 ounce can) diced tomatoes
1 cup water
1/2 cup dry lentils
1 1/2 cups (1 can) cooked black beans, drained
2 tablespoons minced parsley or cilantro or a combination
Instructions
Dice the onion, carrot, chayote and poblano. Heat oil in a large pot over medium-high heat. Add vegetables and saute about 8 minutes until softened and starting to brown.
Add salt, garlic, Serranos, spices and cook for another minute or so.
Add tomatoes, water and lentils. Cover. Bring to boil. Reduce heat to medium-low and simmer 20 minutes until lentils are tender.
Add black beans and simmer uncovered 20 minutes. Stir in parsley near the end.