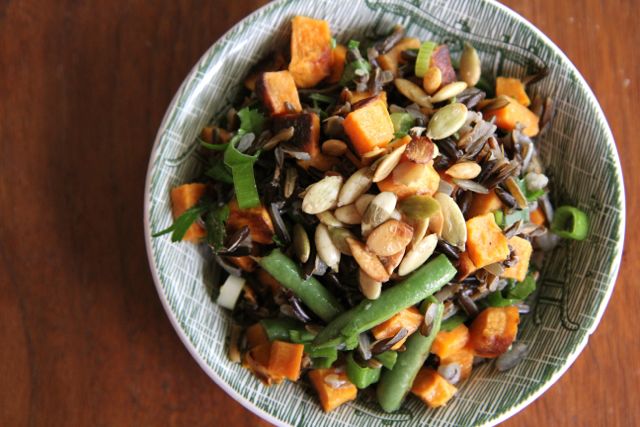 A dear, dear friend of mine recently came back to Texas for a visit. She's been living in New Zealand for a few years now with her handsome Kiwi man and two drop-dead adorable boy-children. The reason for her visit was sad, but we were all so happy to see them. She asked her lady-friends if we could help out by making some food for their first few days back. Of course, of course, of COURSE! Shouted us.
This salad was one of my contributions and she said they loved it.
Print
Wild Rice Salad
4 ounces

wild rice

1

large sweet potato (about a pound)

1 tablespoon

vegetable oil

1/4

pound fresh green beans

1/2 teaspoon

cumin seeds

1/2 cup

coarsely chopped parsley

2

green onions, thinly sliced

1/4 cup

toasted pumpkin seeds

3 tablespoons

lime juice

1 tablespoon

olive oil
Instructions
Cook rice according to package directions (likely it will tell you to bring 2.5 cups water to boil, add rice, cover and simmer 50-60 minutes).
While rice is cooking, preheat the oven to 450 F. Peel the potato and cut into 1/2 – 1/3″ dice. Toss with the vegetable oil and sprinkle with salt and cumin seeds. Spread in a single layer on a baking sheet and roast for 10 minutes at 450.
Trim the beans and cut into 1″ lengths. When the 10 minute timer dings, toss the beans in with the potatoes and roast for another 10 minutes.
Remove and allow to cool.
When rice is cooked (the grains will be split open like tiny hotdog buns) drain excess water and rinse gently with cool water. Shake in a colander to remove as much water as possible.
Combine with roasted vegetables, parsley, onion, and pumpkin seeds.
Pour over lime juice and oil and salt to taste.
Notes
Pumpkin seeds can be bought toasted and salted, but to toast your own:
Heat a small skillet over medium heat with a drizzle of oil. Add seeds and toss quickly for 2-3 minutes until browned and fragrant. Remove from heat and sprinkle with salt.
If you like this recipe, you might also like this quinoa salad recipe.