Don't finger my cookies! J/K you can finger em all you want to. These witch finger cookies are perfect if you like cookies you can manhandle a little bit and not worry about them getting over-mixed. They are also perfect for Halloween, duh.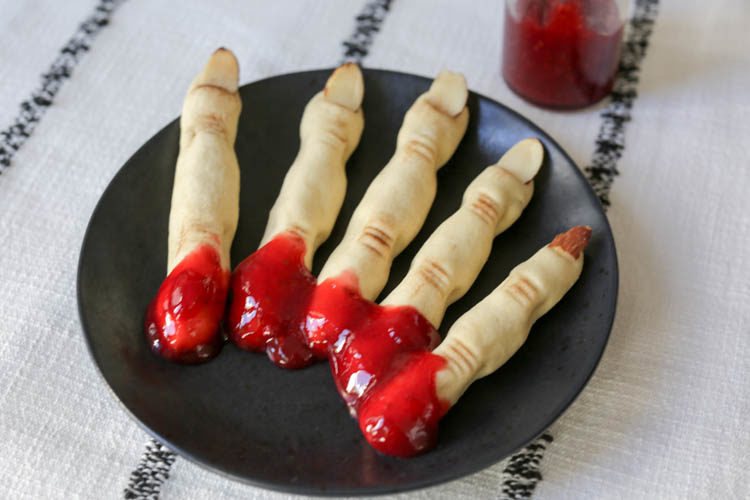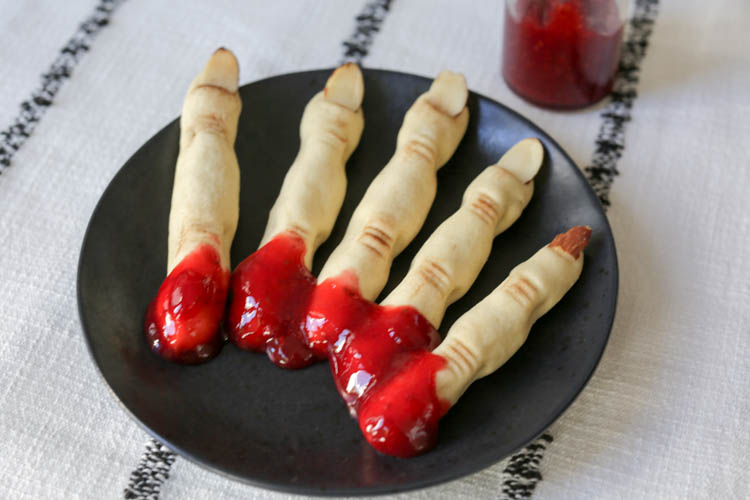 And these witch fingers have a secret surprise inside to make them extra bony! Of course, use a small chicken bone if you have some but otherwise, pretzel sticks are fine. 😉
I based this dough off of my Mexican wedding cookies dough because I like my witch finger cookies like I like my vampires: a little on the pale side. Turns out, this dough is incredibly easy to work with, too! After mixing, I got best results chilling the dough for just 30 minutes. That gives something a little like playdough, soft but not sticky. You can also cover and refrigerate it overnight but it will be a little firm at first. Your hands will warm it up quick enough, unless you are a cold-blooded witch like me.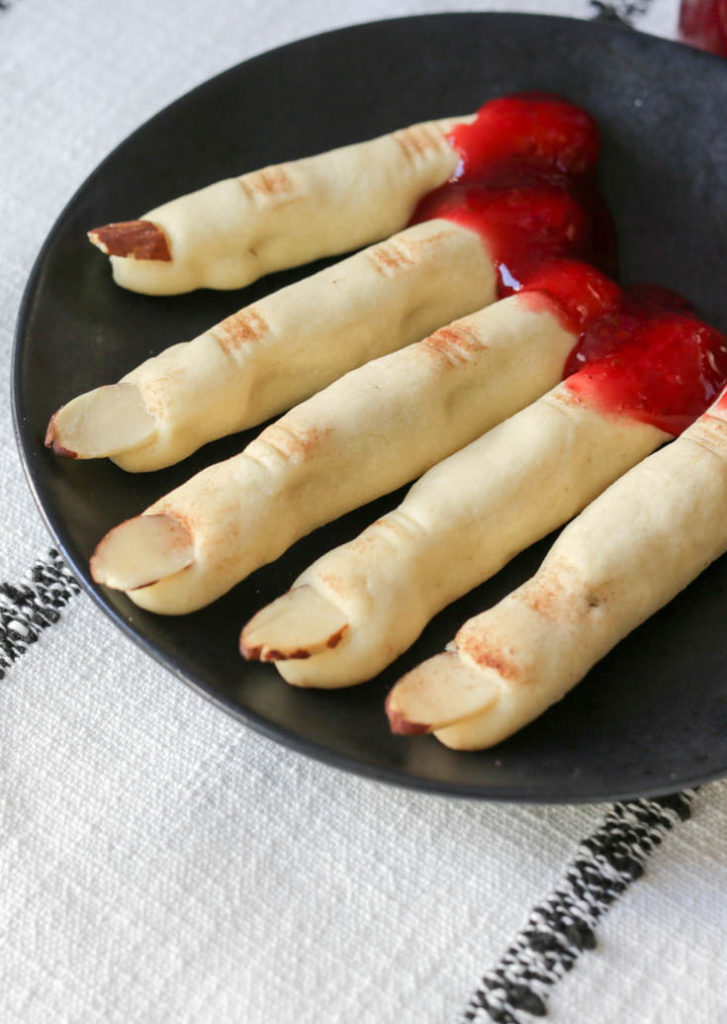 Dip the ends in some blood (or raspberry jam) for a gross-out bloody look. Maybe skip that if you're making these for little kids who might get freaked out or at the very least, smear jam all over your house. Great for Halloween effects, not so great when you have to clean it up.
To make the wrinkled knuckles stand out better, dust very lightly with cocoa powder after baking. Use a small paintbrush and run it perpendicular to the wrinkles to add depth. Get some around the nail bed and cuticle too! Extra gross!
Witch Finger Cookies Video
For More Halloween Recipes Click Here
Print
Witch Finger Cookies
1/2 cup softened butter
1 cup powdered sugar
1 egg
1 3/4 cup flour
1/2 teaspoon vanilla
1/4 teaspoon salt
30 pretzel sticks
1/4 cup sliced almonds
1/2 cup red berry jam
Opt: cocoa powder
Instructions
Cut butter into pats and place in mixing bowl. Beat on medium-high speed to soften. Sift in powdered sugar and blend completely.
Add egg and vanilla. Mix well.
Sift in flour and salt and mix on low speed, scraping sides of bowl, until smooth.
Refrigerate 30 minutes or longer
Set oven to 375ºF
Line baking pans with parchment paper
Scoop 2 teaspoons of dough and shape into an oval. Wrap oval around one pretzel stick and roll between palms to make a long, thin rod.
Pinch each rod twice: once near the bottom and once about mid-way. Use a butter knife to make knuckle creases.
Dip an almond slice in water and stick into the end of each finger to make a fingernail.
Bake 9-11 minutes until set. Cookies will be pale and barely golden underneath.
Cool completely. Brush knuckles with cocoa powder to make them stand out.
Dip "cut" end into jam for blood just before serving.
To make ahead of time, cool completely and store in airtight container at room temperature for up to 2 days.