Yuca Fritters with Aji Salsa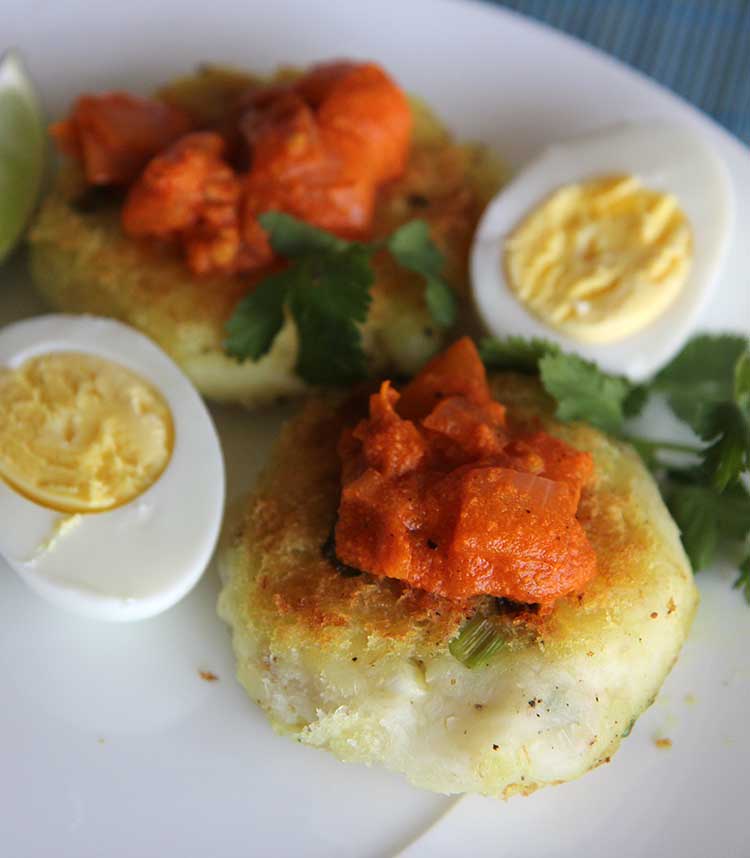 These were inspired by a recipe called aji machucado (roughly translated to "bruised chile" I think) given to me by a friend in Colombia. A salsa is made with chunks of onion, tomato and chile aji all cooked down together, then served over mashed boiled yuca or plantain and topped with chopped boiled eggs. For lunch, I thought I'd riff on that, but turn my mashed yuca into little cakes to get some crunchy bits on the outside.
Aji amarillo are available in jars, imported from Peru usually. If you can't find them, a jalapeño is a good substitute, heat index-wise, though a manzano (rocoto) is maybe better flavor-wise. They are a medium-hot chile with a fruity background and a gorgeous bright orange color.
If you've never cooked with fresh yuca root (aka tapioca, cassava, or manioc) before, it can be challenging to peel. The skins are thick and brown and covered in a heavy layer of wax. All of that needs to be peeled off before you boil them. Choose slender yuca root at the store to avoid the tough, stringy core that develops in older roots. And buy a little more yuca than you need for a recipe. Often they have grayish or brownish or softish areas under the skin which need to be tossed or they'll give your food an off flavor.
Also, I'm not sure if "yuca" and "yucca" root are the same thing. I'm pretty positive they are, but the names of all these tropical-ish tubers get to be very confusing. If you know different, leave me a comment!
Print
Yuca Fritters with Ají Salsa
1

pound yuca root

2

green onions

1/2 teaspoon

salt

1/4 teaspoon

pepper

2 tablespoons

coconut oil for cooking (or another oil)
Salsa aji"

1/2 teaspoon

oil

1 cup

large diced onion

2 tablespoons

tomato paste

2 tablespoons

minced chile ají (from a jar)

1 teaspoon

minced garlic

1/4 teaspoon

salt
Hard boiled eggs
Cilantro
Lime wedges
Instructions
Peel the yuca and cut into 2″ slices. Cover with water and boil about 20-30 minutes until soft. Drain and mash with green onion, salt and pepper. Remove any hard fibrous bits. Shape into 4-5 patties with oiled hands. Set aside.
Heat oil in a small pot and add onion. Cover and cook over medium heat 3-4 minutes until softened. Add tomato paste, chile, garlic and salt and cook another 3-4 minutes until tomato paste is beginning to darken. Add 1/2 cup water and simmer while you fry the yuca fritters.
Melt coconut oil in a large heavy skillet over medium-high heat and fry patties for 2-3 minutes per side until golden and crisp.
Serve topped with hot salsa, eggs, cilantro and lime wedges.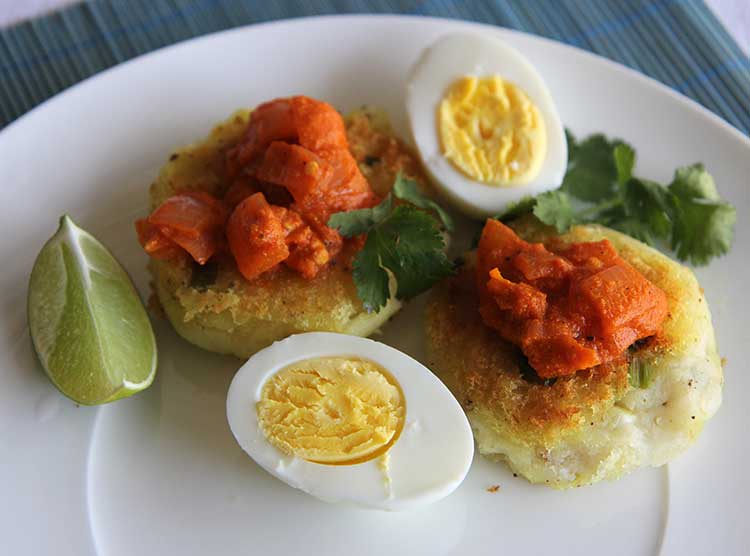 If you like yucca, try these yucca fries!