Apple Gingerbread Pancakes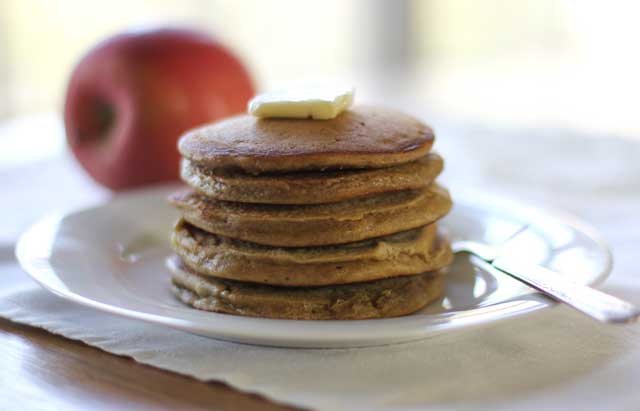 I modified this from my grandma's gingerbread muffin recipe. The most awesome part is that they taste exactly like gingerbread muffins, but they cook a whole lot faster. And, to me, while muffins are awesome and rad, they don't really say "breakfast"; they say more like, "tea time" or "stoner munchie time", know what I mean?
So I added some apple and cut back on the sweetening and increased the buttermilk and came up with a really delicious gingerbread pancake recipe. We both really liked these with just butter, but they're also good with a little maple syrup or molasses if you really like the taste of molasses. I do, but I know I'm in the minority and pretty much everyone else in my club is over 90 years old. We molasses-lovers are a dying breed. I imagine that these would also be just out of this WERLD with some fresh whipped cream (maybe a pinch of sugar and cinnamon beat in?) or a smear of apple butter even. What do you think? What are you going to top these with?
These come together just like any other pancake recipe, but you'll want to cook them over a slightly lower heat (medium instead of medium-high) and watch them carefully. The molasses and sugar makes them more apt to get overly browned or even burned. You might want to try one the first time around to get the hang of it and the temperature right for your stove and your griddle.
Gingerbread Pancakes Video
Gingerbread Pancakes Recipe
Print
Apple Gingerbread Pancakes
Author:
Prep Time:

10 mins

Cook Time:

10 mins

Total Time:

20 minutes

Yield:

4

1

x
2 tablespoons

molasses

1/4 cup

melted butter

2 tablespoons

sugar

1

egg

1/2 cup

buttermilk (or yogurt thinned with milk or water)

1/2 cup

coarsely grated apple (any variety)

1 cup

flour (AP or whole wheat)

1/4 teaspoon

baking soda

1/4 teaspoon

salt

1/2 teaspoon

ground ginger

1/4 teaspoon

cinnamon

1/8 teaspoon

allspice
Instructions
Combine the molasses, butter and sugar in a large bowl.
Mix in egg and buttermilk until well-combined.
Stir in apple.
Whisk dry ingredients together and add to wet mixture, stirring until just combined.
(Refrigerate up to 8 hours if making the batter ahead of time. Allow to come to room temperature before cooking.)
Heat a griddle over medium heat until a drop of water splashed on sizzles.
Lightly grease the griddle and drop batter by 1/4 cup measures, spreading if necessary to make cakes about 4 inches diameter. You should get 8 pancakes.
Cook about 2 minutes or until the edges look dry-ish and there are a few bubbles appearing on top of the cakes that pop and leave craters. Watch them closely; with the increased sugar content, they go from cooked to burned pretty quickly.
Flip and cook another 2-3 minutes or so on the other side.
Serve hot. Keep pancakes warm in a 200º oven on a baking sheet if needed.