Avocado hummus! Have you ever heard of such a thing? I hadn't until I tried some at a farmers' market a couple weeks ago. Holy jeez. It was delicious, y'all.
To make it at home, I adapted my basic hummus recipe (see how to make hummus for more pointers) and the olive oil gets replaced with a large avocado. And in California where avocados are as affordable as the day is long, making avocado hummus really seems like the right thing to do.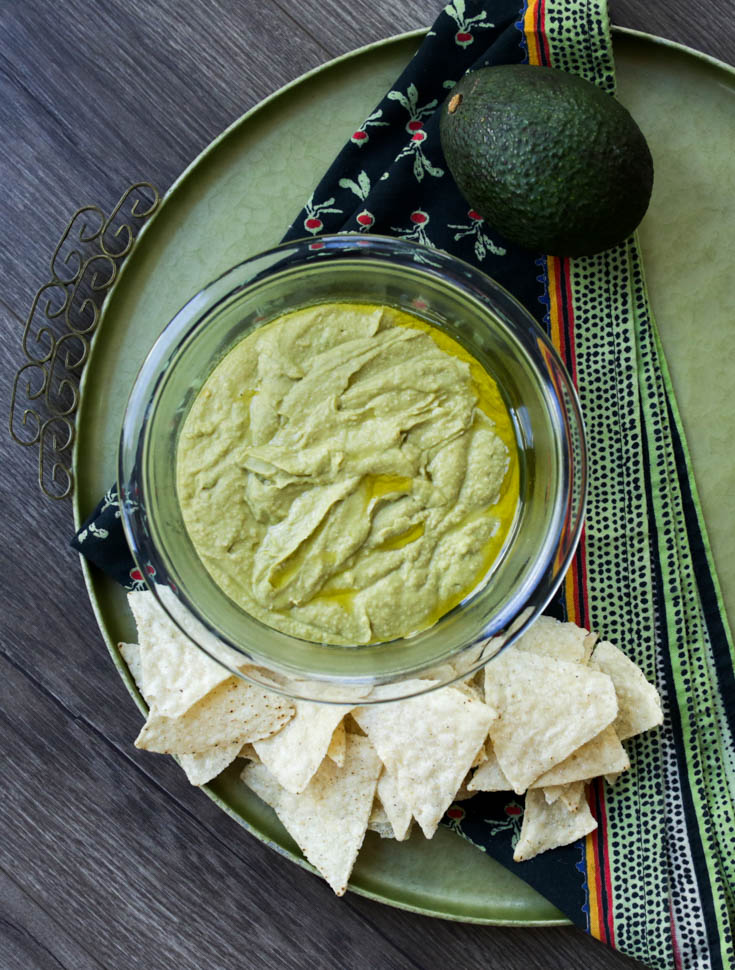 And the most surprising thing to me is how long it stays green. Even with the lemon juice I'd expected it to get a little muddy-looking after a day but it stays fresh-looking for a few days in the fridge.
I serve this with tortilla chips or pita chips if I'm serving it with beer; cucumber and jicama slices when I'm trying to be healthy; on a sandwich with some vegetables and sprouts when I'm feeling healthy and also like eating a sandwich. (See this post on how to grow sprouts if you want to grow your own and avoid the E.Coli scares and once you've got that down, try making sprouted raw hummus — it's remarkably good.)
Also, I have not tried it (which in itself is a mystery of grand proportions) but I'd wager than a fresh jalapeño would be most welcome in this recipe, too.
Print
Avocado Hummus
1 1/2 cups cooked garbanzo beans (1–15 ounce can, drained)
1 large, ripe avocado (weight about 8 ounces)
1 clove garlic
2 tablespoons lemon juice
1 tablespoon tahini
1/4 teaspoon salt
dash cayenne pepper, optional
Garnish: 1 tablespoon avocado oil or olive oil
Instructions
Drain the beans and add to a blender or food processor. Pit, peel and dice avocado. Combine all ingredients — except oil! — and puree until smooth. If you're using a blender, you will need to stop it regularly and push the ingredients down to blend.
Scrape into a bowl and level off the top. Drizzle with the oil. Cover and refrigerate to store p to 3 days
P.S. If you cooked chickpeas yourself and have some left over, try the curried collard greens and chickpeas recipe I shared last week!