'Round here, this is called bean-oa salad, but you can call it bean and quinoa salad if you're not a major dork like me. My friend Fifi came over for lunch this week and I hadn't seen her in a while so I wanted to make something special and pretty. She's vegetarian (check out her YouTube and website for great vegetarian recipes) and also has several food sensitivities. Chris and I made a resolution in January (or formed a new habit, whatever) to eat some kind of salad for lunch every day after reading about how pretty much everyone in the US eats way too little fiber. Usually it's a taco salad or boiled eggs or leftover chicken chopped up on lettuce. I keep it pretty simple (read: pretty lazy.)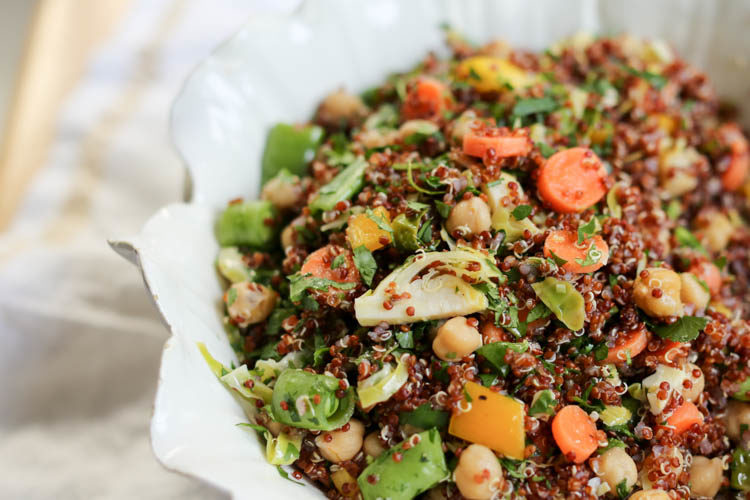 For Fifi, I knew she can eat quinoa and chickpeas with no problem and they are both high in protein (and fiber! For chrissake, never forget the fiber!) so I mixed up this bean and quinoa salad with crunchy vegetables and lemon vinaigrette. It was great on top of romaine lettuce and chopped tomatoes with an extra glug of olive oil and salt. Lest we felt too super-model-diet-ish, I also made a pot of this gluten-free, creamy broccoli cheese soup to go with. If Brussels sprouts aren't in season, use a cup of finely shredded cabbage instead. I think cucumber would be nice in here, too, but the salad won't last as long in the fridge if you add it.
Print
Bean + Quinoa Salad
1 cup quinoa, dry (any color variety)
salt
1 cup Brussels sprouts
1 carrot
1/2 yellow or red bell pepper
1/2 cup sugar snap peas
1 small clove garlic
2 tablespoons lemon juice
2 tablespoons olive oil
1 tablespoon apple cider vinegar
1 1/2 cups cooked chickpeas (garbanzo beans) drained
2 tablespoons minced parsley
2 tablespoons minced cilantro
Instructions
Begin by cooking the quinoa. Put it into a small pot with 2 cups water and a pinch of salt. Cover and bring to boil. Reduce heat and simmer 10-12 minutes.
While that cooks, thinly slice the sprouts like you're making slaw. Mince the carrots. Toss those into a big bowl.
Now mince the garlic and add to it another pinch of salt. Use the side of your knife blade to smear and mash that into a paste. Scrape it up and toss into the big bowl.
Add the lemon juice, oil and vinegar and mix.
When quinoa is cooked, dump it onto the vegetables and stir. The heat will slightly soften the crunchy vegetables and help the dressing soak into everything.
Allow to cool to room temperature and then add everything else. Stir it up. Taste for salt and add some black pepper if you want.
Keeps great for 3-4 days in the fridge.