Beans and greens are truly one of those recipes that are way more than the sum of their parts. Start with dried white beans (Great Northern or Cannellini) for a creamy, saucy texture and add some fresh greens in at the end, cooking them just until softened but still pretty and green. The result reminds me of chicken soup in how comforting it is to my belly and mind, but it's totally vegetarian and chicken-free. My version was first shared in my Learn to Cook Book (which is the most hilarious cookbook on the market and has over 100 recipes) but now I took a picture of it so I can share it here. (But you should still totally buy a copy of my book! Support the arts! Buy a book!)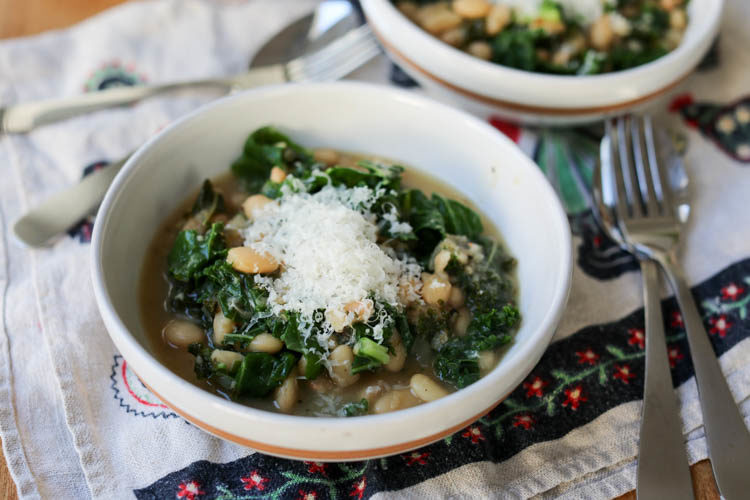 This goes great with garlic bread if you have some, or toss it with cooked spaghetti. You can also just eat it like soup which is what I do. It's a one-pot meal! Although . . . I just had a thought that a poached egg would be pretty goddamn fantastic on there, too, especially with buttered toast to go with it.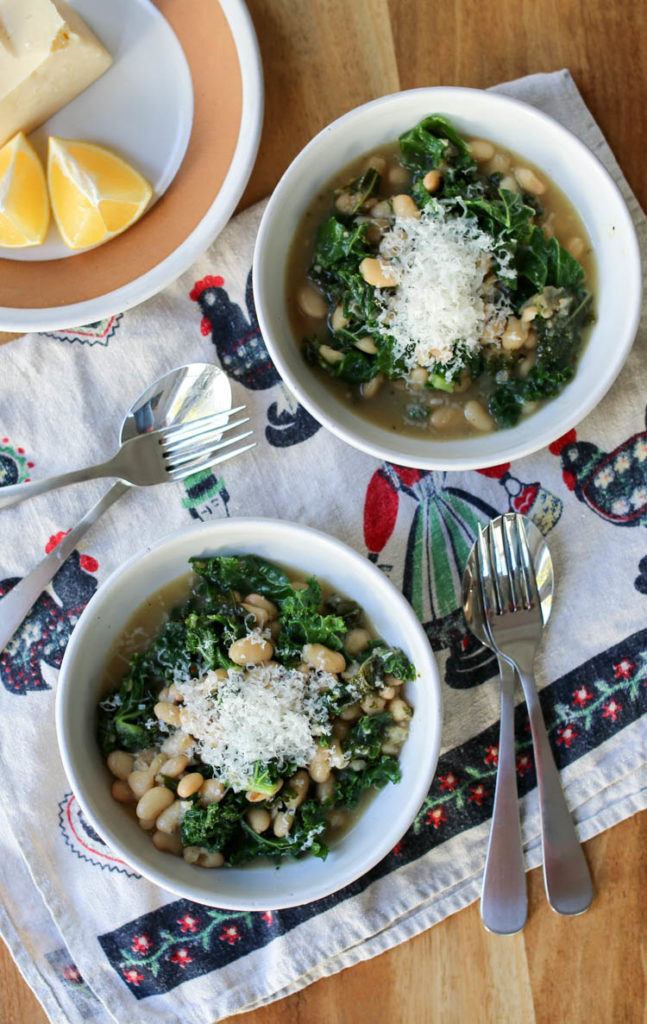 Try a combination of greens or just pick one. I usually just use kale because it's cheap as hell and beans are cheap, too, so you're looking at a cost per person of, like, 2 cents or something. In fact, this was one of my "poor meals" for many, many, many years starting in college and through my first marriage. Sometime after that, it fell out of my regular roster for some reason but I read an article last week about how eating beans could save the earth and so I went a'browsing. It's kind of frustrating sometimes because most vegetarian recipes online don't use beans as a main ingredient; tons of tofu or dairy/egg-based recipes and a million vegetarian chili recipes but I already have one of those and sometimes you want something different. So I turned to my own cookbook and voila. Thanks, past me.
Health tip: Don't skip the lemon! Not only does it taste really good in here, adding a little vitamin C to your bean recipes helps your body absorb the iron in the beans.
To make this on a weeknight, just put the beans to soak in about 8 cups water before you go to work. Start it when you get home and it'll be ready in about one hour.
Print
Beans and Greens
Author:
Yield:

4

servings

1

x
1 cup dried Great Northern beans, soaked 8-12 hours
2 tablespoons olive oil
1 small onion, diced (about 1 cup)
2 cloves garlic, minced
1 teaspoon dried oregano
1 bay leaf
several shakes red pepper flakes
4 cups water
4 cups chopped greens
1/2 lemon (2 tablespoons juice)
1 teaspoon salt
1/2 teaspoon black pepper
1/2 cup grated Parmesan cheese
Instructions
IF you forgot to soak the beans, that's okay. Put them in a pot with enough water to cover, bring to boil over high heat. Boil 1 minute, turn off heat and soak 1 hour. Drain. If you remembered to soak the beans, bully for you. Drain them.
Heat the oil in a large pot over medium-high heat and saute the onion 5 minutes until beginning to brown.
Add garlic, herbs, broth/water and drained beans. Cover and bring to boil over high heat.
Reduce heat and simmer 1 hour or until beans are soft. Remove bay leaf.
Add greens and cook 5-10 minutes more.
Add lemon juice, salt, pepper.
Add cheese at the table.
Nutrition
Calories:

303

Fat:

10

Carbohydrates:

38

Protein:

17